German insurers Talanx and Zurich are planning to join forces to offer pension provision for new industry-wide defined ambition schemes, it was announced this week.
The consortium is to be called "Die Deutsche Betriebsrente". Directly translated this means "the German occupational pension". Subject to approval from the competition authority, the insurers' tie-up will go live by the end of June, Zurich said in a statement.
The tie-up is the second major move by members of the German insurance industry to position themselves to provide a new form of pension. Under reforms that came into effect last month – the Betriebsrentenstärkungsgesetz (BRSG) – employer and employee industry representatives will be able to offer defined ambition pensions. These are a break with the past in that benefit guarantees are banned.
Last year five mutual life insurers – Barmenia, Debeka, Gothaer, HUK-Coburg and Die Stuttgarter – combined to form "Das Rentenwerk" consortium, also aiming to provide new industry-wide schemes.
In addition, insurers Alte Leipziger-Hallesche and Provinzial Nordwest both noted in recent press releases that they would be bringing products to the market.
Of the joint iniative with with Talanx, Carsten Schildknecht, CEO of Zurich Group Germany, said: "As a strong partner for employer and employee federations our consortium should offer and deliver highly innovative and attractive pension solutions for the benefit of employees."
The new provider would offer implementation of defined ambition pensions via Pensionsfonds, one of multiple pension financing approaches used in in Germany.
Speaking at an industry conference in Berlin yesterday, Marco Westermann, occupational pensions specialist at Talanx, said the two companies had decided to use Pensionsfonds because both had already successfully established such vehicles in the market. Talanx runs PB Pensionsfonds, while Zurich operates Deutscher Pensionsfonds in a joint venture with Deutsche Bank.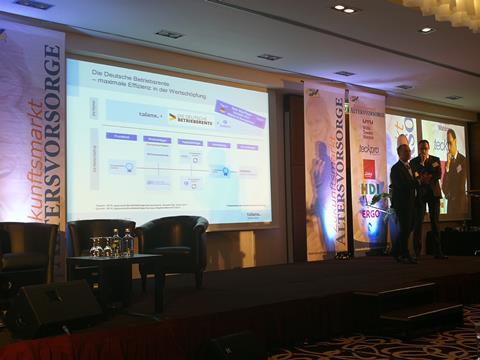 HDI Lebensversicherung, a Talanx subsidiary, last year announced that it would be catering for industry-wide schemes by offering defined ambition implementation via the Talanx pension fund. A spokesman told IPE that the consortium with Zurich represented the materialisation of the plans HDI set out last year.
This was despite comments from Fabian von Löbbecke, board member at Talanx Pensionsmanagement, arguing that it would have made more sense to improve the existing occupational pension framework in Germany than to "further complicate it by adding a parallel system with its own set of rules".
MetallRente secures Arteaga for BRSG support
The first such agreements between collective bargaining partners could be established within the next couple of years, with the metal industry believed to be a likely candidate.
A spokesman for Südwestmetall, the association for metal and electrical industry employers in the state of Baden-Württemberg – and one of Germany's largest employer federations – told IPE that it had not yet intensively spoken about the new pensions model with trade union IG Metall, but conversations were likely to take place this year. Peer-Michael Dick, managing director of the employer association, recently said negotations would not start before 2019.
MetallRente, the pension fund for the metal and electrical industries, is a strong advocate of the new industry-wide plans, is preparing infrastructure for their implementation. It today revealed it had secured Marco Arteaga, partner at law firm DLA Piper, as external expert to help it implement the BRSG. Arteaga was one of the government-appointed experts who advised on second-pillar reform in Germany.
MetallRente managing director Heribert Karch said it was positive there were now multiple providers of the new model on the market.