The euro-zone appears to be in a low-growth liquidity trap redolent of Japan
Key points
Low euro-zone growth and inflation, reinforced by European Central Bank (ECB) policy, are set to keep core sovereign bond yields low for the foreseeable future
Central bankers navigate the dangers of pain now or later in applying monetary stimulus
A positively sloping yield curve presents resents relative value opportunities compared with other currencies
Issuance from Italy and Spain offers better yield than Bunds, although investors need to decide whether they are being rewarded for the additional risk
Global markets were a one-way street in the years following the global financial crisis – with loose monetary policy and ultra-low rates. Then, global markets showed signs of getting off life support.
As usual, the US was ahead of the cycle, its growth accelerating first. Add to this ultra-hawks taking control at the US Federal Reserve, and global monetary policies have begun to diverge.
Europe looks like it is Japanese, or rather, the euro-zone economy does – an unending liquidity trap for low growth, where even the lowest of rates cannot encourage investors to throw their weight behind risk assets. This both shapes, and is shaped by, the outlook for euro-zone sovereign debt – of no small concern for institutional investors who hold a rather large stack of them.
"I'm old enough to remember when, 25 to 30 years ago, people looked at Japanese sovereign debt at 2-3% and said it can't get any lower," says Iain Lindsay, co-head of global portfolio management within the global fixed income team at Goldman Sachs Asset Management. "Well, look at where we are now. Europe is in danger of being Nipponified."
Growth, inflation and rates
Euro-zone growth has bumped along at 1.1%, its lowest for more than five years. At the end of 2017, consensus was that mean reversion would see European risk assets outperform. That did not happen, and the market seems to have given up on any rebound. Alongside this, with March's euro-zone inflation print at 1.4%, the European Central Bank (ECB) is struggling to meet its 2% target.
Indeed, inflation expectations are at 1.35%, five years out, with "an arm wrestle between the ECB and the market. We're inclined to agree with the market," Lindsay says. This, again, is all reminiscent of Japan over the past three decades. Sylvain de Ruijter, lead portfolio manager, LDI and rates at NN Investment Partners (NNIP), worries that Europe, like Japan, could fall into "a low-growth liquidity trap that could last for decades".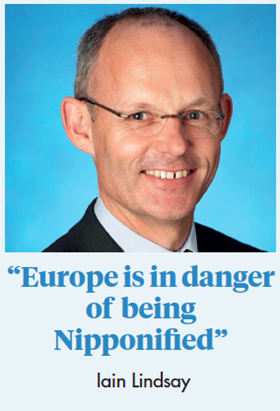 ECB (late) to the rescue
Randy Woodbury, fixed income portfolio manager at Principal Global Investors, says the ECB "has few tools left in the box. In contrast to the Fed, which addressed the situation early, the ECB is still taking in extraordinary measures with little room for manoeuvre, and is in the tightest spot of all central banks."
One thing the ECB does have, is TLTRO-III, which Lindsay describes as "almost a must-have". This not-quite acronym is a series of quarterly targeted 'longer-term refinancing operations', starting in September 2019 and ending in March 2021.
According to the ECB, these new operations "will help to preserve favourable bank lending conditions and the smooth transmission of monetary policy". Given that the ECB is still in asset-purchase mode, there are two ways for investors to benefit from the ECB's strategy, says Woodbury: "Look to buy where the ECB will buy, and benefit from the increased price of the principal, or to seek value where the ECB isn't buying, such as in financials."
Lindsay, too, sees the ECB's approach as a net positive for Europe, "as it can seek to stop the euro from strengthening: while currency effects are not long-term fixes, the outlook is best for global trade rather than domestic, and this can be a benefit".
The danger with TLTRO-III, says de Ruijter, is that it will also "make the market even more expensive", and he warns: "At some point, this will have to reverse, and it might be painful."
The Dutch central bank president Klaas Knot, among others, has been a vocal opponent of this dovish approach, which he sees as setting the market up for a day of reckoning. "He might be right," says de Ruijter, "but the alternative would have been unbearable short-term pain. It's difficult to see how we wriggle out of this without pain, one way or another."
Where to play
All of this adds up to a distinctly unattractive investment terrain for euro-zone sovereign debt investors, with ECB actions forcing down yields, meaning there is little value to be found in the asset class.
This even limits the potential for core euro government bonds, such as Bunds, as a hedge in portfolios when things go wrong, as "it's difficult to see how far they can rally from here, so even as a hedge they are not that attractive", says de Ruijter.
It is not all doom and gloom, says Lindsay, as "low volatility will be a theme for Q2 into Q3. While there will inevitably be bouts of indigestion, markets will be calm overall, and this will be positive for the asset class." And he believes that, contrary to market sentiment, the credit cycle still has further to run – although even in this instance, de Ruijter reckons this low volatility will make it "more challenging to add value through active management in core euro-denominated government debt".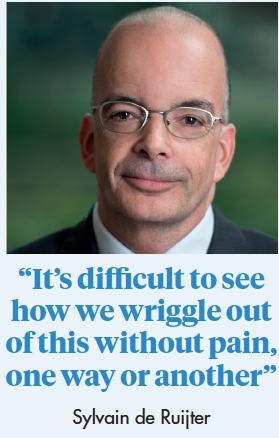 While low volatility means there won't be a flurry of trading, it does mean that investors can at least pause for thought as to what maturities are best to hold: "If risk aversion remains low over the next 12 months, then the carry game comes back into play," says de Ruijter, with one option being to move higher up the yield curve.
Assuming the economy has bottomed out, Woodbury says that the back end of the curve should steepen, reacting to fundamentals, as prospects for growth imply a more positively-sloped yield curve. "The best place to play this is in the belly of the curve – 10 to 15 years – rather than further out," he says.
While Lindsay says that euro-zone debt is not attractive on an absolute basis, it has a steeper yield curve than its dollar, sterling or – for what it is worth – yen-denominated equivalents: "So there are opportunities further out on the curve relative to other currencies". That means, for investors seeking relative value or matching liabilities, longer-dated debt begins to make a bit more sense, and he adds that "there are also opportunities moving into BBB or even BB-rated investment-grade credit".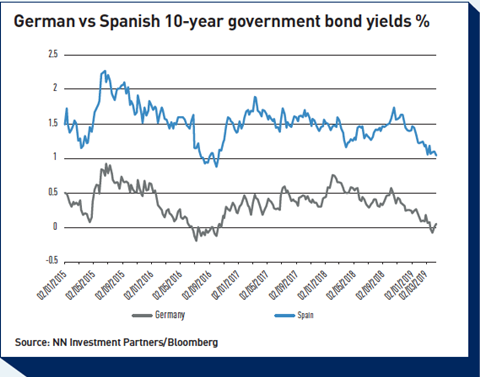 Differing conditions between euro-zone countries do, however, present options to go hunting relative value between their bonds. Woodbury recommends euro-denominated investors look at Italian bonds, "as industrial production has bottomed out and yields are attractive relative to others in the euro-zone". But, while de Ruijter concedes that Italy has the highest spread over the Bund, he believes "the potential volatility is too high".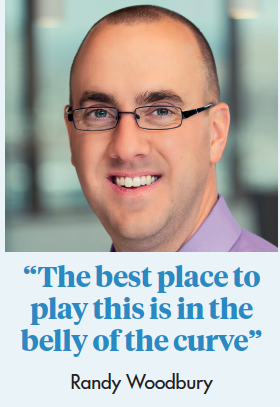 While Germany is expensive because of the relative scarcity of the Bund and high demand for AAA-rated paper, he says that Spain "is an interesting carry opportunity, with a stable economy and spreads of 100bps above the Bund" (see figure). NNIP is also finding opportunities in Spanish 10-year debt, or French debt at the very long end of the curve; "very steep compared to Bunds, possibly because of the current social unrest in France", de Ruijter says.
Unlike the Japan 10-year, the yield on the equivalent bund is at least positive, although ECB policy will likely prevent it heading further north for the foreseeable future. So, for those wondering 'are we there yet?' regarding Japan, the answer is 'no'. But Frankfurt may not be as far from Tokyo as some might assume.
Government Bonds - Euro-zone: Turning Japanese
1

Currently reading

Government Bonds - Euro-zone: Turning Japanese

2