"The Brumadinho dam tragedy causes us to question if we have created the conditions for a set of disasters"
On the afternoon of Friday 25 January this year, workers and contractors from Vale, the Brazilian multinational mining corporation, were having lunch in their staff canteen near to Brumadinho, in southern Brazil. Unbeknown to them, at that same time a tailings dam had collapsed and no alarms were sounding. Some 11.7m cubic metres of toxic mud were careering towards them at considerable pace. When the wall of mud hit their canteen it engulfed everything and everyone in its path. To date, more than 245 people have been confirmed as killed. Twenty-five are still missing and presumed dead. These lives simply should not have been lost.
There is a 56-second video on YouTube that captures the moment of the collapse. It is literally an innocuous green hillside rising above the trees that in a matter of seconds simply dissolves and sets in train a red muddy wall of waste that moves like an enormous wave.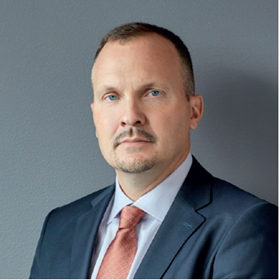 Why is this relevant to investors? We are intimately connected in every aspect of our lives to the demand that drives extraction. Our pension funds are invested across the mining sector and throughout the supply chain. Modern life demands the resources we need. The low-carbon transition is dependent on extracting various metals and minerals that will enable us to meet the goals of the Paris Agreement on climate change. To think we can walk away from this sector because it is too difficult or risky is to not face the reality of the interconnectedness of, and long-term demand for its products.
However, the Brumadinho dam tragedy causes us to pause and question if we, through our investment in mining companies and use of its products, have created the conditions for a set of disasters. These could be waiting to happen because we did not have a proper understanding of the risks and real costs of safe mining.
Let us be clear that extraction is not inherently wrong. However, done badly it can have terrible consequences. The challenge is that we have been so far removed from the realities of extraction that it has taken this potentially avoidable loss of life to bring this reality sharply into focus.
Regrettably, this is not the first time such a disaster has occurred. We had been warned in August 2014 that there was a problem with the way industry stored its waste when the Mount Polley tailings dam burst in Canada. This released years of built-up toxic waste into the Polley lake. An environmental disaster ensued. Investors were further warned when in November 2015 the Samarco disaster occurred at the Vale and BHP joint venture in the same region of Brazil as the Brumadinho disaster. Some 19 lives were lost and a further environmental disaster ensued.
A system-wide issue
We, along with several other investors, undertook engagement after Samarco and sought assurances from the individual companies involved. However, the problem has required us to go deeper and beyond the specific companies or tailings facilities. This was, and remains, a systemic issue that requires a systemic intervention by investors.
We should be clear that good practice exists. Certain companies and jurisdictions have such practices. However, we still do not know how many tailings dams there are in the world.
The technical review after the Samarco disaster made recommendations that a new standard should be created for the storage of mining waste based on the consequences of failure – thus assuming the worst and having corresponding safety standards to mitigate that eventuality.
Unfortunately, this recommendation was not taken forward at an industry-wide level. Some companies operate such standards but investors, banks and insurers have not required it of all. Had such a recommendation been taken forward one would expect that it would not be possible to place a staff canteen in the shadow of something that could destroy it so quickly.
One week after Brumadinho, a group of investors including the Swedish Council of Ethics for the AP Funds, APG, New Zealand Super, Robeco, BMO, LGPS Central and the Church of England National Investing Bodies called for a new global standard to be created that is based upon the consequences of failure, that is independent and transparently monitored for implementation. In response, a global review has been established under an independent chair, the former Swiss environment minister, Prof Bruno Oberle.
Closing the knowledge gap
A standard is necessary but will not be sufficient. It needs to be reinforced by a central global database that can independently track all tailings facilities and gather disclosures on key information about each dam. That is why investors made a second intervention, this time supported by over 100 funds with over $12.5trn in (€11.1 trn) assets under management. This required 680 listed extractive companies to disclose if they had any tailings facilities and if they did, to answer 20 questions on each. This disclosure was to be verified by the company CEO or chair and made publicly available on the company website. The deadline for the disclosure was 7 June and various CEOs made statements to the market, organised investor briefings, and set up dedicated sections on their websites with answers to investors' questions.
We also encouraged companies to engage with communities on their new disclosures, so communities were aware of the tailings dams that might affect them. Over 200 firms have so far responded. Those that have not will be urgently engaged by the investor group to ensure we have full line of sight on all facilities across this group of companies.
Since Brumadinho, investors have met four times at Church House, the headquarters of the Church of England, as part of the Investor Mining and Tailings Safety Initiative. We are committed to doing so until we are confident we have done all we can to ensure the safety of communities and workers on this issue, as well as our own investments in our companies. Further interventions are planned as we continue to work through the implications of what is a significant challenge for responsible investment. We have a mandate to monitor risk in our portfolios. We had an opportunity to engage after Samarco and yet still Brumadinho occurred.
Importantly, we want to ensure that responsible investors can have confidence in this sector so that they do not walk away. Society needs mining, but it needs it done well with best practice as the minimum standard of operation. We have been pleased by the initial response of some key industry players. There is real commitment among several of the CEOs we speak to that also see that this is the moment the sector changes for ever. We are only just starting but we know the stakes are enormously high for all concerned.
Adam Matthews is director of ethics and engagement at the Church of England Pensions Board. John Howchin is secretary general of the Swedish Council on Ethics