---
German pension schemes reveal ambitious overhauls to reduce sponsor burdens
Generali moves to reassure over sale of insurance business to Viridium
The trend of de-risking pension plans is hardly new, but it has not dominated a German pensions event as much as it did at Handels–blatt's annual occupational pensions conference in April.
Germany remains one of the strongholds of defined benefit (DB) plans in Europe. While not all German pensions are strictly DB, most still have minimum annual guarantees averaging 4% – but in a continued low-interest rate environment this is akin to a DB plan in terms of company risk.
Speakers at the Berlin conference were much more open about restructuring efforts than they have been previously. Pension fund managers volunteered details of how they closed old plans and set up new ones, what investment risks they were (or were not) taking, and where they experienced hurdles in member engagement and communication.
DWS explained the evolution of the asset allocation of Deutsche Bank 's €10.8bn assets held for its Direktzusage pension plan. Having switched to what DWS called an "opportunistic LDI strategy", the share of alternatives was increased and some hedging ratios – including interest rates, inflation and credit spread – were "opportunistically" reduced. The aim for Deutsche Bank was to minimise the impact of pension asset volatility on its equity capital.
The chemistry of de-risking
Other companies focused on different goals. Götz Neumann, chairman of the board at the Pensionskasse for Wacker Chemie, said the listed company wanted its €2.5bn pension fund to be able to earn money on the capital markets rather than rely on cash injections.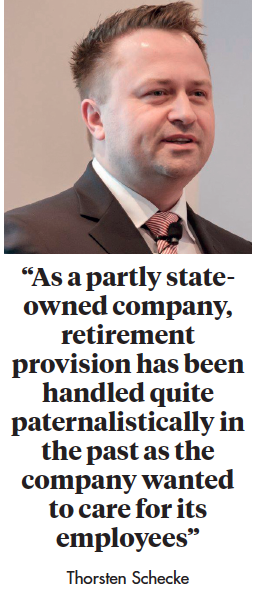 Neumann – who described Wacker Chemie as a "strong plan sponsor" – explained that the board backed a slightly riskier asset allocation within the limits of the legal framework for insurance-based pension funds in Germany.
Chemical and consumer goods group Henkel has introduced new pension plans to match labour market demands. But the listed company is acutely aware of the "high risk" of its liabilities.
Human resources manager Martina Baptist explained how it arranged a 'buyout' of some of its pension liabilities. About 40% of workers agreed to have their past services converted to a guaranteed lump-sum payment upon retirement. Future services will be accrued in a 'German style' defined contribution plan, with a minimum guarantee at the level of contributions made.
Meanwhile, Lufthansa left all accrued pensions for its various different groups of employees (ground staff, air and pilots) "untouched", said Thorsten Schecke, head of retirement provision and social security.
"As a partly state-owned company, retirement provision has been handled quite paternalistically in the past as the company wanted to care for its employees," he explained.
This had resulted in quite generous, but expensive, DB plans. Since 2004, Lufthansa has been trying to fully fund these liabilities and is now at almost 80%. To cover occupational pension arrangements for future services, the group entered negotiations with three different unions. They eventually selected a minimum-guarantee plan at 3.5% annual accrual with a life-cycle investment model.
Reducing complexity
Reinsurance company Munich Re pushed the reset button in January 2019, closing all existing pension plans for new recruits. For its replacement plan, head of rewards and pensions Werner Vogt told the conference, the aim was to be able to increase returns from investments by reducing guarantees.
"The board decided not all risks had to be hedged," Vogt said. Under the new arrangement, upon retirement only 90% of the accrued pension is guaranteed, the rest depends on capital market returns locked in every three years.
Industrial services company Bilfinger is archetypal, having undergone various mergers and restructures leaving it responsible for 154 different pension arrangements for 34 companies within the group by 2017. This meant employing seven actuaries and holding 60 different contracts with insurers for various pension promises.
These arrangements covered the benefits of 2,000 active employees, 2,800 former employees with vested pension claims, and 5,800 retirees.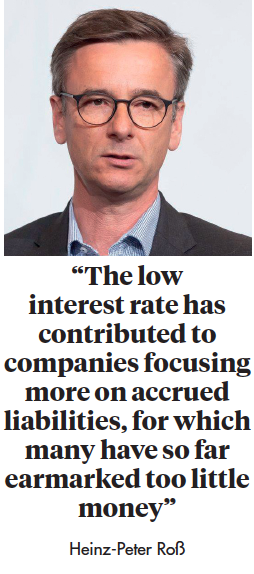 When the group decided to simplify its pension arrangements, it set up a committee dedicated to reducing the number of actuaries to one, paying off some smaller accrued pension rights, and outsourcing administration to external service providers. New employees have direct insurance contracts set up as direct insurance plans (Direktversicherungen).
Run-off fund reassures
Finally, Generali's head of pensions Michael Stille reassured sceptical delegates that the sale of the Italian firm's life insurance business to run-off company Viridium was a good move. Some Direktversicherungen were sold with it.
"We had a lot of questions from our customers about the future of these pension contracts but after talking them through it none of them cancelled the contract," Stille said.
Heinz-Peter Roß, CEO at Viridium, was certain that run-off deals would increase over the next few years. "The low interest rate has contributed to companies focusing more on accrued liabilities, for which many have so far earmarked too little money," he said.
German companies have shown the need, and willingness, to deal with service costs sooner rather than later.
Connecting climate dots
1

2

3

4

Currently reading

Handelsblatt Conference: De-risking comes to the fore as past costs loom large

5

6

7