Several hedge funds are among the most successful activist investors
Key points
• Shareholder activism is rising in Europe
• Activist funds deliver alpha if engagements are successful
• Constructive activism is having a systemic impact
• Activist funds remain rare
The roots of shareholder activism can be traced as far back as the seventeenth century, when Dutch entrepreneur Isaac Le Maire, a shareholder of the Dutch East India Company, sought to break the company's monopoly on trade routes. More recently, shareholder engagement has become relevant thanks to studies such as the Myners Report (2001) and the Kay Review (2011). These studies from the UK, which highlighted the need for better corporate governance, partly vindicated activist investors that had at times been singled out as short-term speculators.
Today, concepts such as socially responsible investment (SRI) and environmental, social and governance (ESG) investing have become so entrenched that even the largest, traditionally passive asset managers feel obliged to show they take their responsibility as shareholders seriously. Institutional investors are also taking matters into their hands, by campaigning and voting, rather than delegating to external managers. However, the bulk of investor activism still takes place within the hedge fund world.
Investor activism is widespread in the US but is spreading throughout Europe and other parts of the world, including Japan. Last year, activist funds decisively turned their attention towards Europe. According to Lazard's 2017 Activism Review, Europe accounted for 27% of campaigns in 2017, compared with 17% between 2013 and 2016. Last year, activist capital deployed in Europe reached 35% of total activist capital, compared with 19% over the previous three years. Activist funds invested $22bn (€18.4bn) in 2017, versus an average of $10bn in the previous period.
There is no shortage of examples of recent high-profile activist interventions in Europe. In May, US fund Elliott Advisors, one of the largest activist funds in the world, took control of Telecom Italia, with a plan to revamp the company's board of directors. Days earlier, it emerged that Amber Capital was seeking new directors for French media group Lagardère. Earlier this year GKN, one of Britain's largest engineering firms, was sold to Melrose in a fierce takeover battle, which also involved activist funds.
Lazard says 2017 was a record year in terms of capital deployed by activists globally, with $62bn deployed by 108 activists across 193 campaigns. The figure is more than double the total capital deployed in 2016.
However, activism remains a niche strategy. Hedge Fund Research (HFR) calculated that at the end of last year, activist strategies represented 15.1% of assets within the event-driven category. The estimated total assets were $125.6bn.
Hedge fund investors will rightly question the opportunity to focus on activist funds, given the high idiosyncratic risk they carry, because of their concentrated portfolios. From a style point of view, activist funds are essentially fundamental active equity investors with an absolute-return target. They focus on few stocks at a time and require long capital lock-in periods. They are not the typical reason why an institutional investor buys hedge funds.
Looking at data from HFR, their aggregate performance has been good, but not spectacular. The HFR's index tracking activist funds has returned 34% since 2008, which does not compare well with the 50% returned by the firm's Event-Driven index.
The HFR Fund Weighted Composite index returned nearly 38%, with lower volatility than both indices. However, as fundamental active managers, activist funds are subject to the same debate as their peers outside the hedge-fund space. For that reason, questioning their average performance seems beside the point. Good activist funds do outperform. Cevian Capital, one of the largest activist funds globally and the largest in Europe, has returned 252% after all fees and expenses since inception in July 2006. Over the same period, the MSCI World has grown 75%.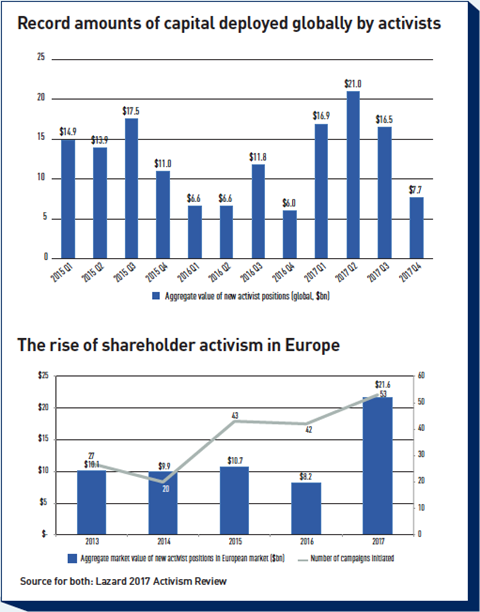 Advisers recognise the potential of activist funds, but tend to warn about the dangers of investing in concentrated portfolios as well as other non-financial risks linked to these investments. Joanne Job, head of research at MJ Hudson Allenbridge, says: "The headline risk and reputation risk that is often associated with activist hedge funds is something that a conservative investor wouldn't necessarily want to be associated with, notwithstanding that some activist funds can generate strong returns and be effective at driving change in large corporations. It is worth noting, however, that there are different types of activist funds: there are the ones who employ aggressive tactics; others which have a softer shareholder engagement approach and there are those who are occasional activists."
Alper Ince, sector specialist of long/short equity and event-driven equity at alternative multi-manager PAAMCO, says: "This is a reputational and credibility game. If managers are looking for upside in the short term, based on their filing, or a short-term fix to a problem and a swift exit, other investors are going to see this.
"You have to really be careful with selecting your activist manager and do proper due diligence. You have to make sure your manager has a proper campaign and is ethical in their dealings. Background checks and reference checks are fundamental."
Ince notes: "It's a growing universe; there are new players who may have not had the portfolio management experience, but may have had individual activist campaigns or individual board experience. You have to go through each individual strategy."
Seeking activist alpha
The purpose of an allocation to activist funds is surely to capture uncorrelated alpha. Recent academic studies suggest that these funds can indeed be a plentiful source of alpha. A September 2017 study by Becht, Franks, Grant and Wagner published in the Review of Financial Studies, which analysed more than 1,700 activist engagements carried out by 330 funds, stated that activism "generates positive alpha on average in large firms, but in all engagements the returns crucially depend on the activist achieving outcomes".
The conclusion seems perhaps intuitive but the study goes further, showing that the average probability of an activist being successful in at least one engagement is 53%. "In North America activists achieve outcomes in 61% of all engagements and 50% in Europe, but only 18% in Asia," says the paper. "The types of outcomes matter even more. Takeovers or multiple outcomes, such as board changes followed up restructurings or spin-offs, are very profitable, compared with changes in payout," adds Prof Julian Franks, one of the authors of the study.
Research conducted by Franks confirms that the sector is growing. It is also changing, as institutional investors become more engaged and concerned with corporate governance. Franks says: "There is a bit of a trend towards more quiet activism, even among focused funds. There is a slight change in tone of some activists, which have become less hostile, less likely to publicise their engagement, and more likely to engage by getting onto company boards. In part, this may be a response to companies, who are more familiar with activism, and not taken by surprise when an activist comes on board."
His comments echo the experience of Cevian Capital. The firm, founded in 2002, is chaired by Lord Myners, who joined in 2011 after his tenure as a junior minister responsible for the City in the UK government ended. Myners coined the expression 'ownerless corporation' and, fittingly, Cevian's goal as an activist fund is to pursue change through ownership of companies.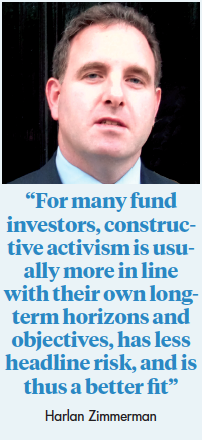 The firm usually acquires stakes of between 5% and 20% in European companies and pursues board positions to achieve multiple outcomes, focusing on operational improvements and changes in strategy and structure. Harlan Zimmerman, senior partner, brands the style of the firm 'constructive activism'. This is long-term in nature and distinguished from American-style short-term activism pursued by other firms.
Zimmerman says: "From early on, we have taken the approach of making companies better and more competitive, which makes them more valuable and, as a consequence, generates a good return for us and other owners. We are long only, and normally join the boards of the companies, so we have clear incentives and visible commitment. Over the years, this approach has gained ever more support from other stakeholders, including passive and active equity managers, who have themselves become more engaged. This has made constructive activism more impactful.
"By its nature, constructive criticism is a long-term process," says Zimmerman. "You can't make a company better in a few quarters. Our average holding period is five years. If you are going to be involved with a company for that period of time, you are not going to have a public war with them. For these reasons, constructive activism is characterised by styles of involvement which are more positive and typically not conducted in the press.
"For many fund investors, particularly pension funds, constructive activism is usually more in line with their own long-term horizons and objectives, has less headline risk, and is thus a better fit."
About 30% of Cevian's clients are pension funds, and 40% are institutional investors of other kinds, including endowments and sovereign wealth funds. The company has benefited greatly from the increased focused on engaged ownership that emerged as a result of the financial crisis, which Zimmerman calls "a failure of ownership".
He adds: "Activism is not just having an impact on the companies that activists target. It is having a systemic impact." He explains that many companies are effectively being their own activists, perhaps to avoid activist interventions, spurred on by bankers and management consultants who present to boards views on how activists would critique their companies.
Despite the firm's purely European focus, the vast majority of Cevian's pension fund clients are from outside Europe. He says: "We have asked ourselves why there aren't more European CIOs pushing for and investing in constructive activism, since it not only generates attractive returns. It also indirectly benefits pension funds as broad owners of European equity markets. We find that many European investors still have quite fixed buckets, which means some will struggle to place constructive activist investments – which are by nature long-only and long-term – in either the equity bucket or in the hedge-fund bucket."
Zimmerman points out that, although activism is growing, it remains a strategy that few investment managers can pursue because there are significant barriers to entry. Activist managers need credibility to influence companies and benefit from support of other shareholders, and a critical mass of long-term capital to buy large stakes and engage successfully.
He estimates that, using a broad definition of funds with more than $1bn of assets, there are about 10 activist funds in the US and no more than three or four in Europe. Even fewer, are dedicated activist funds like Cevian. Launches since the financial crisis have been rare, and a number of early activist funds have suffered redemptions or closed in recent years. Cevian soft-closed its fund in 2013 and currently only takes in new investors to replace quarterly redemptions.
Tagging along
One way to access the benefits of activism is to invest along activist funds, rather than in their funds. Last December, Scandinavian fund manager Skagen launched a fund that invests in companies subject to activist campaigns.
The approach is largely untested but Tomas Johansson, portfolio manager for the fund, and former Cevian Capital employee, explains the rationale: "There are several advantages to our approach. The expected return is higher on a gross basis because the fees are significantly lower. We have daily liquidity, which is a huge difference, as we do not have to lock our investors in, because we are not involved in the activist campaign themselves."
"We carry less risk, because we build a globally diversified portfolio. We do our own independent analysis of the companies we invest, just as any other equity manager that has a fundamental bias, and develop an independent view of what they should be worth. We also select investments on the basis of the quality of the activist campaign that is being run."
Hedge Funds: Activist funds turn up the heat
1

Currently reading

Hedge Funds: Activist funds turn up the heat

2

3

4