Last year was good for hedge funds in terms of raising new money. Total assets managed by all funds reached an all-time high of $3.24trn (€2.85trn), according to Hedge Fund Research (HFR), up from a low of $1.4trn at the end of 2008. But at the same time the industry suffered its biggest annual loss since 2011, declining 4.1% on a fund-weighted basis, according to HFR. In other words, most hedge fund managers were not able to successfully navigate the market turbulence in the worst year for the S&P 500 since the financial crisis.
It was, indeed, the stock market crash of 2008 that led many US pension plans to attempt to outperform public stock and bond benchmarks by investing in alternatives and especially in hedge funds. But it did not go as planned, according to a new study 'The Grand Experiment: The State and Municipal Pension Fund Diversification into Alternative Assets' by Jeff Hooke and Ken Yook, researchers at the Johns Hopkins Carey Business School in Washington, DC (published in the autumn 2018 issue of the Journal of Investing). In fact, some pension consultants have started advising their clients to review hedge fund performances and possibly liquidate them.
In January, the $2.9bn San Joaquin County pension fund (SJCERA, based in Stockton, California) did just that. After reviewing its investment in Bridgewater's Pure Alpha fund for more than a year, it pulled its entire $81m from it. Ray Dalio's Bridgewater is the largest hedge fund firm in the world. It has $160bn under management and last year its flagship Pure Alpha fund gained 14.6%, but during the previous years it disappointed with mediocre performances.
Even with its 2018 strong performance, Bridgewater made just 4.1% annualised net of fees for SJCERA in the five years ending November 2018, trailing its 5% target for that investment, according to Bloomberg.
The San Joaquin County pension fund is small but its pension consultant is big – Pension Consulting Alliance (PCA). According to a press release, PCA has "non-discretionary consulting relationships representing more than $1.4trn in institutional investor assets". The consultant has agreed to join forces with Meketa Investment Group and the integration is expected to happen in the first half of 2019. It was PCA that first recommended putting Bridgewater under review in November 2017. So Bridgewater may fear that PCA will give the same advice to other larger pension funds.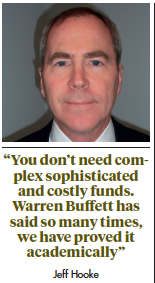 Under scrutiny are all hedge funds' performances and fees. "Their managers sold the idea of 'absolute returns – that is, to achieve three percentage points above T-bonds each year, no matter what happens to financial markets, but the reality is that their performances go up and down like the stock market," says researcher Hooke. "Over the 20-year period 1996 to 2016, state pension plan allocations to hedge funds increased from zero to 6%, and to private equity from just 3% to 11%. But at the same time, an index fund invested 60% in equities and 40% in bonds has beaten all the state pension funds' portfolios."
Hooke's punchline: "You don't need complex sophisticated and costly funds. Warren Buffett has said so many times, we have proved it academically with research that has been peer-reviewed." People running pension funds do not like hearing that, according to Hooke. "They don't want to show that all their efforts generate no good returns. Basically, they don't want to lose their job," he says.
Hooke's research has not changed most consultants' attitude towards alternative investments. "We continue to support allocations to hedge funds and other alternatives, as they are a source for diversifying return streams and alpha," says Jon Pliner, senior director, investments and US head of delegated portfolio management at Willis Towers Watson. "In general, hedge fund performance has disappointed in the recovery since the global financial crisis. However, we remain committed to our approach to hedge fund investment which prioritises differentiation and specialisation, low equity and credit beta and value for money in addition to skill. In our view, many portfolios would benefit from exposure to these types of investments, allowing them to reach their return objectives, while mitigating drawdowns in potential market downturns."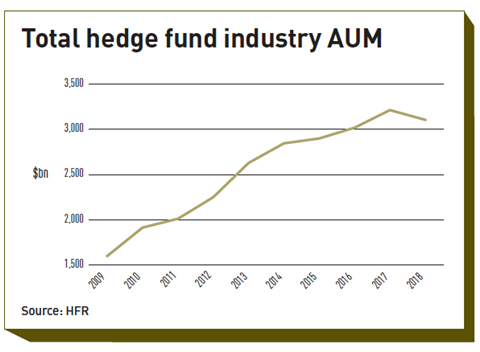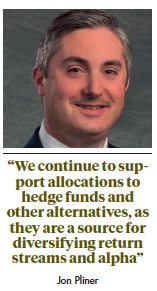 Don Steinbrugge, managing partner at Agecroft Partners, a consulting firm with a focus on hedge funds, does not see a trend of pension funds leaving hedge funds. "We meet many of their managers," he says. "They may be disappointed by hedge funds' performance but they are also upset with the bonds market, equity valuations, and so on."
Steinbrugge also disagrees with critics who claim that unfunded pension liabilities are the result of investing in alternative investments. "It is not supported by the facts," he says. "The main reasons public pension funds are underfunded regard annual contributions, discount rate, appropriate structure, and politics."