The positive global economic outlook brings possibilities for investors in high-yield and credit
Key points
• The credit cycle is at mid-state at present with a good economic outlook
• Underwriting standards are generally high for high yield
• But valuations seem to be at elevated levels
• The growth of emerging market high-yield debt is an important trend
Many factors drive returns from different asset classes, but for sub-investment-grade debt of any type the main determinant of investment performance is the default rate. The 2008 financial crisis caused 10% of the US high-yield and loan market to default.
Today the market has changed fundamentally. Returns might not be excessive for high-yield investors but neither, it appears, are the risks.
In the years immediately prior to the crisis all the elements necessary for an increase in defaults were present, says Patrick Flynn, portfolio manager at Neuberger Berman. There were excessively flexible underwriting standards in terms of a surge of new deals to weaker credit. The fragility was apparent in several respects, including leverage multiples, cash-flow coverage, and covenant terms. There were also highly flexible structures such as toggle notes. Additionally, there were weaknesses in the financial system, as well as a slowing economy.
Today, in Flynn's view, the global economic picture shows little sign of weakness, reflecting generally held views.
Banks are not as vulnerable to shocks following massive capital increases and there are no large sectors in the high-yield market facing existential pressures. Retailers face online competition but they represent just 3% of the high-yield benchmark – not enough to derail the market. Revenues and cash flows in the high-yield market show an improving picture across the board. That was true before the massive stimulus given by the Trump administration in terms of tax cuts and the spending bill.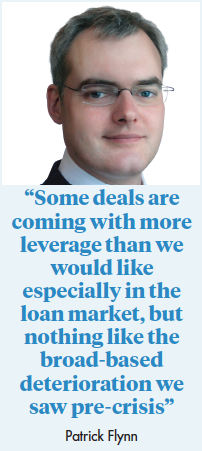 The immediate outlook is positive. Moody's expects the global default rate for the high-yield bonds it rates to decline to 1.7% by the end of 2018, down from 2.9% in 2017, according to Sharon Ou, the credit agency's senior credit officer. Corporate defaults overall declined in 2017 by more than a third from 2016's total of 143 – the first year since 2014 that global defaults were fewer than 100. There were 25 defaults in the oil and gas sector, the highest among tracked sectors, followed by retail with 13 defaults.
Flynn does not see signs of excess in the underwriting quality in the US and Europe. "Some deals are coming with more leverage than we would like, especially in the loan market, but nothing like the broad-based deterioration we saw pre-crisis." In 2007, over 40% of underwriting new issues was CCC or below. Today it is less than 20% and BB issuance is the largest single ratings grade.
There has been some deterioration in standards for covenants, says Justin Jewell, senior portfolio manager at BlueBay Asset Management. The market has become covenant-light – that is, many loan agreements do not include the traditional protections. That is where the market has become relatively permissive towards the private-equity sponsor community. This has been particularly noticeable in Europe, where covenant quality has diminished starkly over the past few years.
Valuations have reached levels where private-equity sponsors are aware that finding another 15bps, 20bps or 30bps of incremental yield by reducing coupons by that amount is difficult. They are getting a reasonably good deal in terms of funding costs on a historical basis. Jewell says: "Where they want to push the boundaries is on covenants. If you look back at the last cycle, covenants do really matter. There has been a really short, sharp, aggressive correction, and sponsors were caught out. That is something they do not want to experience again."
Spreads are not compelling by past standards but they probably are compensating investors for the probability of defaults, and therefore are fair value, argues Jewell. It is worth taking on credit risk as it offers at least acceptable compensation and looks attractively valued compared with other global assets.
It is important to recognise that global high yield really does mean global today, says Mike Della Vedova, portfolio manager at T. Rowe Price. "A lot of people look at global high yield through a 2000 lens – that is, global means significant US high yield with around 70-80% in US," he says. The US represents about 55% of opportunities in the main indices, which creates an opportunity for institutional investors.
The key factor has been the growth of emerging-market high-yield debt. China and other parts of Asia, Latin America, Middle East and Africa are the biggest contributors to global debt. Hard currency emerging market sub-investment-grade debt today represents just under a quarter of global high-yield opportunities.
The main three divisions of the global high-yield market – the US, Europe and emerging markets – show pronounced differences. Two or three years ago, debt was being issued by expanding Chinese corporations, mainly property and retail-based.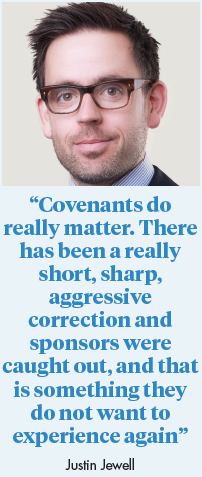 In Latin America there is increasing debt from infrastructure spending and energy, says Della Vedova, with emerging markets following the US high-yield market through the conduit of energy prices in countries such as Argentina and Brazil.
The emerging-market benchmark gives a spread of 360bps over US Treasuries. That is a little less than the US high-yield benchmark of 380bps, Flynn points out. Credit risk is, if anything, more focused on a resource base: energy and banking are the two largest sectors in emerging markets. "So with emerging markets, you are getting less yield for a more concentrated and volatile market" says Flynn.
Ratings are higher in Europe than in the US, with a greater percentage of BBs and a lower percentage of CCCs. It is also less cyclical than the US, as resource-extraction companies in energy, metals and mining account for about 20% of the US market and a negligible amount in Europe.
Historically, Europe has had tighter spreads as it is less cyclical and has also had a shorter duration. In the first quarter of 2018, the cross-currency swap rate enabled US investors to gain 3% from buying euro-denominated debt and hedging back to dollars (and vice versa for euro investors who would lose 3% of a dollar swap). US investors, says Flynn, thereby benefited from generating 6% yields in European hedged debt compared with US yields, but with an index of higher credit quality and lower duration, making the European high-yield market look relatively attractive compared with to the US.
For high-yield investors, the biggest concern is future global economic policy, which, as Jewell argues, could provide a headwind for high yield. There has been much focus on President Trump.
But, argues Della Vedova, the US economy can only turn in one direction – and that is negative. "The requirement to protect the US economy means that we would have seen the same type of talk under any administration," he says.
Default probabilities and spreads might be acceptable, but all-in yields are also a function of a policy that is changing, with rising rates and rising inflation. Spreads can absorb some element of rising government yields, but they cannot contain a significant hiking cycle. For investors, it suggests that portfolio structuring is likely to move towards shorter duration and to an approach more focused on alpha than beta.
High Yield: New risks and opportunities
1

Currently reading

High Yield: New risks and opportunities

2

3