• The choice of inflation measure has a big impact on UK DB schemes
• Discount rates have dropped across the euro-zone
• IAS 19 amendments on remeasurements are weighing on some sponsors
If there is one issue that has seized the attention of defined benefit (DB) sponsors this reporting season, it is whether inflation should be measured using the consumer prices index (CPI) or the retail prices index (RPI). And Lane Clark & Peacock (LCP) partner Alex Waite is clear why: "There is a formula [for RPI] and the formula is wrong. It is like having an error in a spreadsheet," he says.
But addressing that flaw following a UK government announcement on 4 September, he contends, is going to lead to diversity in practice around inflation assumptions in this year's accounts. He says companies face a dilemma: "Some people took the announcement as implying that RPI will no longer exist in its current form in a decade's time and we will effectively all use CPIH (a CPI measure that includes owner occupiers' housing costs). Alternatively, there is another view that nothing really changed on 4 September."
In that September announcement, the government responded to a House of Lords Economic Affairs Committee report, Measuring Inflation, from January 2019 by revealing its plan to consult next year on either aligning RPI with CPIH at some point between 2025 and 2030, or waiting until 2030 when the UK Statistics Authority will be in a position to do so of its own accord.
What is beyond doubt is that moving to a measure that is typically one percentage point lower than RPI could significantly affect not only DB schemes that link benefit increases to RPI but also for index-linked Gilts and most UK inflation swaps. It is important to remember that International Accounting Standard 19, Employee Benefits (IAS 19) says sponsors must use market-derived inflation assumptions.
Waite's colleague, Tim Marklew, a partner at LCP, predicts "quite a lot of diversity in practice" as companies struggle to process the ramifications of the September announcement. Somewhat bravely, you might think, he is nonetheless willing to hazard a guess and pick a ballpark figure: "I think 2% for CPI inflation."
Willis Towers Watson director and consultant actuary Andrew Mandley adds: "Looking at the 30 September accounts we have seen so far, some companies have stuck with a 1% difference, but others have reduced it to a 0.8% gap. I expect we will see a similar pattern in the year-end reports, too. In terms of the financial impact, it all depends on how much of your pensions liability is linked to each of RPI and CPI inflation. But if you think about a 0.2% change in inflation assumptions, potentially you could be talking 2% to 4% of the DBO [defined benefit obligation]."
And Simon Robinson, a director within Deloitte's UK pensions consultancy business, warns against underestimating the scale of the discrepancy: "The numbers we are talking about in the accounts are potentially very big numbers and could be as extreme as a reduction of 20% of the gross liability. So you could have a company that has a net asset position of £100m (€120m), but, because of the fact that they have hedged that position, the scheme itself could slip into deficit.
Yet, as he explains, the impact of the change is not just at an entity level on the rate at which sponsors estimate their liability for inflation-linked benefits but also at a market level on the asset side. This comes at a time, adds Alex Waite, where the inflation curve is still predicting a relatively high figure for RPI-based inflation, and the only deep and liquid market is in RPI-linked instruments.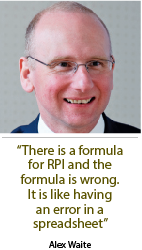 • Another hot topic in the UK is mortality. The introduction of the Continuous Mortality Investigation 2018 tables adds up to changes to some of the parameters underlying that model. In particular, less smoothing of the downturn in the rate of mortality improvement this decade has produced lower life expectancy figures than in the CMI 2017. On its own, the actuaries say, this could reduce the calculated DBO by one percentage point to 3%.
But, says Andrew Mandley, there is a complication, because the CMI 2018 now contains a new parameter – the 'initial addition'. Put simply, it is an open question at the moment how sponsors will reflect the transition from the CMI 2017 to the 2018 model. The UK actuaries who spoke to IPE say we could see those that use the additional parameter more or less standing still.
But at least we have the equity markets to spread a little festive cheer and detract from the dismal news on the bond markets. As at the end of September, yields on A-rated corporate bonds stood at 1.8% – a drop of 0.4% over the third quarter – pointing to a fall in discount rates. Fortunately, the FTSE All-Share total return index was up 14% on the year at the time of writing.
• Meanwhile, across the euro-zone, discount rates have also dropped dramatically and now stand at between 1.1% and 1. 3%, says Mercer's chief actuary in Germany, Thomas Hagemann. Last year, the rates stood at 2.0% to 2.2%. Helpfully, euro-zone inflation has come out roughly where discount rates are, and Thomas Hagemann says he expects to see accounting assumptions come in across a narrow range of 1.5% to 1.7%.
But whatever the challenges on the liability side, 2019 has turned out to be a turbulent but positive year on the asset side, thanks to double-digit returns on the back of central bank easing. "Overall, we would expect pension funds to be able to generate strong returns year to date," adds Mercer Germany's investment co-lead Jeffrey Dissmann.
• Another matter that will tax DB sponsors this year are the amendments to IAS 19 affecting plan remeasurements. In short, these changes mean that where sponsors amend the terms of their plan, they must remeasure their pension expense using updated assumptions from the point where the change – a plan amendment, settlement or curtailment – occurs.
"So where we have, say, a settlement in the middle of the reporting year, but the discount rate has also fallen," says Hagemann, "the company has to recalculate service cost and interest cost for the rest of the year.
"This can produce a situation where a company set out to reduce its service cost but ends up reporting an increase simply because of the change in the discount rate. In my view, this produces a loss of comparability because a company with a settlement, say, has a different service cost to a company with otherwise identical assumptions."
This change is also weighing on sponsors in Switzerland, says Mercer's head of retirement services in Switzerland Daniel Tonks. "The changes are a live issue in Switzerland," he explains, "because many plans have switched their conversion rates [the rate at which invested capital is converted on retirement to a pension]. Remeasuring the expense can result in a non-trivial amount of work and have a disproportionate impact on the financials."
Broadly speaking, he says, changes at the end of the reporting year are likely to be non-material, in contrast to those at the start of the year, which will likely require a remeasurement. Those mid-way through the year will probably necessitate a discussion between the client and their auditor.
A truly pragmatic solution. But will it be enough to make the year-end run like clockwork?