Macroprudential authorities see growing credit and liquidity risk as a potential systemic problem during market stress
Asset management industry representatives challenge the evidence provided by the authorities
When will the next financial crisis hit? Over 80% of respondents among a sample of 500 institutional investors surveyed by Natixis Investment Managers expect a crisis to take place within the next five years.
The survey, published in December 2019, did not ask how investors expect such a crisis to unfold. But the International Monetary Fund (IMF), the European Central Bank (ECB) and the Bank of England (BoE) suggest that it may well originate from the asset management industry, owing to the rising level of systemic risk.
Historically, funds and institutional investors' portfolios have raised little concern from a systemic perspective, with banks being the greater source of systemic risk. However, two concurring factors seem to have shifted systemic risk towards asset management activities.
Regulation restricting banks' ability to finance the real economy has seen the growth of lending by funds and institutional investors. At the same time, extremely low yields have pushed investors towards riskier assets. This creates potential for sell-offs and spillovers, particularly under certain conditions, such as a reversal of interest rates that causes borrowers from non-banks to default.
Macroprudential authorities seem to be clear about the systemic nature of the problem. Along with the publication of its most recent Financial Stability Report in November, the ECB issued a press release saying: "In the event of a sudden repricing of financial assets, growing credit and liquidity risk in some parts of the euro area non-bank financial sector – coupled with higher leverage in investment funds – may lead non-banks to respond in ways that cause stress to spread to the wider financial system."
In July 2019, the Bank of England's Financial Stability Report said that the mismatch between the redemption terms and the liquidity of some funds' assets "has the potential to become a systemic issue".
The report says: "Many [open-ended funds] offer daily redemptions while investing in assets that can take weeks or months to sell in an orderly way. This liquidity mismatch can create an incentive for investors to redeem when they expect others to do so, resulting in forced asset sales. These asset sales could test markets' ability to absorb them, amplifying price moves, transmitting stress to other parts of the system, and disrupting the availability of finance in the real economy."
The latest edition of the IMF's Global Financial Stability Report (GFSR), published in October 2019, also addressed systemic risk within the non-bank sector. Peter Breuer, one of the authors of the report, says: "Vulnerabilities are high in 80% of economies with systemically important financial sectors. That is a large number. This is really what prompted a more granular analysis.
"In the latest edition of GSFR, we are looking at the extent to which institutional investors may be contributing to risks in a falling-rate environment. We essentially say that the lower-for-longer yield environment might prompt institutional investors to seek riskier and more illiquid investments in order to earn their targeted return.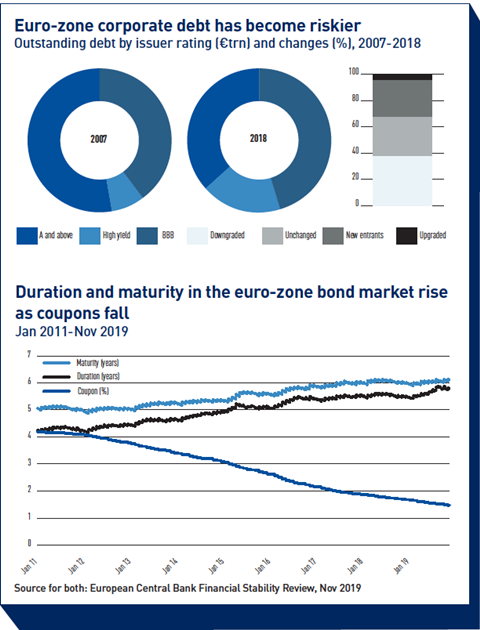 "This increased risk-taking may lead to a further build-up of vulnerabilities. This does not only concern investment funds but also pension funds and insurers. In this edition, we emphasise that the low-yield environment promotes an increase in portfolio similarities among investment funds that could amplify any market sell-off."
Representatives of the asset management industry maintain that there is no real evidence that the industry poses a systemic threat. They contend that asset managers and their clients, by their nature, are unlikely to behave in a way that could trigger a systemic crisis.
They point to the fact that asset managers do not provide maturity transformation, the process by which banks turn short-term liabilities, such as current accounts, into long-term assets, such as loans or mortgages. Long-term assets in funds are matched against long-term liabilities.
There is also the argument that asset managers are agents, rather than principals, acting on behalf of long-term investors that do not treat funds like bank accounts and can withstand volatility shocks.
David Hiscock, deputy head of market practice and regulatory policy at the International Capital Market Association (ICMA), says: "The nature of asset management firms and funds is very different from the nature of banks and of the problems that have been experienced in that sector."
"Notwithstanding that from time to time there have been specific problems, mainly due to governance failures, none of those problems have spilled over in a way that would appear to be systemic.
"The IMF has noted that there are numbers to show increased holding of illiquid assets by investment funds, and has suggested that, therefore, steps should be taken to strengthen oversight and make sure the correct disclosure is taking place. They have not necessarily said that this shift in asset allocation within portfolios means there is a systemic risk. Rather, they are saying that it means there is more evidence that the possibility that there could be systemic risk does need to be assessed," adds Hiscock.
Sean Collins, chief economist at the Investment Company Institute (ICI), a US-based asset management lobby group, says: "The GFSR tries to make the case that fire sales by regulated funds are increasing in a declining interest rate environment.
"I would say that the new evidence that the authors of the report bring does not support that conclusion. In some cases, their evidence goes almost completely the opposite direction, showing that funds are well-equipped to deal with issues like large outflows or rises in interest rates."
Collins takes issue with some aspects of the methodology used by the IMF. He says: "In the GFSR, there is data that seems to suggest that interest rate risk is rising in high-yield funds, by showing that average maturity in high-yield funds is rising. The problem is that average maturity is not a good measure of interest rate risk. The correct measure is duration, and based on our calculations, duration for the same funds has been flat over the period considered by the IMF. The takeaway is that interest rate risk has not changed for those kinds of funds."
Other data implies that some funds could face fire sales and redemption risk and that they would be unable to meet redemptions with their liquidity. The approach considers the biggest redemption that funds have experienced over a period and assesses whether today they would meet redemptions using a measure of liquidity. "The problem is that the assessment of the liquidity of assets is based around Basel III standards. These are bank capital standards and as such they are not appropriate for funds," says Collins.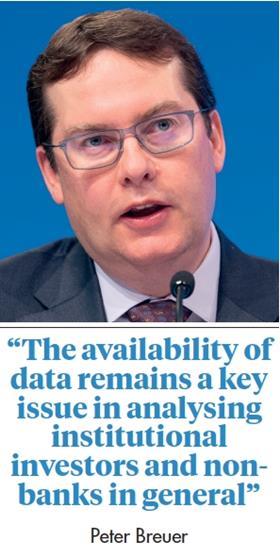 "Even accepting that method, the IMF seems to claim that a lot of funds will not be able to meet their redemptions as they face liquidity shortfalls. But that is not clear if you actually look at the details. According to the data presented, the total liquidity shortfall of fixed-income funds with $10.5trn of assets in total is $160bn. That amount is 1.5% of these funds' assets. That does not seem like a very large shortfall."
Collins adds: "This is something the IMF and other institutions have been doing for a long time. It is not the first time they have made claims that are not supported by the evidence."
But the IMF insists that there may be a problem, and that the scarce availability of data only complicates the analysis. Breuer says: "The credit quality of many investment funds has either deteriorated, or cannot be properly assessed because the underlying instruments are not rated."
"Rising mismatches between illiquid asset holdings and the promise of sometimes daily liquidity to investors could mean that investment funds may face increasing pressure to sell into illiquid markets if they face investors redemption. That would exacerbate falls in asset prices."
Breuer adds: "The availability of data remains a key issue in analysing institutional investors and non-banks in general. The data is still not complete enough to make assessments at the macro level with great confidence. There is still a great deal of uncertainty about the actual underlying vulnerabilities."
ICMA's Hiscock points out that there are controls in place to monitor and strengthen the resilience of the industry, including the European UCITS and AIFMD frameworks. In 2017, the Financial Stability Board (FSB) published its 'Policy Recommendations to Address Structural Vulnerabilities from Asset Management Activities'. The following year, the International Organization of Securities Commissions (IOSCO) released a series of recommendations around liquidity risk management for funds, which built upon the FSB's recommendations. IOSCO said this year it will review how its recommendations have been implemented.
Hiscock says: "Authorities are correctly playing their role by asking questions about systemic risk in the industry and I am encouraged to see that the rules and controls we have, such as stress tests on funds and the various fund frameworks, are properly applied.
"But still, in fact, there is no evidence of the mechanism that is going to translate a problem with a particular fund into a problem of systemic significance. The evidence suggests that in a series of stress conditions over many years, there has not yet been a case where problems with funds become systemic.
"The industry actually plays a helpful part in spreading risk, having a wide range of different funds, pursuing different investment strategies on behalf of a very diverse range of investors with different priorities, who are not necessarily all going to act in the same way at the same time."
It is beyond doubt, however, that asset management activities will continue to be closely monitored to spot signs of possible weakness within the wider financial system.
Breuer says: "Increasingly, financial intermediation has moved away from banks and towards asset managers. It's a new world we live in. The next crisis will likely be different from the previous one. It's important for risk managers, financial institutions, investors and policymakers to think ahead how risk could materialise and what its implications would be for the financial system, as asset managers hold such a higher share of financial assets.