Japan is all too often portrayed as being different from other countries. Not just distinctive in the obvious sense that every country has its own national peculiarities. Instead, somehow unique in a way that makes it stand out from every other country.
Japan performed remarkably well in curbing the health impact of the COVID-19 pandemic
Nevertheless the economy took a hefty hit
The pandemic has had a mixed impact on Japanese equities
On the face of it, that certainly seems to be borne out in relation to Japan's experience of COVID-19. The country has many risk factors that would be assumed to make it particularly vulnerable to the virus. Its population is one of the oldest in the world, many of them elderly male and long-term smokers, and multi-generational households are common. The population is also largely crammed into large dense urban areas along Japan's coastal plains.
Despite these seemingly inauspicious circumstances, the country has done remarkably well at containing the pandemic. At the time of writing, it had suffered about 2,700 deaths as a result of COVID in a population of 126m. In comparison, Germany – far from Europe's worst performer – had suffered about 25,000 deaths out of a population of about 83m.
To add to the enigma, Japan was one of the few countries in the world not to have a nationally mandated lockdown. So despite an apparently liberal approach to tackling the pandemic and all its disadvantages, Japan's performance is all the more remarkable.
There are several hypotheses about why Japan has performed so well in relation to COVID-19. The most popular revolve around well-known cultural practices in Japan such as the heavy preoccupation with cleanliness, taking off shoes when entering homes and the relative unpopularity of handshaking and social kissing. "The Japanese tend to be socially distanced by nature," says John Vail, chief global strategist at Nikko Asset Management in Tokyo. Mask wearing was also already common, even before the pandemic.
However, there are other possible explanations. Some argue that the BCG inoculation regularly given to Japanese schoolchildren for decades has inadvertently provided protection against COVID-19. Others contend that the Japanese have immunity to the virus as they have had to contend with a similar, although less harmful, infection in the past.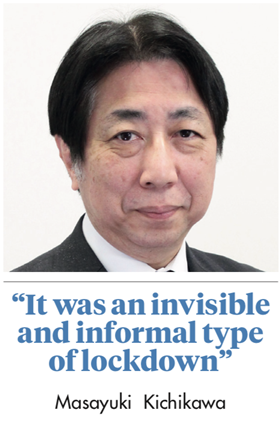 Whatever the true reason, the strong performance in relation to the pandemic opens up another apparent paradox. Despite the relatively muted impact of the disease and the lack of a lockdown, the country's economic performance has been average by global standards. In its December 2020 Economic Outlook the OECD forecast an economic contraction of 5.3% last year. That is just marginally less bad than the average 5.5% contraction for OECD countries in 2020.
However, Japan's GDP was already depressed in the final quarter of 2019 owing to the increase of the consumption tax in September of that year (see figure). So the 2020 growth figure already started off from a lower base.
Admittedly, part of the explanation lies in the export sector. Even if COVID had no effect inside Japan, the pandemic hit its export markets hard. And, indeed, Japanese exports fell by 5.3% in the first quarter and 17.1% in the second quarter, according to figures from the Cabinet Office.
However, it is striking that domestic consumption also took a heavy hit with a fall of 8.3% in the second quarter. "The domestic economy has suffered pretty badly, especially small business," says Nikko's Vail. So the substantial economic contraction in Japan last year cannot just be put down to exports. That is even more the case now with some of Japan's Asian trading partners, most notably China, recovering relatively strongly from the pandemic.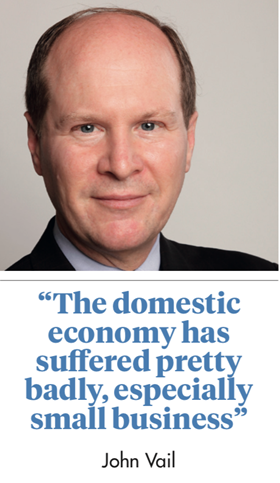 Masayuki Kichikawa. chief macro strategist at Sumitomo Mitsui DS Asset Management, explains the domestic economic hit despite the lack of a nationally mandated lockdown. The Japanese people took it upon themselves to modify their behaviour to curb the impact of the pandemic. "It was an invisible and informal type of lockdown," he says.
In other words, Japan was different, in that the economy suffered a partial shutdown as a result of voluntary action rather than government fiat. "The basic functions of the economy were never closed," says Richard Kaye, a Japan fund manager at Comgest. "In fact, the non-basic functions of the economy were never closed either. Japan never closed restaurants, never closed bars, never closed shops. The only things it closed were sports events and schools for about two months. The rest of the economy and the rest of life were kept going". At the same time, people started working from home on a large scale for the first time ever.
This is the backdrop against which trends in Japanese equities need to be understood. It would be a mistake to look at the casualty figures and assume COVID-19 had a minimal impact on Japan. It was rather that tighter regulations largely took the peculiar form of an 'invisible lockdown' rather than a legally mandated one. Citizens could be trusted to follow government advice, rather than being subject to compulsion.
Official guidance was relaxed to a degree in July with the advent of the government-sponsored Go To travel campaign for Japanese residents. The idea was to help bolster the damaged economy by promoting domestic tourism. However, the campaign was suspended as COVID infection rates started to rise.
Under these conditions of informal lockdown, it is not surprising that sectors with strong links to commuting and tourism – an increasingly important activity in Japan – suffered. Not only have the Japanese commuted less, but foreign visits to Japan have plummeted – this in a year when the Tokyo Olympics was expected to boost the economy. So train companies and any businesses related to office buildings have suffered.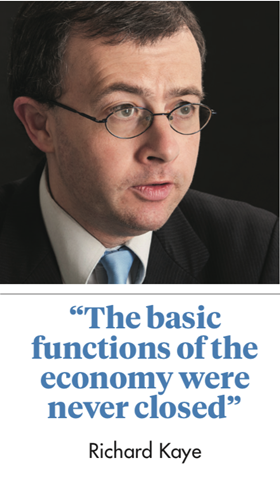 In contrast, the technology and auto sectors have both done well. Technology has benefited from people working from home, while Nintendo in particular has enjoyed a bonanza, with people avidly playing computer games. It should also be remembered that many mobile phones, even those without a Japanese brand name, often have many Japanese components.
Autos have benefited, as more people are driving rather than using public transport. However, it is another example of a sector where Japan is, in some ways, following international trends but in a different way than others. More people are buying alternative energy vehicles but the emphasis is on hydrogen fuel-cell technology rather than electric cars.
An unexpected effect on equities was a growing interest from private investors. Mr and Mrs Watanabe – the archetypal small Japanese investors – started returning to the market. "People had more time to spend at home, so it became a focus for individual investors," says Tomonori Kaneko, a fund manager at RBC Global Asset Management. Online trading platforms such as Rakuten benefitted from this resurgence of interest.
In this context, it should be remembered that private investors were long wary of domestic equities after the devastating collapse of the market in 1990. This resurgence of interest from private investors in the equity market is expected to get an additional boost in the coming decade. As the older generation dies off – with its huge trove of household savings – it could be that a lot more money will flow into equities.
At the same time, domestic institutions have taken greater interest in equities in recent years. There is still foreign interest in the market but it is less of a driving force than it had been.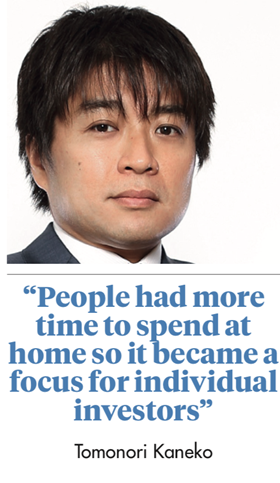 Equity investment also got a fillip in September when Warren Buffett, the legendary US investor, unexpectedly spent $6bn ( €5bn) to buy minority stakes in five Japanese Sogo Shosha (general trading companies) – Itochu, Marubeni, Mitsubishi, Mitsui and Sumitomo. These are highly diversified firms that trade in a range of products.
While the short-term effects of COVID were mixed, there is hope that it will bring long-term benefits. For example, the pandemic made working from home widely acceptable for the first time. "It was one of the few good things that COVID-19 has brought," says Kichikawa of Sumitomo Mitsui DS. That could help bring about one of the long-desired goal of bolstering Japanese productivity growth.
By a fortunate coincidence, this chimes with the priorities of Yoshide Suga, who became prime minister in September. There is no great ideological difference with his predecessor, Shinzo Abe, who retired because of illness. Indeed, for many years Suga was Abe's right-hand man. But the new prime minister is more focused on what was referred to as the "third arrow" of Abenomics: structural reform to bring about productivity growth.
A small but symbolic shift during the pandemic was the replacement of personalised stamps by electronic validation for official documents. In Japan the convention has been for officials to stamp documents rather than to sign them to symbolise their approval. This meant that every important document had to be signed by many people. The procedure became particularly cumbersome with so many people working from home.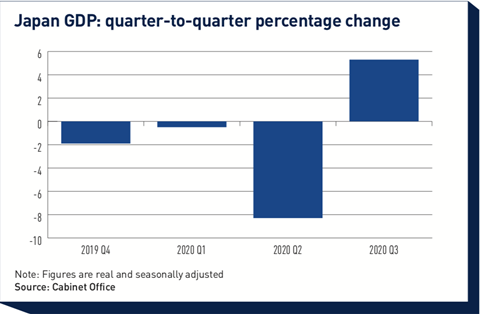 Suga is hoping that his Liberal Democratic Party will win the next election, scheduled for October, so that he can push his digitalisation and reform agenda more broadly. RBC GAM's Kaneko spells out the rationale for this. "The ageing population means we need to compensate for the shortage of labour," he says.
In Japan, as elsewhere in the world, it is not clear exactly how the COVID saga will unwind. There are still many uncertainties about how long it will take to roll-out the vaccines and how well the virus can be contained.
But there can be little doubt about what Japan is hoping. If the timing turns out to be right, then the containment of the virus should coincide with the postponed Olympics this summer. Tourists will flock to Tokyo in what could become an even more symbolic occasion that it is generally. "What you would then have in July would be the world's reopening happening in Japan," says Comgest's Kaye.