One of the first acts of the incoming US president was to sign an executive order instructing the federal government to buy more goods made in the US. He also announced a 'made in America' director role at the Office of Management and Budget, an office that directly serves the president. China was not mentioned explicitly but it was clear it was at least partly the target of these measures.
● The investment world is at risk of being caught in the midst of a 'geoeconomic' conflict between the world's main economic blocs
● There are several channels through which international investment can be hit including government screening of inward investment and currency intervention
The incoming president was, of course, Joe Biden in 2021 rather than Donald Trump in 2017. Although Biden does not possess the bombastic and erratic manner of his predecessor there is little doubt among experts that the new president is going to pursue a protectionist agenda with China as its main target.
Biden and his officials have already spelt out the line in many statements and documents. For example, it was a central theme in the new president's first key statement on foreign policy. Speaking at the US State Department he said that the US would "take on directly the challenges posed by our prosperity, security, and democratic values by our most serious competitor, China". He went on to say: "We'll confront China's economic abuses; counter its aggressive, coercive action, to push back on China's attack on human rights, intellectual property, and global governance."
The question facing the investment world, and pension funds in particular, is to what extent they will be caught in the crossfire between the world's two largest economies and perhaps Europe too. After all, the world is moving into an era of what Christian Bluth, the author of a recent book on the subject, calls "geoeconomics". He defines this approach as "the pursuit of geostrategic objectives by economic means".
In other words, governments are increasingly fighting a strategic battle in the economic sphere against their rivals. That includes in equity markets, with a knock-on effect on indices and exchange-traded finds (ETFs). It also takes in such areas as the screening of corporate takeovers, real estate, private equity and currencies. Some of the measures taken so far are of mainly symbolic significance, while others are likely to have a material effect.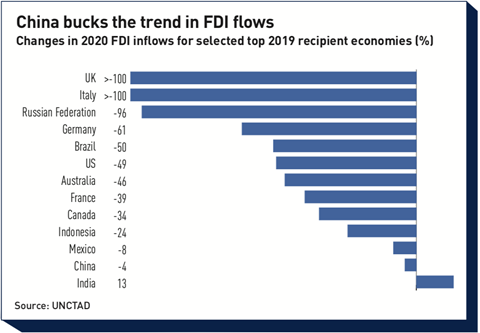 To be sure, Europe has some role in this conflict too. But, as will be shown later on, its response to China's rise is more fragmented than that of the US. Indeed, the advent of the Biden administration, with its more multilateral approach, could pose additional challenges for Europe.
The best place to start is to look at the measures taken within the investment arena by the Trump administration. This is particularly the case because there was a ramping up of such measures in the last days of Donald Trump's presidency, although these were relatively little noticed because of the understandable focus on the incoming Biden administration. It will then be possible to consider the likely trajectory under Biden before going on to consider the situation in Europe.
US Pension funds have been directly embroiled in the geoeconomic conflict between the US and China for a while now. Last March, for example, the California Public Employee' Retirement System (CalPERS) was struggling, with concern expressed by Robert O'Brien, the US national security adviser, on alleged investments in Chinese military companies.
CalPERS denied that it had broken any rules. Then, in August, the fund's chief investment officer, Ben Meng, who was born and brought up in China, abruptly resigned. He had been accused of not properly disclosing his own investments but he had also been accused by Republican representatives of being a tool of the Chinese government. Meng denied both sets of charges. (see Letter from the US: All eyes on CalPERS as CIO quits. IPE, October 2020).
Also last year, the Senate passed bipartisan legislation that would remove Chinese firms from US stock exchanges unless their audits were inspected by US regulators (Letter from the US: Politics forcing divestment, IPE July/August 2020).
Meanwhile, another public retirement fund, the Federal Retirement Investment Board, reversed a decision to shift a portion of the investments in its Thrift Savings Plan into an index which included a stake in Chinese firms. Several months before, the fund had rejected claims from the Trump administration that the planned shift would damage US national security. However, it reversed course after coming under intense pressure from the White House.
If anything, the US government offensive against Chinese investments accelerated in the twilight period of the Trump administration. On 12 November – after Joe Biden's election victory but before his accession to office on 20 January 2021 – the Trump administration published Executive Order 13959. That banned all US investors, institutional and retail, from investing in a list of 31 firms it designated "Communist Chinese Military Companies".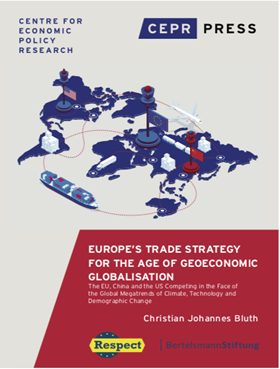 The initial list included China Mobile, China Telecom and Huawei. More firms were added on 3 December and 14 January. The order naturally had a knock-on effect on stockmarket indices, with providers such as FTSE Russell, MSCI and S&P having to modify their indices accordingly.
In addition, on 6 January the New York Stock Exchange announced its intention to delist three Chinese issuers following guidance from the US Treasury in relation to Executive Order 13959. These included the American depositary receipts of China Mobile, China Telecom and China Unicom.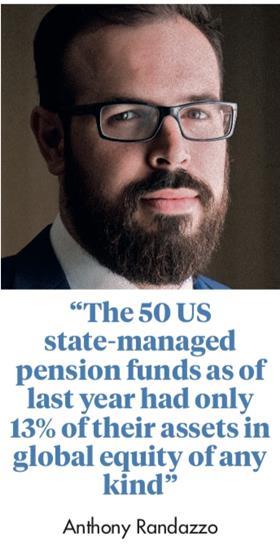 Although the US blacklist has become longer and includes some big Chinese names it is also noticeable that, so far at least, some key Chinese firms have not been included. These include Alibaba, Baidu and Tencent.
Despite the lengthening list of prohibited Chinese investments it could be argued that the impact will be limited from a pension fund perspective. Anthony Randazzo, executive director at the Equable Institute in New York, a bipartisan think tank specialising in pension policy solutions, argues that the impact is likely to be more symbolic than practical.
He points out, first of all, that US public pension funds usually only have a relatively small proportion invested in foreign equities, of which Chinese stocks are a small subset. "The 50 US state-managed pension funds as of last year had only 13% of their assets in global equity of any kind," he says. Even in relation to ETF holdings, he says it is relatively easy for pension funds to tweak their holdings to switch from vehicles that have a prohibited Chinese component.
However, Randazzo says the impact will have a meaningful effect in terms of restricting access to global markets for Chinese firms. It will also affect those investing in telecoms-focused ETFs since that sector is particularly hard hit by the US measures.
In any case, although the direct impact on US pension funds might be limited, there are also important indirect effects of US political moves against Chinese investment. One of the key channels is the Committee on Foreign Investment in The United States (CIFIUS). Although this framework was established by President Gerald Ford way back in 1975, it has been substantially tightened up since then. This notably included the Foreign Investment Risk Review Modernization Act (FIRRMA) signed by Trump in 2018. This gave the president extensive new powers to screen foreign direct investment (FDI) into the US. It remits includes real estate and private equity as well as public equities.
All of the experts interviewed for this article agreed that the Biden administration is, at the very least, likely to maintain Trump's tough line against Chinese investment. At present it is still in the process of deciding exactly what course to follow but there are already some indications. For example, Janet Yellen, the new treasury secretary, has promised to take a tough line against currency manipulation. This opens the way for the use of currency measures as another channel for possible geoeconomic conflict.
Although it is generally agreed that Biden will maintain a protectionist stance, that does not mean he will be the same. Besides the obvious difference in tone, it is agreed that he will follow a more multilateral approach. That means both working with allies and working through multilateral institutions such as the World Trade Organization (WTO).
As Cora Jungbluth, a sinologist and expert on cross-border investment at the Bertelsmann Stiftung, a German think tank, says: "From what I've seen so far, I don't think it will be completely different from what the Trump administration is doing. Of course, the tone will be more diplomatic and Biden will rely more on partners and like-minded countries."
However, the multilateral US approach in some ways creates more challenges for Europe. It can no longer sit back and watch the US act unilaterally to contain China. Christian Bluth points out that in some way it creates more challenges for Europe as it has to be more active itself.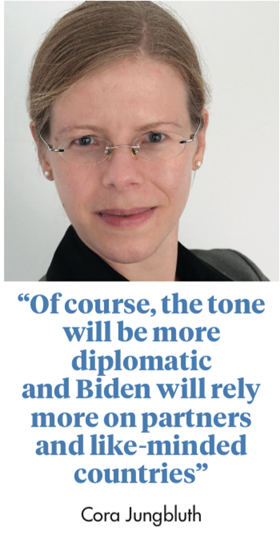 In relation to the EU itself, it faces many challenges in relation to China. For one thing, it has recently signed a Comprehensive Agreement on Investment with Beijing in a sign that it wants to pursue its own regional economic policy towards China.
At the same time, some EU countries are tightening their own screening processes against Chinese inwards investment. There is no uniformity in this across the EU; some do not even have screening processes, although there is some cooperation across the EU. "It's really fragmented," says Jungbluth.
She points out that in Germany the screening process has been tightened several times in recent years. For example, the threshold for screening has been reduced from those taking a 25% stake to 10%. It also now includes physical infrastructure and investment in many key sectors. Screening is the responsibility of the Federal Ministry of Economic Affairs and Energy and is carried out under the foreign trade ordinance (Außenwirtschaftsverordnung) of the foreign trade act (Außenwirtschaftsgesetzes).
Despite the potential for greater conflict, it is important to emphasise that, so far at least, things have not got out of hand. To illustrate this point, Chi Lo, senior strategist for Greater China of BNP Paribas Asset Management, says that FDI inflows into China rose by 4% last year despite global FDI overall falling by 42% (see figure). "We haven't seen any systematic negative impact on Chinese investment under the hawkish American policy so far," he says.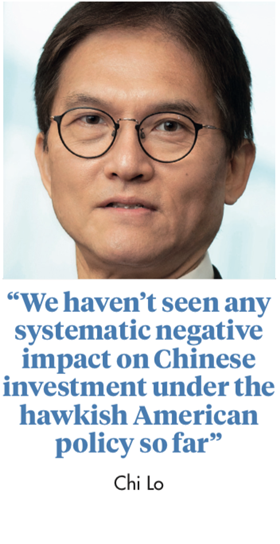 Nevertheless, asset owners and investors more generally find themselves in an uncomfortable position; caught in a potentially escalating geoeconomic conflict involving the world's three largest economic blocs is a precarious place to be.