Ukraine is at the heart of a crisis between US president Donald Trump and his Democratic rivals. China is accused of repressing minorities and spying on its citizens. Brazil is the country the environmental movement loves to hate.
● Emerging markets are growing faster than the developed world
● Local currency fixed-income issuance is growing in popularity
● Corporate investments appear limited to 'national champions'
● Opportunities not just in Asia, but in Latin America and frontier Africa as well
Emerging markets have a knack for being in the headlines for the wrong reasons. They also stand out as sources of growth for investors who face low interest rates and muted economic performance in the developed world.
But to make a difference in an investment portfolio, an emerging market strategy needs to go beyond buying when commodities are booming, and selling when uncertainty takes over. In the past two decades, capital markets in emerging economies have developed considerably, and many have successfully implemented reforms and diversified their economies.
"Emerging markets are growing at about 4%, which is substantially higher than developed markets," says Paul Greer, a portfolio manager at Fidelity International. "EM bonds also offer uncorrelated returns to developed markets securities and access to some interesting idiosyncratic stories and themes."
That said, emerging markets may not be for the faint-hearted. Spooky moments will happen, such as the debt restructuring negotiations in Argentina, last year's protests in Chile and Lebanon and the Chinese 2019 Novel Coronavirus outbreak. But secular trends can be spotted across the emerging markets that enable investors to find diversification.
One such trend is the embracing of fiscal responsibility and monetary moderation as tools to guarantee economic stability and mitigate investors' fears. Balanced public finances are a boon for sovereign debt, which has historically been the intial point of entry for investors in the emerging markets. Well-managed emerging economies provide higher yields than US or European sovereign debt, exceeding a 5% coupon in cases.
"Emerging markets are growing at about four percent, which is substantially higher than developed markets" - Paul Greer
The flip side is that investors have been aware of this for a while, and emerging market sovereign bonds are no longer cheap. Some, however, continue to look attractive. Nick Eisinger, co-head of emerging markets active fixed income at Vanguard, includes Egypt and Ukraine in this group, despite the turmoil those two countries have endured recently. Ukraine was the top performing emerging sovereign debt performer in 2019 for hard currency bonds (figure 1).
"In the past five years, both Ukraine and Egypt went through enormous stress, and when that happens, it is likely that a rebound will take place," he says. "After their crises, they have implemented meaningful reforms, improving public finances and the banking sector, got support from the IMF and normalised their relationships with creditors."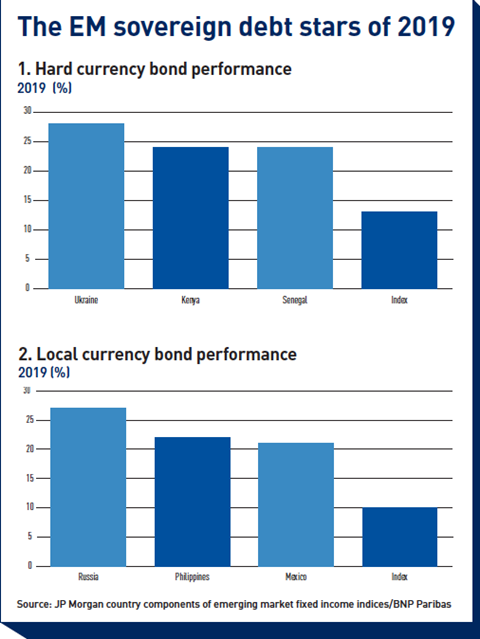 Gergely Majoros, a member of the investment committee at Carmignac, sees good value in international bonds issued by Turkey and Romania, but he also has an eye for local currency debt issued by governments in their domestic markets. Chile and Indonesia are two positive examples, he says.
The success of investments in local currency bonds hinges on whether investors expect the dollar to finally lose momentum in 2020. If that is the case, a pure foreign exchange play could be for the bold. Greer, for instance, sees potential in the trajectory of the Russian rouble, thanks to the strong fundamentals of the Russian public finances. Russia was the top performer for local currency sovereign bonds in 2019 (figure 2).
"Russia has an around 5% currency account surplus," he says. "Fiscal balance is very positive as well, as Russia has been conservative in its approach to raising money through debt. This combination is very unusual among emerging markets."
For those eager for additional risk and higher yields, Nicholas Hardingham, a portfolio manager and analyst in Franklin Templeton's EMD Opportunities Strategy fund, finds value in Angola, a frontier market.
"Angola has gone through profound political changes, with the current government taking a clean break from its predecessor," he says. "It has had a much higher focus on reforms, which has underpinned an economy that has benefited from high oil prices in the past 10 years."
Another trend is the growth of interest in corporate bonds issued by emerging market companies in dollars and euros.
"Emerging market corporate issuers are typically national champions, like Pemex, Petrobras and Lukoil," says Roubesh Adaya, a senior investment specialist at Aberdeen Standard Investments. "Some of them offer similar spreads to US high yield, on a rating adjusted level, but with a much less potential for default."
Samy Muaddi, the portfolio manager for the Emerging Markets Corporate Bond fund at T Rowe Price, mentioned Globo, a media company in Brazil, that boasts net negative debt and has delivered a 7% coupon on its bonds. "It is a good example of a domestic-driven business that has continued to perform well even though there has been a recession in the country," he says.
Equity opportunity?
The case may look less evident for emerging market equities. Why would anyone risk betting in far away companies when stock exchanges in the US and Europe have performed so well? But Sean Taylor, head of emerging markets at DWS, argues that the underperformance of the past decade creates an opportunity to buy shares of companies with much potential for growth.
"We are beginning to see the run rate of US equities earnings slow down," he says. "The earnings outlook for emerging outlooks is changing too. Emerging markets growth will be lower in the past, but of higher quality, particularly in Asia."
China is the textbook example of this transformation. Although the country's rate of growth has slowed in recent years, the main driver has been consumer spending, rather than infrastructure and investment. With more money in their pockets, Chinese families are prioritising items like education, healthcare and lifestyle. Chinese consumers have embraced technologies, which has created international e-commerce players such as Alibaba and JD.com and advertising company 58.com.
Chetan Sehgal, director of global emerging markets at Franklin Templeton, likes the gambling sector, where companies such as Tencent have earned a big following in recent years. But the technology-oriented consumer revolution is not restricted to China, as markets such as South Korea, home of search engine Naver, and Brazil, where electronic marketplace B2W is thriving, are following a similar route.
Sophia Whitbread, a portfolio manager at Newton Investment Management, notes that consumer and financial services are promising sectors in Asia as companies benefit from a combination of higher consumer spending and infrastructure investments made in past decades.
"We are particularly interested in the service sectors such as travel and entertainment, education, food delivery, asset management and financial protection," she says.
But attractive companies can be found outside of Asia as well. Gustavo Medeiros, the deputy head of research at Ashmore Group, highlighted Brazil, which has implemented a pensions reform and is adopting measures such as large-scale privatisation to give a boost an economy that had been in the doldrums for years.
"There is plenty of labour and capital available for Brazilian companies, and, with interest rates dropping from 14.25% to 4.25%, the capital structure of companies has become much cheaper to be funded," he says.
James Donald, a portfolio manager at Lazard Asset Management, also has Brazil on his sights, as well as Indonesia and India, which, in his view, are going through a classic industrialisation period, not dissimilar to what China went through 25 years ago.
"High infrastructure investments, with a focus on roads, trains and power, are giving those countries a base for producing more goods," he says.