Asset selection
Net bond sentiment is trending down, yet remains stable in Japan. Captive domestic buyers with JPY liabilities, an improved returns outlook and greater economic stability may have contributed to this. Net equity sentiment continues to rise. As bonds sentiment reflect stable economic growth, the rise may in equities may be a result of a perceived return to normal times as well as political risk being disregarded.
In the US, it looks like impeachment will strand on partisan politics. The rise in net equity sentiment in the EU looks like it is due to the absence of news, while Brexit is regarded as solved. While Asia remains politically unstable, analysts seem to see the announced US-China trade agreement as making progress at best, or stabilising the situation at worst. An argument to interpret the sentiment figures as a return to normal is that in all four areas, the neutral votes for sentiment are close together and about 40% – still higher in the UK, perhaps because of uncertainty on Brexit. If this level is considered as a default outcome, it suggests a move towards normal, rather than the expectation of market instability.
Country allocation
Euro-zone net equities and bond sentiment continues to drift. EU net equity sentiment sets a new 12-month record, net bond sentiment is at a record low and the gap is a record also. Such consensus is often the silence before the storm but it is hard to see anything that will prompt volatility.
Net US equities sentiment has risen above its trend level of the past 12 months. If nothing changes, the score will remain above 20%. Compared with others, US net equities sentiment can still become more positive, while US net bond sentiment looks like it has space to fall even further if the environment stays the same. While the UK and Japan figures follow the trend of sharply rising equity sentiment, bond trends seem to be on a gradual increase in the UK, but stable in Japan. Residual political risk in the UK may be at fault.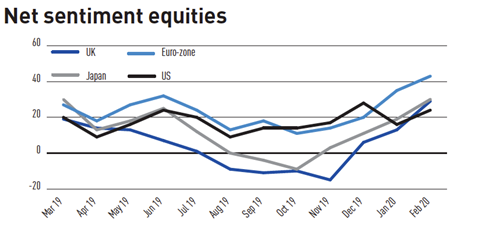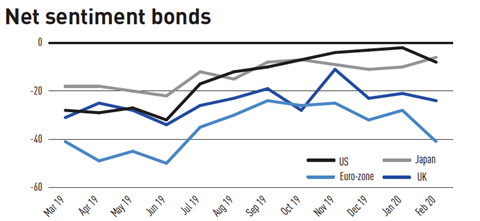 Peter Kraneveld, international pensions adviser, PRIME bv
Supporting documents
Click link to download and view these files