The UK experience with vaccination suggests that COVID-19 case numbers start falling when about half the population is immunised. The US will soon reach that level. The EU is over the 30% mark while Japan is at 3%. Taking the BRIC countries as a proxy for emerging markets, Brazil scores 16%, while Russia and India have reached about 10%. China has not published its vaccination figures. Meanwhile, new strains remain a source of concern.
Political risk is still falling in importance. UK relations with the EU are still strained and Scottish independence remains an open question but neither issue has a material influence on financial sentiment.
Asset allocation
Net equity sentiment rose to new record levels again in the EU and the UK, while slightly declining in the US and Japan.
The EU stands to gain more from relaxing of COVID-19 restrictions, while the US is likely to end support measures sooner. On the margin, Japan's exports to the US have a large influence on what the national economy looks like.
Net bond sentiment is negatively correlated and seeking ever-lower levels. The best explanation may be an increasing expectation of an interest-rate hike in the US, as reflected by net equity sentiment. While Japan analysts keep losing some of their faith in bonds, their net view remains an outlier. In the US, the neutral view on equities is slightly above the neutral view on bonds, which is unusual.
Country allocation
This month's figures generally seem to show the start of a split in opinions about the future.
The EU and UK continue to show unbridled optimism, while the US, followed by Japan, exhibit a more hesitant approach.
US net equity sentiment is stabilising at a level of about 50% while Japan scores slightly higher. Comparable figures for the EU and UK are still rising and currently well above 60%.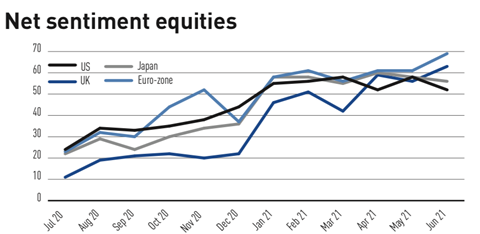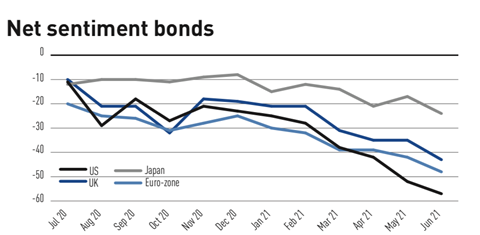 PETER KRANEVELD, INTERNATIONAL PENSIONS ADVISER,PRIME BV
Supporting documents
Click link to download and view these files