US COVID-19 figures are receding, to the extent that Brazil has taken over as the world's worst managed country. A number of western European countries are experiencing a minor rebound, likely because of holiday travel. India has suffered a high death toll but this is partly a reflect of its huge population.
Traders and analysts are on holidays, so the market is now driven by political risk, rather than COVID-19. Political risk can be boiled down to the US Presiden- tial elections. Uncertainty is diminishing and Biden is still ahead in the polls. The market is almost taking a Biden victory for granted. This would mean a more rational financial and budget policy, better managed international relations and trade and a generous economic aid package, which, coupled with trust in the Fed would mean a sharp recovery. Economists are predicting a long drawn out recession or worse. There is money to be made in that gap.
Asset allocation
Net equity sentiment is stable, everyone knows when the US elections are coming. In investment markets, the neutral vote has fallen to the level of bonds or lower. Analysts are sure of themselves.
Tracking net bond sentiment is akin to watching grass grow. Everybody agrees on a level of -25% and stable uncertainty. So, where do analysts think the money is coming from?
Country allocation
The gap between net sentiment on US equity and bonds is large and stable. Net US equity sentiment remains at about 30%, while net US bond sentiment is sitting pretty at -20%. Everybody agrees on the near future. Net EU equity and bond sentiment is stable. UK net equity sentiment is still at a lower level, but stable, while UK net bond sentiment is synchronised with the EU and the US. The EU trade agreement seems a forgotten issue. This will change after the summer holidays. Japan's net equity sentiment is the same as the UK. Hong Kong remains an issue, but economically, it does not impact Japan as the EU trade agreement does the UK.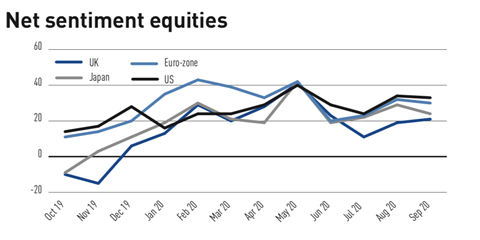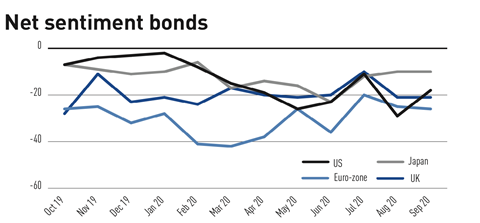 Peter Kraneveld, international pensions adviser, PRIME bv
Supporting documents
Click link to download and view these files