As deficits mount in a post-COVID-19 world, politicians and bureaucrats are again eyeing national pension savings – hundreds of billions of dollars they can capture at the stroke of a legislative pen.
Pity about the fund members, the little people who could see the growth – and probably the real value – of their retirement savings plummet.
The problem with the political class is that it rarely picks winners. More often, it wants support for losers "in the national interest".
Exhibit 1: Australia's prime minister, Scott Morrison, in April unsurprisingly called on industry super funds to help bail out the country's second-largest airline, Virgin Australia, which is carrying A$6.8bn (€4.2bn) in debt.
"The industry super funds in this country have got A$3trn worth of assets [and] here we've got a company that needs capital," Morrison told ABC, the national broadcaster.
"Its [Virgin's] own workers have been paying into industry funds, and there are funds out there, in these super funds, that could be investing in a number of companies," he said.
The pressure on Australia's super fund managers will increase now that the country has slipped into recession – breaking almost three decades of continuous growth.
And invariably, the spotlight will be on industry funds, now the single largest segment of Australia's A$2.7trn superannuation sector according to the Australian Prudential Regulation Authority (APRA).
At 31 March 2020, industry funds managed A$717bn, retail funds (A$558bn), public sector funds, (A$523bn), and self-managed super funds (SMSF) (A$675.6bn).
Russell Mason, Deloitte Australia's superannuation lead partner, describes industry super as "a cohesive group". In targetting that group when it comes to raising capital, you are dealing with a small number of funds with very big assets, he says.
In contrast, Mason said the SMFS segment is fragmented. There are 60,000 to 70,000 different funds, with an average balance of A$1m. Hardly built to participate in nation-building.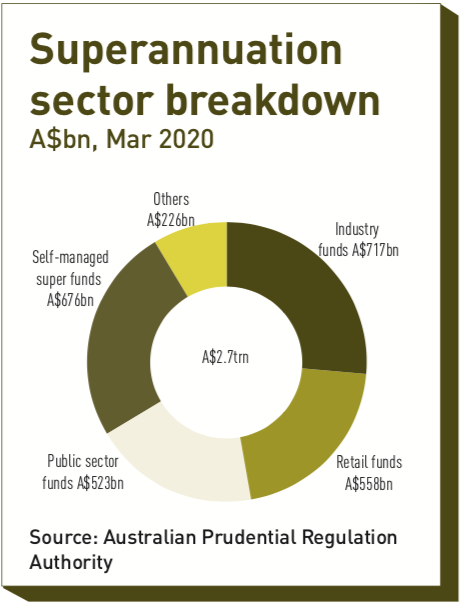 Australia's compulsory super scheme itself provides a rich seam of capital. In the 12 months to 31 March A$121bn entered the system.
"We are absolutely standing ready to help kick-start the economy," says a source with AustralianSuper, the country's largest industry fund. "Since the crisis, we have invested A$300m to shore up the balance sheets of Australian companies."
AustralianSuper and other industry super funds contributed in April, when National Australia Bank, one of Australia's big four, raised A$3.5bn, and Ramsay Healthcare A$1.2bn.
"There could be billions more to come," the Industry Super Association (ISA), an alliance of 15 industry funds, told a Parliamentary inquiry in May, reminding the public and governments that superannuation funds provided a significant slice of A$120bn in capital raised by local businesses in the wake of the global financial crisis.
But as the trustees of super funds point out, they are legally-bound in their fiduciary duty to members – to protect savings and to generate returns.
Relations between a conservative government and industry funds, backed by trade unions, are traditionally uneasy, often overshadowed by ideology.
The relationship became more fractious when, at the height of the pandemic in March, the federal government finally prized open super savings, throwing some funds into a cash liquidity squeeze.
Through a government-mandated "early release" scheme, A$12bn has been released to fund members.
Surveys have since shown that some of this was spent on gambling, with public servants, whose jobs have not been impacted by COVID-19, making up one of the biggest groups requesting early release.
The mantra in a post-COVID-19 world has become job creation. It is here that there is a meeting of minds between government and industry super funds.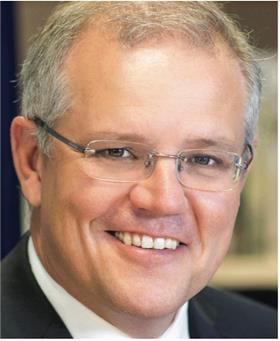 Both see public infrastructure investment, with its multiplier effect on economic growth, as the best medicine for recovery.
Industry funds already have A$80bn invested in public and private infrastructure across Australia – in airports, ports, electricity generation businesses, toll roads, hospitals and property assets.
ISA says its members have earmarked about A$30bn for infrastructure projects.
"We have significant funds available. We plan to provide capital to solid Australian businesses and to bring forward large investments in major projects and essential infrastructure," says former unionist and labor Minister Greg Combet, who now chairs ISA.
ISA singles out specific projects, including solar farms at Darwin airport, and a proposed multi-billion-dollar fast rail link between central Melbourne and its international airport. Combet says this project is well advanced in planning and engineering, and "needs to go ahead".
The perennial debate over accessing super savings for nation-building has always been who should take the lead.
Industry funds say they are not able – nor will they – undertake greenfield projects because they expose members' savings to too much risk. That goes against their fiduciary duty.
It is the role of government to create the project, and for industry super finds to support the financing, then to take ownership on completion, they say. But the government should take the initial risks.
As an executive at AustralianSuper tells IPE: "It is all well and good to talk about infrastructure [post-COVID-19], but we have not yet seen anything that we can invest in. Where are the projects?"
It is, however, now expected that cash-strapped governments will look to sell assets to recycle capital.
"Of course, we would be interested [in funding infrastructure]," he says. "We are constantly looking for opportunities to invest [in Australia and overseas] for the best possible returns. But where we put our members' savings depends on the project."
Ultimately, it comes down to risk and return (and jobs). For funds the size of AustralianSuper, First State Super, Qsuper and many others, investment scale also matters greatly. So far, there are not a lot of these around, says the executive.
"We are determined to play a key role in helping Australia's economic rebuild," says ISA's Combet, adding that such investments will see some members working again, and will deliver long-term returns for all.