In the final article on a new report, Pascal Blanqué and Amin Rajan conclude that liquidity management has become vital as quantitative easing reaches a point of diminishing returns
Markets are in a late stage of the current cycle – with extremes of sentiment on the upside and downside, leaving cautious investors with nowhere to go.
Looking back, this decade has been unusually favourable for investors: the S&P 500 racked up an annualised return of 16% in what is often dubbed as the TINA market, as 'there is no alternative' to risky assets so long as quantitative easing (QE) provides the safety net. The next three years are likely to provide a sterner test, however, according to the latest Amundi-CREATE survey 'Quantitative Easing: the end of the road for pension investors'*.
First, there is growing scope for policy error in the latest round of rate cuts by the US Federal Reserve. The line between 'pre-emptive' and 'reactive' cuts is thin; one is friendly towards markets, the other signals a recession.
Second, President Trump's on-again-off-again trade war has been denting business and consumer confidence. It risks escalating into currency wars.
Third, a raft of idiosyncratic risks is looming, ranging from a Chinese credit crunch to a disorderly Brexit.
Finally, a populist backlash against post-crisis policies, that accentuated income and wealth inequalities, may well result in higher corporate taxes and new business regulation. The chorus for higher fiscal deficits is getting louder by the day.
Hence, the prevailing investment narrative seems to be reversing – from 'bad news for the economy is good news for risky assets' to 'bad news may soon be the bad news'. The yield curves in most of the key economies are already flashing red.
Pension plans remain worried that there will not be a globally coordinated response in the next crisis – like in 2009 – as the global economy veers towards beggar-thy-neighbour polices from the rise of nationalism.
New mantra
Hence, back to basics is the new mantra. It rests on the view that markets will begin to reconnect with their fundamentals as QE passes the point of diminishing returns. But given the extreme uncertainty, capital conservation is the key goal currently; making money by not losing it. The key risk metric is the likelihood of a permanent impairment of capital. It is now being pursued via three key avenues
The first one is a broad diversification with greater alignment between asset allocation and the maturity profile of pension liabilities (identified by 87% of respondents). Such time-based diversification duly draws a distinction between private and public markets and uses different asset classes to target one or more of four goals: capital growth, regular cash flow, inflation protection and lower volatility. It also accepts the possibility that risk premia may be time-varying, taking longer to materialise, as asset prices gradually reflect fair value.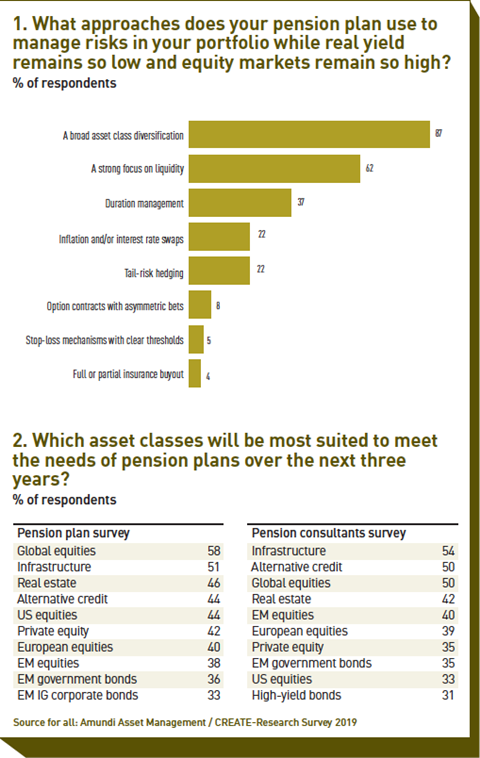 The second avenue puts liquidity centre stage (62%). It helps to manage any risk by allowing pension plans to implement their investment views in real time. Assets are thus allocated according to their liquidity features, duly taking into account the rising fragility of financial markets because of structural and technical changes in this decade (see case study).
The third avenue is duration (37%). With rates likely to remain low for longer, pension plans are able to operate across the entire yield curve in search of under-researched assets.
Notably, other avenues like inflation, interest rate or tail-risk hedges are being deployed by only one in every five respondents. Their cost aside, they add complexity to the portfolio. They are also exposed to counter-party risks, if many investors are forced to activate their hedges at the same time.
Minimising mark-to-market volatility
When markets are flirting with their all-time highs, a lot can go wrong at once, as mentioned earlier.
Just as the current bull market has been the most unloved in history, so also will be the possible bear market that follows it. Central banks have not achieved their stated aims on growth and inflation in this decade. It is doubtful if the next round of QE in the US and Europe will be any different, with one exception; its boost to asset prices will be a lot milder after the initial sugar rush.
There are no new asset classes or better mouse traps that can deliver improved sustainable returns as we enter the low-return/high-volatility environment of the next decade.
As the first article in this series showed, pension plans expect to go into the next recession with their finances weaker than ever. Hence, their current aims are to conserve capital, manage liquidity, plan for mean reversion and reduce mark-to-market volatility. They are investing in a range of quality public and private market assets, and increasing their holding periods to avoid the episodic dearth of liquidity (figure 2). Their asset choices reflect four prospective investment themes.
First, quality equities will remain a favoured defensive play, offering good yield and total return, as plans advance into negative cash flow territory due to ageing membership. Ironically, an asset class once perceived as risky has become a safe haven in today's distorted markets.
Second, the structural shift towards uncorrelated private market assets will continue, so as to earn good returns and reduce mark-to-market volatility – the bane of the public markets. Much of their current all-time high 'dry powder' – uninvested capital – is lying in wait for the next big market dislocation.
Case study: views of a Dutch pension consultancy
We use liquidity as a primary risk management tool. The next big market downturn will be the first since the 2008 crisis. Since then, there have been growing concerns over whether there will be enough liquidity next time, due to various recent structural and technical changes that are adding to market fragility.
On the structural side, regulation in America and Europe has curtailed the market-making role of investment banks, especially in fixed-income instruments. The role of equity markets, too, has morphed from a source of raising investment capital for growing companies to a vehicle for cash distribution and balance-sheet management; as shown by massive share buybacks on both sides of the Atlantic.
On the technical side, the rise of high-frequency trading has been a source of market volatility. Their algorithms are trained to minimise risks: at every risk-on sign, they quickly withdraw liquidity from markets.
Additionally, even in supposedly liquid equity markets, the liquidity parameters have altered owing to the ever-growing volume of assets migrating from bottom-up stock picking to formulaic-based index funds and volatility-based systematic strategies. Assets are not priced to adequately compensate our pension clients for liquidity shortages in the next market correction, when it comes.
Our clients are therefore resorting to time-based diversification that mimics the profile of their liabilities. They assume more risk in illiquid private markets for those liabilities that mature in the distant future. They put the rest in public markets where they can be nimbler, while riding out uncompensated illiquidity risks from time to time.
In both markets they are holding 'dry powder'. The aim is capital conservation backed by opportunism to take advantage of periodic dislocations that lie ahead.
Third, emerging market assets are seen as an ideal vehicle for riding a secular wave that capitalises on selective growth points in the global economy, while the fear of secular stagnation persists.
Finally, bonds are not seen so favourably, given the compressed credit curve and tighter spreads. Credit is believed to be mispriced, while much capital remains misallocated. The prospect of continuing subdued inflation will likely keep sovereign yields lower than they have been over the past 30 years.
Asset allocation, however, is not the only area that has come under intense scrutiny.
Minimising the implementation leakage
Investing, like tennis, is often viewed as a loser's game: one in which the winner is not the one with the best strategy but the one who makes fewer mistakes. Over the past 20 years, pension plans have learned one fact of life: when it comes to asset allocation, there is the world of theory and the world of practice. Actual returns rarely match expected returns.
Unpredictable markets are one factor. For example, few asset allocation plans survived during the risk-on, risk-off cycles during the euro-zone crisis in 2013-15. Another factor is the so-called implementation leakage: errors made by pension plans themselves in designing and implementing their portfolios that only become evident in hindsight.
Hence, the old adage that 'fix asset allocation and the numbers will follow' is only true when leakage is low. Pension plans have wised up about the sources of such leakage and taken the necessary steps to tackle its causes in this extended era of QE.
Cost minimisation tops the list (identifed by 66% of our respondents). By fuelling markets and containing volatility in this decade, QE has effectively turned investing into a one-way bet that has favoured passive funds. The resulting price distortion has prevented active managers from beating their benchmarks.
As a result, pension plans have raised the share of passive funds as a low-cost option in their core portfolio. They have also forced fee compression in the active space. The best asset managers are able to retain their fee models; the vast majority are being forced to revise them. As QE has borrowed against future returns, markets are likely to be in extended periods of low returns and high volatility. This means costs are now seen as a key source of outperformance.
Strong investment expertise on pension trustee boards also ranks high on the list of priorities (identified by 59%), a deep talent pool among professional staff (53%) and a nimble governance structure (44%).
The aim is to develop new capabilities that help to reduce the principal–agency problem arising from a conflict of interest between pension plans and their advisers. It results when there is information asymmetry: advisers are better informed than their clients and at times offer advice that protects their own interests more than those of their clients.
Furthermore, as QE has sidelined much of the conventional investment wisdom, trustee boards are having to make big judgement calls without the normal navigational tools. The pressure on these boards to step up to the plate and effectively discharge their fiduciary role is mounting each day.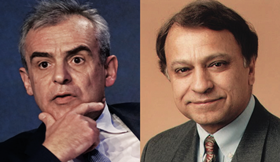 They require both breadth and depth of expertise. Its importance is underscored by two general points.
First, after allocating the assets and implementing the portfolios, what pension plans do matters a lot in influencing ultimate investment returns. Many strategies were hammered in the past due to herding in the pension industry, with no regard to the notions of prime-mover advantage and predefined exit plans.
Second, pension plans need to enhance their credibility in the eyes of their sponsors while they transition to negative cash flow status and below statutory funding levels. As liabilities have ballooned in this decade with ultra-low rates, many sponsors have been forced to make big one-off cash injections to ensure plan solvency. In the private sector, the covenant risk is probably at its all-time high now.
This is probably the most enduring legacy of quantitative easing.
* Available at www.create-research.com
Pascal Blanque is group chief investment officer at Amundi and Amin Rajan is CEO of CREATE-Research