The weak dollar and low US interest rates are pushing governments and companies in emerging markets (EMs) to issue growing volumes of dollar-denominated debt.
● Emerging market debt looks like an attractive asset class at present
● There is concern about the possibility of another 'taper tantrum' in emerging markets
● Central banks, however, are keen to avoid their previous mistakes
The process has been welcomed by investors who are desperate for any kind of return in times when investment-grade bonds in developing markets deliver pitiful, sometimes negative returns.
This appetite was highlighted by the Institute of International Finance (IIF), the global association of the financial industry, which reported that debt inflows to emerging market debt reached $44.2bn (€36.5bn) in January. Even excluding China, by far the largest recipient, the amount was $29bn. Although most of this debt has been issued in local currency, a significant and growing share has been issued in hard currency.
According to figures from the Bank of International Settlements, total credit to emerging market non-bank borrowers held up well in 2020 (see figure).
By placing dollar-denominated bonds, governments and companies take advantage of the weak dollar to replace older, more expensive debt for new, cheaper and longer one, and to raise much-needed money to fund the post-COVID-19 recovery.
For investors, the asset class looks attractive even though spreads have gradually narrowed from their peak in the spring of 2020. Back then, the pandemic motivated a sell-off of emerging market securities.
"Emerging markets are now an important part of our fixed-income portfolio," says Christian Böhm, the CEO of Austria's APK Pensionskasse. "With interest rates extremely low in developed economies, and in some countries even negative, if one wants to have a fixed-income exposure that delivers real yield, one has to look at emerging markets."
It is important to keep in mind, however, that dollar-denominated emerging market debt issuance is taking place amid a global wave that, if past experiences are of any use, is unlikely to end well.
According to the World Bank, three big emerging market debt waves took place between the 1970s and the current one. All of them resulted in crisis that have become bywords for financial pain for issuers and bondholders alike. They were: the Latin American debt crisis of the 1980s; the Asian crisis of 1997-98; and the global financial crisis of 2008-09.
The World Bank has said that recent flows are by far the most substantial. Between 2010 and 2018, $55trn was borrowed by governments and corporates in the emerging and developing world. The Covid-19 pandemic has significantly added to those numbers.
This could be a sign that a crisis is imminent, especially since emerging markets have suffered turmoil in recent years even without a global crisis. Back in 2013, investors who were ravenous for emerging market risks got caught up in what became known as the 'taper tantrum'.
There was a dramatic sell-off once investors got a hint that the US Federal Reserve might start considering raising interest rates. In 2015, to a lesser extent, a similar phenomenon took place when the European Central Bank mused about rate hikes.
But there is also a case to be more sanguine. For instance, not even the IIF, an institution that is allergic to high debt, expects the Fed to start lowering rates before 2025. Analysts agree that the taper tantrums of 2013 and 2015 were caused by policy mistakes by central banks that were still getting used to the trickeries of quantitative easing (QE). Also, the market expected a return to the pre-2007 normal, when rates moved up and down on a regular basis.
Recently the Fed has urged investors to take risks and central banks are more aware of the consequences of musings on rates, says Aaron Hurd, a senior portfolio manager at State Street Global Advisors. He also notes that expectations for a post-crisis scenario this time around generally include a long period of low rates and a weak dollar. These should continue to boost emerging market assets.
Similarly, few people expect the dollar to appreciate against the main emerging market currencies in the short run. Some, such as Yale economist Stephen Roach, have forecast a collapse of the greenback in 2021. Others do not go that far, but a common view is that the dollar will keep moving downwards, owing to the Fed's purposeful inaction.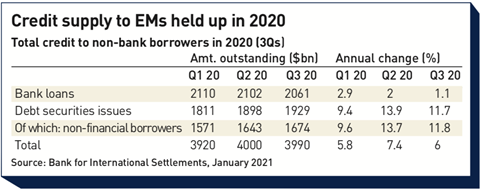 Furthermore, dollar-denominated debt represents only a 10% share of total emerging market debt. Dollar issuance by corporations in developing economies is still in its relatively early stages, having started less than two decades ago. It is still concentrated among a few business groups that are well known to investors, says Gustavo Medeiros, deputy head of research at Ashmore.
"If one wants to have a fixed-income exposure that delivers real yield, one has to look at emerging markets" - Christian Böhm
"There are lots of opportunities right now for corporations to do some liability management or to borrow longer-dated loans in dollars, rather than shorter maturities in local currency," says Medeiros. "By and large, we know well most of the names that are issuing. On the corporate side, it is focused either on very large companies or big exporters."
Governments, for their part, are better prepared to face local currency devaluations after spending many years building up reserves in hard currency and borrowing locally.
"The higher-quality EMs are today net creditors in foreign currency. So when the local currency drops, they do not have a debt problem," says Nicholas Hardingham, a portfolio manager and analyst at Franklin Templeton. "They are able to use exchange rates more as a policy tool, and central banks can avoid sharp currency valuations."
In this scenario, Carl Shepherd, a portfolio manager at Newton Investment Managers, says that issuance in dollar bonds will continue, as servicing this kind of debt is now more affordable for governments and companies alike.
If that is really the case, demand should answer to the supply of bonds. Medeiros estimated that, in early February, EM corporate high-yield bonds offered yields of about 5.4% to maturity, and sovereign high yield offered over 7%. But challenges may arise in the future, though, if investors dive into the asset class indiscriminately.
"People are hungry for yield and there is a better risk sentiment. It should encourage continued flows into emerging market debt," Hurd says. "But the bill is going to come due. In countries such as Colombia, Brazil and Turkey, markets are already looking for signs of discomfort. I do not see a general debt crisis, but rather some isolated events."
"If one wants to have a fixed-income exposure that delivers real yield, one has to look at emerging markets" - Christian Böhm
A first step to avoid future disappointment is to acknowledge that emerging markets have become integrated enough into capital markets. They also encompass such a diversified group of economies that it simply will not do to bundle them all together into a single asset class. Issuers have different goals when tapping hard currency markets. In addition, their financial situations vary widely depending on factors such as global trade, commodity prices and local political and budgetary conditions.
Adrian Brown, a senior adviser at MJ Hudson who works with local authority pension funds in the UK, suggests that asset owners should look for active managers to help them sail through an expanding universe. If they know where to look, he says, they can find opportunities that are not available in developed markets at the moment.
"EM countries are among the few that are applying some kind of conventional monetary policies," says Brown. "They still have positive interest rates and positive current account balances."
There is always the risk that herd behaviour will cause a sell-off of emerging market assets, for instance if the new coronavirus strains make the ongoing crisis even worse. It has already happened earlier in the pandemic, when everybody piled up on dollar and gold as panic swamped the market.
But, rather than making decisions based on the risk of global crises, it is probably worth paying attention to individual cases that could represent a threat to investments. In fact, the World Bank has found out that, in the past five decades, more than 500 debt surges have taken place in more than 100 emerging and developing economies. Half of them have ended in a local financial crisis.
"We have to engage with what is really going on in emerging market countries and not take steps purely on currency relationships," says Böhm.