---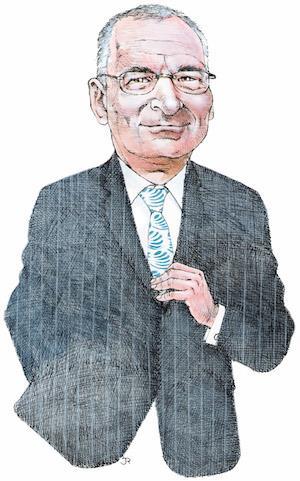 Christian Böhm (pictured), CEO of Austria's APK Pensionskasse, tells Carlo Svaluto Moreolo about the organisation's blend of dynamic and long-term investment strategy
Austria is one of the richest and most modern countries in the world but its pension system lags behind its peers, at least according to the Mercer Melbourne Global Pension index.
In the 2018 ranking, the country scored way below countries such as Germany or Finland, which have similar levels of GDP per head. Nevertheless, Austria is home to several high-profile investors such as APK , the €5.5bn multi-employer pension fund.
APK is Austria's oldest and third-largest pension fund. It is small in size but prominent within the European pensions landscape, partly because its CEO, Christian Böhm, is deputy chairman of the Austrian association of pension funds and sits on the board of PensionsEurope. Böhm has engaged on matters such as EIOPA's stress tests and the European Commission's proposed regulation on sustainable investment. Last year, he argued that the Commission's proposal would shift responsibility for achieving sustainability from corporates to pension funds.
Böhm, a veteran of the Austrian and European pension fund industry, has led APK since its foundation in 1989. He has contributed to the development of APK into a modern, forward-looking institutional investor.
APK's investment philosophy is pragmatic yet innovative. It starts with two premises that pension funds often take for granted. Böhm says: "We are long-term investors, but that does not mean we do not adapt our asset allocation to ongoing developments. That means we have overcome the active-versus-passive question. We are convinced that having an active approach makes sense, but we are not religious about it. It also makes sense to be passive in certain asset classes, in order to be more cost-effective."
But delving deeper it becomes clear that the process by which APK builds its strategic asset allocation is considered and ambitious. "We recognise that we cannot predict the future, therefore we have to be agnostic in the way we approach many issues," he says. "However, we think that by reading the macroeconomic data we can identify long-term trends that matter for our decision-making process.
"This means our approach to asset allocation has to be dynamic. It does not mean we behave like a macro-hedge fund. Our approach is dynamic in the sense that we try to shift the asset allocation according to what we see as the real driving forces of future developments. The risk-on and risk-off profile changes over time, yet we try to avoid being overly active."
What are the trends that are shaping APK's long-term but dynamic asset allocation?
Political change, for one, is not among them. Böhm says: "To give an example, Brexit has been a completely unpredictable process, therefore we could not bet on the outcome with the higher probability. We had to be prepared for multiple outcomes."
Globalisation is important, according to Böhm, as it defies more unstable political trends. "An escalation towards trade war would of course be significant, but we see globalisation as an unstoppable force," he says. Technology is another key lens through which APK looks at structural change in the global economy. "If you look back at what the stocks with the highest market capitalisation were, it is not that hard to see what has changed in the world.
"For us it is important that those in charge of our active mandates can identify these long-term trends. If you are positioned to benefit from them, then you will at least perform in line with the market."
However, there is a case for avoiding the technology sector. The performance of the largest stock markets in the past few years has mainly been driven by the technology stocks. This begs the question, what next? But Böhm has a strong counter-argument. He says: "The question is, how is the old economy going to be affected by new technology? We do not necessarily have to be invested in the providers of new technologies. It may be better to be invested in companies that can improve their business model thanks to those technologies."
Valuation is another key item in APK's toolkit. The pension fund looks at valuation over long time periods and generally avoids investing in highly overvalued assets. The fund has not made the switch towards value-based factor-investing strategies, however. Böhm is also concerned about overcrowding in some of the most popular trades, such as low volatility and high dividend. But he does not rule out sampling these kind of strategies in the future.
Böhm adds: "We do consider which biases our active managers might have. In general, we prefer being flexible and blend different style biases, as the performance of factors can change. This way we can switch from a value bias to a growth bias when appropriate."
In practical terms, the design of APK's strategic asset allocation begins with assumptions on expected returns and their volatility. The portfolio is optimised from a risk/return profile, taking into account maximum drawdowns from each asset class as well as correlation between asset classes.
The fund manages mainly defined-contribution (DC) plans and the design of the overall strategic asset allocation is somewhat constrained by the structure of those plans. Plan members from each employer can choose different investment strategies according to their risk preferences: there is a conservative choice, a balanced choice and a more dynamic choice. This means that the overall strategic asset allocation has to take into account the share of equities and bonds that has been established for the various vehicles.
APK's portfolio has grown increasingly global and diversified over the years. For protection, the fund reluctantly retains an allocation to euro-denominated bonds, which is managed internally. But it has broadened its exposure to the wider fixed-income space. The portfolio now includes investment-grade credit, high yield and emerging-market debt, as we as small allocations to private debt and insurance-linked securities (ILS). Last year, APK also backed a €1.15bn emerging-market-focused green bond fund alongside a number of high-profile European investors. "We look at the whole spectrum of assets that can generate a positive real return," he says.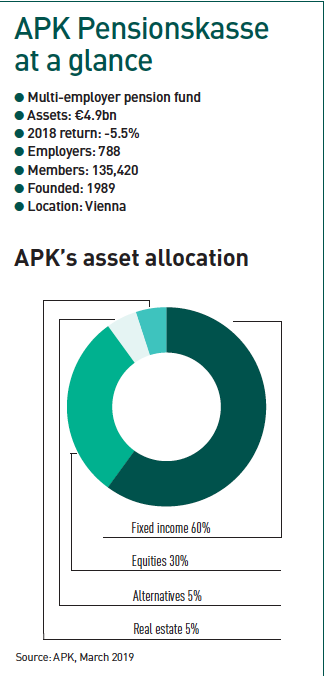 The alternative asset bucket comprises alternative fixed-income assets, real estate and private equity. Böhm is not sanguine about real estate owing to the sector's exposure to changes in interest rates. When it comes to private equity, however, APK is a long-standing investor.
"We began many years ago with fund-of-fund products. Our portfolio today is of a size that allows us to select opportunities carefully. We are not in a rush to find new opportunities, which is a positive at this time. Looking at the vintage years we invested in gives us confidence in the future. We intend to grow our portfolio but can do so smoothly. If valuations are high, we can wait."
Managing a state-of-the-art investment organisation requires internal capacity, which APK has developed over the years. The internal investment team, albeit relatively small – it has four members – designs the strategic asset allocation and makes tactical decisions. It also manages the euro-denominated bond portfolio and oversees manager selection. There is a larger team dealing with back office functions and risk management. Increasing regulatory requirements have contributed to the growth of this team. Overall, APK has about 90 employees.
"Our approach to asset allocation has to be dynamic. It does not mean we behave like a macro-hedge fund. Our approach is dynamic in the sense that we try to shift the asset allocation according to what we see as the real driving forces of future developments"
Manager due diligence is a key function of the investment team to which APK dedicates special attention. Böhm explains that, as part of the process, the team tries to get to the bottom of a manager's risk management process. "The purpose is to identify the checks and balances that prevent individuals from causing damage to the organisation and to understand the systemic risk within the organisation," he says.
APK's overall strategy has been particularly successful in recent years, according to Mercer. Last year, the consultancy looked at the performance of APK's different vehicles. It concluded that its medium-risk vehicles were the best performers among Austrian peers over 10 years.
It is clear that achieving positive returns in future years is going to be a challenge. Böhm says: "The traditional backbone of every pension fund was fixed income, which is an asset class which cannot be expected to deliver the returns we need. We see our pension fund as an asset allocator that has to find positive real returns over a long period of time, and you have to look beyond traditional fixed income to achieve that. Investors must increase the portion of higher risk assets, but have to manage the risk in return, and diversification becomes essential.
"Additionally, because we have to look at results over longer time periods, it becomes extremely important to communicate with customers and prepare them for higher volatility. We have to make sure they understand that the world has become more complex," he says. "That does not mean that we will not find investment opportunities at a reasonable price. As long as we can adapt to the macroeconomic shifts we see, we will be able to find those opportunities."
The best advice, therefore, is to keep an open mind, according to Böhm. This is an ability he prizes in the professionals who work for APK, particularly on investment matters. "We want the people who join our organisation to be open-minded because the world is more interconnected than ever before. Specialisation is essential, but an investment professional must be able to channel different developments in his or her analysis." In other words, those working with APK should be able to discuss investment problems from a broader economic perspective, rather than just focusing on the narrow developments of their sector.
One has to wonder whether this approach is a product of Austrian culture. Vienna, Austria's capital, has witnessed some of the greatest achievements in almost every field of human intellect, including music, the arts, philosophy and science. Perhaps the multidisciplinary approach that Böhm outlines would benefit other European pension funds.