---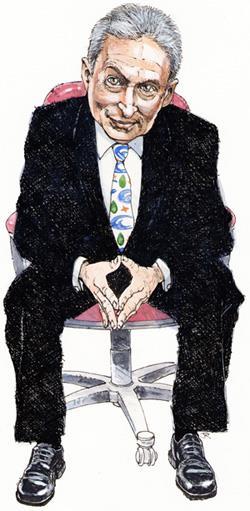 Robin Ellison, chairman of Carillion Pension Trustees, tells Carlo Svaluto Moreolo about the scheme's approach to de-risking and regulation
Click here for all the latest news on Carillion Pensions
Pension scheme de-risking can be a thankless job. Robin Ellison, chairman of Carillion Pension Trustees, put it succintly in a recent article published in IPE (September 2016): "It doesn't create actual money to pay actual pensions; it simply protects company accounts against disclosing higher increases in deficits." Furthermore, de-risking is expensive, particularly when done through government securities.
Recent volatility in UK Gilt yields, fuelled by Brexit and rising uncertainty in the global economy, has created an opportunity for UK defined benefit (DB) schemes to reduce their deficits. But, trying to close the funding gap through traditional means, such as buying liability-matching Gilts and swaps, remains expensive. In any event, chipping away at deficits cannot be avoided. Ellison proposes "alternative de-risking" as a better way to achieve objectives in the current environment.
Alternative de-risking is more than just a buzzword. It is an attempt to mitigate risks arising from interest rates, inflation and longevity while keeping a strong focus on paying pensions.
This approach is taking Carillion Pension Trustees, the £2.3bn (€3.1bn) pension scheme of the FTSE 250 construction company, into lesser-known areas of the institutional investment universe. The scheme is starting to explore alternative assets such as infrastructure, mezzanine debt and forestry among others. Ellison says the strategy is unlikely to change, even if Brexit negotiations lead to further falls in Gilt yields, making traditional de-risking cheaper.
At the end of 2015, the scheme was 85% funded. Assets fell slightly between 2014 and the end of 2015, according to the company's accounts, yet the deficit fell from £509m to £393m. Closing the deficit therefore remains a strategic priority.
About 45% of assets are invested in equities, with a similar proportion almost equally split between corporate and government bonds. There is a modest allocation to real estate and a large exposure to cash. The allocation to alternatives is small, at about £9.2m, but growing fast. The alternatives portfolio grew threefold in terms of assets between 2014 and 2015, as exposure to equities, corporate bonds, real estate and cash were reduced.
The scheme continues de-risking through alternative assets. The challenge is finding the right advice. In Ellison's view, the Carillion pension scheme is of a size that does not make internal asset management worthwhile. But proper advice is hard to find.
"My core objective is to make sure the investments are safe, perform well, and make enough money for the members"
"Very few of the advisers, if any, are geared up yet to properly advise in alternative investment. They nibble at the edges of the market, and you can get odd bits of expertise here and there," he says. In general, the scheme's strategy for alternative investments focuses on diversification, which requires a wide-ranging expertise. "There are virtually unlimited opportunities. But to get people who are sufficiently experienced in all the areas is not easy," Ellison adds.
He concedes, however, that the situation is improving, albeit slowly. Ellison speaks of a "sea change" in the pension fund world. He compares it to the changes brought about the Imperial Tobacco pension fund under the management of George Ross Goobey, in the 1950s. Goobey was the first to suggest that pension funds should invest in equities, and earned success applying his theory.
"He transformed the way people looked at investment for pension funds," says Ellison, who studied Goobey while he was at Cambridge University. "Investment strategies have always changed as markets and the economic outlook change. This shift towards alternatives is another step in that direction."
Ellison points out that the Carillion pension scheme is not alone in this thinking. But to add to the challenge of finding proper advice, the regulatory framework is holding pension schemes back from fully embracing the changes, according to Ellison.
"The regulatory framework does not move quite as fast," he says. "It cannot do so by its nature. The accountancy rules and investment rules struggle to change. We are only just beginning to see a change of tone from the regulator, but it is a bit late."
When it comes to pensions and investment, Ellison has strong views, underpinned by a belief in laissez-faire economics. On several occasions he has suggested that the current regulatory framework entices pension schemes to invest excessively in government securities.
This is due to conflicting objectives between regulators and pension schemes. "The objective of the regulators is to protect the Pension Protection Fund (PPF ). If we go into government securities, that helps them balance out the numbers," argues Ellison.
He did not conceal his aversion to excessive regulation during his chairmanship of the National Association of Pension Funds, now the Pension and Lifetime Savings Association, between 2004 and 2007.
Regulation is Ellison's bread and butter. He is head of strategic development for pensions at law firm Pinsent Masons, and has expertise in UK and European pensions law. As well as chairing the Carillion pension scheme, he holds trustee positions at other schemes and non-executive roles at several companies.
On top of that, he is visiting professor in pensions law at the Cass Business School and visiting senior lecturer at King's College London. He was one of the founders of the Association of Pensions Lawyers, and was the first solicitor to be elected an honorary fellow of the Pensions Management Institute. He has written about pensions law and trustee regulation.
His views about the perils of herding by pension schemes are shared across the industry. He is not alone in his view that asset management costs are less important than results.
"Of course, costs are important, but much less material than returns. I am very uncomfortable with a regulator saying what the costs should be," Ellison says. He refers to the UK Financial Conduct Authority's (FCA) recent study on the asset management market.
The FCA is looking at asset management companies' margins, suggesting that the average figure of 35% is too high. For Ellison, those margin levels seem "about right" for a service industry. Other industries – such as construction, where the figure is closer to 5% – are content with lower levels.
Similarly, he challenges the FCA's warning that there are too many asset management firms. He says: "I think it is very dangerous for a regulator to say what is the right number of asset managers in the market. The market will decide how many managers it wants. It may be an imperfect number, because the market is imperfect, but it is better than direction. It is a hugely competitive industry and allows for new kinds of asset managers to develop."
Ellis on says the Carillion scheme considers as many managers as possible, regardless of size. "We struggle with that, because we have to do due diligence, but we are trying to be open to both large and small managers. And we are very keen that the regulatory framework doesn't inhibit newcomers into the market."
But his reasoning on cost transparency in asset management goes against the tide. According to Ellison, transparency can have unintended consequences. "You can have too much of a good thing. I am not against transparency, but full transparency is a utopian dream. Even asset managers can't always work out exactly what their internal costs are," he argues.
As an example of the downside of increased transparency, Ellison cites skyrocketing executive salaries. The fact that CEOs get paid 400 or 500 times the median salary does not feel right, he says, when in the past the ratio was about twenty to one. "Why did that happen? There are several reasons, but one was the requirement to disclose salaries in company accounts. That meant that everyone was looking at everybody else, and if you were getting more money, I wanted more money. Transparency in that case had an adverse effect," says Ellison.
Such salary disparity is something that the board of the Carillion pension scheme discusses with asset managers. "We are not on a crusade, but we mention it occasionally, and I am sure we are mildly influential. We are uncomfortable with some of the things that are happening in the market."
So it is a laissez-faire approach, but with common sense. In most aspects of running a pension scheme, Ellison advocates pragmatism. "My core objective is to make sure the investments are safe, perform well, and make enough money for the members," explains Ellison.
In practical terms, the scheme does not have "a secret formula" for manager selection. It partly relies on its advisers to find new managers. However, board members also spend time surveying the market for new opportunities. "We are not obsessed with track record," adds Ellison.
The scheme is agnostic with regard to the active versus passive debate. Ellison contends that the common argument in favour of passive management – whereby active managers on average cannot consistently outperform the market – is misguided.
There are active managers that outperform over the long term, he points out. Analyses in support of that argument tend to bundle up successful managers and less successful ones, making the comparison with passive management unfair. "Putting the whole active world into one pot is a mistake," Ellison says.
Carillion's portfolio is virtually evenly split between active and passive investments. On the other hand, the scheme is not keen on factor investing. "We try as far as we can to avoid fashions," he says. "These things tend to wax and wane."
As a small UK pension scheme, Carillion faces increasing existential threats owing to the uncertainty in financial markets and regulatory pressure. But Ellison says the existence of medium and smaller pension schemes is justified, as long as corporates wish to look after their workforce.
Once again, however, UK regulatory authorities are pushing – directly or indirectly – for a reduction in the number of pension schemes. Ellison explains that corporates are facing disincentives to provide retirement benefits to a section of the UK's workforce, those earning over £40,000. Meanwhile, he notes, local government pension funds are being "virtually forced" to merge their operations.
It is unclear whether those mergers will benefit members, he notes. "I am quite sympathetic to that idea, as in principle you should be able to save money by pooling asset management and other services. I am slightly sceptical of it being forced from the outside rather than being driven from the inside," says Ellison.
Thankfully, the UK private pension sector is a trust-based system, Ellison explains. "One of the strengths of Britain is the trust system, which has been developed over a very long time. It is much less regulated, because it relies on trustees exercising their common sense and discretion with advice. The lack of 'black letter laws' meant George Ross Goobey could do what he did."
This is being challenged, but is still embedded in the system, and many UK pension funds will strive to keep it that way.