---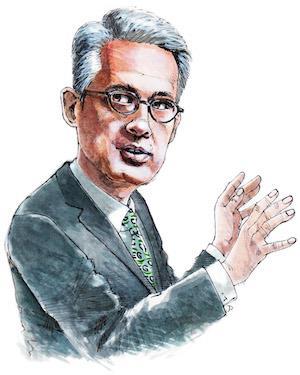 Grégoire Haenni, CIO of CPEG, the public pension fund for the Swiss canton of Geneva, talks to Carlo Svaluto Moreolo about the fund's multidimensional approach to asset allocation
The Caisse de prévoyance de l'Etat de Genève (CPEG) holds an unenviable record, being, at one point, the worst-funded of all Swiss public pension funds. Last December, its funding ratio was 58.2%, compared with an average of 75% among public pension funds in the country. The funding has recovered in the first trimester of this year, reaching 60.7% at the end of March, but the fund risks falling foul of federal funding rules.
The regional parliament approved a plan to recapitalise the CHF12.6bn (€11.2bn) pension fund, bringing the funding ratio to 75% in 2020 through a loan. However, citizens of the canton of Geneva were called to decide on CPEG's fate in a referendum. They were asked to choose one of two reform options. In one option, members would switch from a defined benefit (DB) to a defined contribution (DC) arrangement, with higher contributions by employees, lower contributions by employers and a relatively low reduction in benefits. The other option was to maintain the current arrangement but potentially see a greater reduction in benefits.
In a vote that took place at the end of May, the Genevois favoured the option to maintain the DB structure and avoided the 'catastrophic' scenario of a double 'no'. According to Michèle Devaud, CPEG's deputy director general, neither option being accepted would have meant a substantial reduction in benefits for all members.
CPEG was created by a merger between two public pension funds – CIA , the fund for cantonal public service employees, and CEH, the fund for cantonal hospital workers. The merger took place in 2014 and the newly-formed pension fund took on the already significant liabilities of the pre-existing funds.
After the merger, the cantonal government injected CHF800m to reduce the deficit, which initially seemed set to diminish, thanks to the rising value of the assets. However, liabilities have grown in recent years due to falling discount rates. At the end of 2016, the CPEG board decided to lower the discount rate from 3% to 2.5%, which saw the deficit rise by CHF1.45bn.
Following the referendum, CPEG will be recapitalised to the tune of CHF4.4bn. However, the referendum has not changed the pension fund's underlying investment philosophy and strategy, according to Grégoire Haenni, CPEG's CIO.
Haenni, who joined CPEG not long after it was created, previously worked in a leading investment role at another iconic organisation in Geneva, the CERN pension fund. Before starting his career in investment, Haenni earned a PhD in finance from the University of Geneva, where his thesis dealt with multidimensional statistical analysis. Haenni has blended his expertise of financial modelling techniques into the CPEG's strategic asset allocation process.
He explains the results of his research with an intuitive concept: "As a student, we analysed the causes of throat cancer. We found that neither smoking alone, nor drinking, could explain throat cancer. But drinking and smoking explained most of the disease."
This is, in bare bones, what multidimensional analysis is about. It is easy to see how the same concept could be applied to finance. Haenni says: "If you take a single macroeconomic factor and try to analyse the sensitivity of the portfolio to that factor, you may not find any sensitivity. But if you take several factors, you may find they have a huge impact on the portfolio. You need to see things from a multidimensional point of view."
That is why Haenni has developed multidimensional models to complement CPEG's strategic asset allocation design. He explains: "We see our asset allocation in two separate ways. Based on our views on the expected premiums from the various asset classes, our current allocation is equally split between bonds, equities and real estate."
"However, at certain points during market cycles all asset classes become correlated. A 30% asset allocation to bonds may actually correspond to a 50% sensitivity to interest rates, due to those sub-asset class correlations," says Haenni.
"Our methodology helps us visualise the relationships not only between macro factors but also between groups of macro factors and the portfolio. We use about 20 dimensions to determine the correlations between macro factors in the portfolio," he adds.
The visual output of the model is partly what makes it so powerful. "The CPEG board appreciates it because they can see how the various factors influence the portfolio in a three-dimensional view. It is easy to see the impact of an investment decision on the portfolio and visualise the relationships between factors," says Haenni. This way, the board can take investment decisions based on the asset allocation, as well as risk allocation.
This tool helps CPEG implement its investment strategy that, as Haenni explains, consists of harvesting the premia of the main asset classes available in the market. He says: "We know that asset class premia are predictable and perennial.
"Our primary investment belief is to focus on the fundamental performance of the portfolio. The overall performance of the portfolio is composed by the fundamental performance plus a valuation effect. The valuation effect is unpredictable on a short-term basis, whereas the fundamental performance is driven by the asset class premia and is therefore predictable."
Haenni points out that there are other factors driving the portfolio's fundamental performance, such as credit defaults and currency impact. But the CPEG investment team is focused on optimising the allocation to harvest long-term asset class premia.
"Our role is to enhance the expected return of the portfolio by optimising the diversification," he says. "We always look for regions and financial instruments that will contribute to that objective. The short-term deviations from the strategic asset allocation are driven by short-term risks rather than our views about markets. We are long-term investors, but we also consider short-term risks."
The CIO emphasises that CPEG does not try to call the market, but keeps a close eye on potential risk events. One such event was the Brexit vote, when the exposure to UK equities was reduced. It was subsequently increased when it became clear that the asset class had been oversold.
Most of CPEG's liquid assets are managed passively. The investment team he leads, which comprises 12 people, focuses on implementing the strategic asset allocation and researching new asset classes and strategies.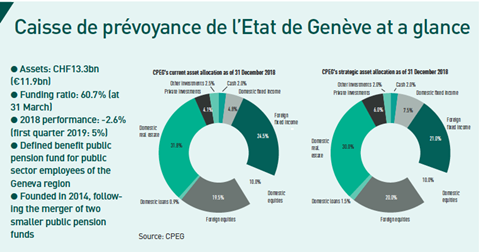 Haenni says: "In this low-rate environment, investing in the broad market is the best way forward for two main reasons. First, corporates can refinance themselves more cheaply and can keep afloat. Second, passive strategies protect from sector rotations."
Nevertheless, the fund does have actively-managed emerging market equity portfolios and has implemented a multi-factor allocation to emerging markets that complements the active portfolios. The fund also has an actively-managed investment in insurance-linked securities (ILS). These portfolios are managed externally.
"Our methodology helps us visualise the relationships not only between macro factors but also between groups of macro factors and the portfolio"
The largest actively-managed portfolio is the real estate portfolio, which represents over a third of overall assets.
Haenni says that CPEG has developed a network of policymakers with whom his team discusses the current investment environment and macroeconomic trends. At the moment, he sees the environment as being supportive, despite the many indications that corporate earnings and global growth are slowing. He says: "Growth estimates are still positive and central banks are still supportive of financial markets, which should bode well. From a geopolitical point of view, things seem to be under control for the time being, but this could change over time. I worry about trade tensions between the US and China."
Al Gore and CPEG's green ambitions
Despite the significant short-term challenges, CPEG has kept its eyes on what Haenni sees as a long-term trend. Last year, the pension fund joined the ranks of those that perceive climate change as a long-term risk, and began by divesting from coal producers. Haenni says: "We cannot ignore the risks posed by climate change. Because it will affect us from a political, economic and social point of view, it could really be a catalyst for a financial crisis. "We have banned the coal sector after a carbon footprint analysis of the overall portfolio. We are now ready to take additional measures to control the carbon footprint of the different asset allocations resulting from the ALM study." Haenni explains that the strategy will be a mix between divestment from carbon-intensive assets, engagement with companies and investment in green assets. He says: "We would favour a multidimensional approach that includes exclusion and engagement. We should engage with companies and exclude them if they do not show a willingness to engage.
Decarbonising the portfolio completely would be the easiest short-term solution but we think it is our responsibility to contribute to change. We are also considering dedicated green-bond strategies." This is a new development for CPEG, which was partly influenced by Haenni's meeting with former US vice-president Al Gore at an IPE conference in Prague in 2017. Gore is a well-known environmentalist and chair of 'green' asset manager Generation Investment Management. Haenni took part in a private session Gore held with pension funds at the conference. The CIO says that meeting inspired him to act.
He estimates that in the current environment, the overall asset class premium is about 2.8%. "If we stress test that estimate in a major financial crisis, the premium can fall to 2%," he says.
This low-yield, low-return environment will continue for several years, according to Haenni, as central banks struggle to raise rates, to avoid defaults on the $257trn of global debt. He has a positive view of how central banks have behaved in response to the financial crisis, but admits that they might be unable to act in co-ordination, should there be another crisis.
Nevertheless, he is optimistic that central banks will continue to be effective. "They are committed to ensure the stability of financial markets," he says.
Still, market volatility could increase as the economic cycle runs its course. Haenni argues: "We think that, as long as the fundamental environment is positive, the best strategy is to rebalance the portfolio in response to volatility spikes. The rebalancing activity is going to be mainly, but not exclusively, on equities. We are also interested in rebuilding the government bond portfolio. We think it's a natural hedge in the portfolio. The equity sell-off in December last year was a very good test to show that govvies can still play a protective role. At current levels, we think they are richly priced, but should they correct, we may rebuild our exposure."