Carlo di Gennaro (pictured), head of global group pensions at Eni, tells Carlo Svaluto Moreolo how the oil and gas company is streamlining its pension strategy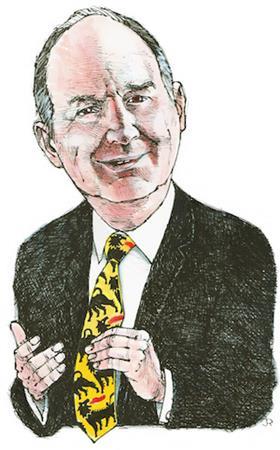 The logo of Italian oil and gas giant Eni, a fire-breathing six-legged dog, was chosen from among thousands of submissions in a nationwide competition in 1952. Many interpretations of its obscure meaning have been offered. It is said to represent a car's four wheels plus the two legs of its driver, a kind of machine-human hybrid representing progress. Eni's website says that the six-legged dog "explores the relationship between man and nature with power, courage and nonconformity."
The peculiar but powerful image also says something about the way Eni has historically managed employee pensions. Due to the its global reach, by 2014 Eni was the sponsor of 67 pension plans in 16 countries excluding Italy, 49 of which were defined benefit (DB). The company contributed €29m annually to those plans. In Italy, the firm made yearly contributions of €5.6m to Fopdire and €21.1m to Fondenergia, two major occupational pension plans. In other words, Eni's pensions had become a somewhat terrifying creature.
Many multinationals find themselves in the same situation of course. But in the name of progress and good management, Eni realised it urgently needed to streamline its employee pensions. It faced the growing rising risk of running DB plans at a time of falling discount rates, as well as the reputational risk linked to offering poorly-constructed or expensive defined contribution (DC) plans.
Carlo di Gennaro, Eni's head of global group pensions, recounts how in 2014 the company formed a business unit dedicated to that task, which he supports to this day. "We began from a census of the various situations in the countries we operate in. At first, we needed basic information about the existing plans and the regulatory framework they operated in," he says.
"We then worked on a country-by-country basis. First, we did deeper analyses of existing pension plan offerings and feasibility studies of alternative solutions. In each case, we formed local work groups in order to find shared solutions. Modifying existing plans can be challenging, not just because of local regulations and financial issues, but also because of the expectations of local stakeholders.
"In each case we needed to show our commitment but also ensure that local stakeholders were committed too. We found that stakeholders were interested and keen to work with us, because they saw that Eni was striving to improve the efficiency of the plans, not just from a corporate perspective, but also for employees, thus improving remuneration packages in general."
Di Gennaro's team dealt with the full range of domestic pension regulations and environments. There are countries, such as the UK, with relatively simple regulatory frameworks and complex pension product markets. Then there are the opposing examples of Germany and Belgium, for instance.
In the UK, Eni had six DC and three DB plans relating to various businesses operating in different areas. The DC plans have been consolidated into a single entity managed by a single provider. This plan is monitored by a governance committee that meets twice a year. Di Gennaro says: "We have created governance committees in several countries. They are very helpful structures, as they allows us to monitor not just the financial performance of the schemes, but also the administration and communication with members."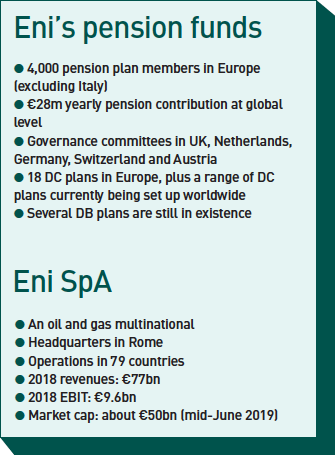 The governance committees oversee the active participation of the Eni global pensions team and allow the company to monitor the pension plans from the centre. "This means we can study best practices at country level and apply hem to other contexts. It concerns all aspects of running a pension plan, including the asset allocation strategy," Di Gennaro explains. "Our increased participation in the activities of local plans is seen as a sign that we are committed to providing good pension benefits. As a result, membership rates have grown where they were low."
"When we agree on the implementation of a new, single plan, we often run a tender asking providers to meet specific requirements in terms of investment, administration and communication. There is obviously a great attention on the costs of the plan, but we put equal emphasis on all aspects, to achieve a comprehensive solution," says Di Gennaro.
In the UK, the consolidated pension fund has significantly lower costs than its previous incarnations. It has tailored its low levels specifically to members and adapted the asset allocation accordingly. The existence of a single pension fund is also an incentive for employee mobility within the different businesses operating in the country.
In countries such as Germany and Belgium, Eni's efforts have been focused on offloading pension risk in compliance with more complex local regulations. Here there is more emphasis on employee participation. "It is challenging to convince employees that moving from a DB to a DC arrangement can be beneficial to them, even though it is sometimes apparent," says Di Gennaro.
The global group pensions team has no direct control of the investment strategy and asset allocation of the local plans, but it does provide inputs. Di Gennaro says: "Depending on the regulatory framework we are dealing with, we have more or less influence on asset allocation decisions. There are regular discussions on asset allocation changes. For certain plans we are evaluating emerging market products and ESG strategies. Generally speaking, we favour life-cycle products where the regulations allow their use."
The team is also studying decumulation, which is often neglected. "There is a great variety of approaches to decumulation across Europe, partly to do with the different tax regimes. The annuities market is generally fragmented and deregulated, which means retirees often take the first offer they get."
The overall streamlining project is not far from completion, according to Di Gennaro. After the initial study phase, the goal is to create a single DC plan in each country. By the end of last year, Eni had frozen eight DB plans in Europe, it had transferred two DB plans to DC arrangements and closed 15 DC plans. The closure of the DB plans allowed a €9m one-off saving, due to reduction of the average current value of future service. In addition, the company is benefiting from a €6m saving on annual DB pension contributions.
How Eni's Italian pension funds run their money
Fondenergia
● DC fund for the energy sector
● Assets: €2.3bn
● 43,200 members
● 2018 results:
● Guaranteed fund: -1.46%
● Balanced fund: -3.28%
● Dynamic fund: -4.79%
(Data as of April 2019)
Fondenergia is engaged in a serious diversification drive. In 2015, it added emerging market equities and increased the share of corporate bonds to the portfolio. It has also divested from European government bonds and replaced those investments with hard-currency emerging market debt. Last year Fondenergia was among the five pension funds that partnered to invest in private equity. The partnership, named Progetto Iride (Project Iris), is the first of its kind in Italy and Fondenergia will invest €66m in private equity for the first time.
While the results for 2018 were disappointing, the portfolio has bounced back this year. Fondenergia's guaranteed fund gained 1.02% during the first four months of 2019, while the balanced fund and the dynamic fund returned 5.07% and 7.36%, respectively.
Fopdire
● DC pension fund for Eni directors
● Assets: €406.2m
● Members: 1,350
● 2018 results:
● Guaranteed fund 2.01%
● Balanced fund -1.12%
● Dynamic fund -2.47%
● Data as of end-2018
Within Italy's pension system, Fopdire is known as a pre-existing pension scheme, since it was set up prior to the early 1990s reform that created second-pillar, occupational pension schemes. However, they operate in essentially the same way as 'fondi negoziali', the industry-wide pension funds created through the reform. Like most DC second-pillar schemes in Italy, Fopdire offers members three different funds, or 'comparti': a guaranteed fund, managed like an insurance portfolio; a balanced fund, mainly invested in fixed income; and a dynamic one, which has an allocation to equities. Much like its peers, Fopdire has been gradually diversifying its portfolio. Earlier this year, it awarded two absolute return bond mandates worth €140m in total to US manager Payden & Rygel. Fopdire's portfolio recorded a relatively disappointing performance last year, but so far this year returns have been encouraging.
The next phase will consist of integrating the company's pension plans further from an operational and financial perspective. Eni is monitoring the progress of EU initiatives, such as IORP II and PEPP, that pave the way for the introduction of pan-European DC plans. There are other ways to achieve further integration – from using a single provider without combining pension assets in different countries, to keeping assets in different funds but using a similar investment strategy and asset allocation model. The economies of scale generated by consolidating assets across countries would be significant. "Achieving further integration of pension assets would allow us to become more competitive with providers," Di Gennaro says.
Eni's global pensions team is perhaps having the most impact outside Europe. In Ghana, Turkey and Mexico there are pension plans in a start-up phase. In Angola and Venezuela plans are being implemented. A feasibility study to create a pension plan in Congo is under way.
Di Gennaro says: "For a company like ourselves, pensions are not just a matter of risk. We have a great opportunity to do good by setting up pension plans in developing countries where employees live more uncertain lives from an economic perspective. This gives us great motivation. The human aspect of managing pensions is not lost on us."