---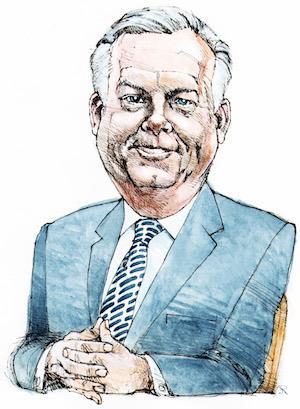 Christer Franzén (pictured), CIO of the Ericsson Pension Foundation, tells Carlo Svaluto Moreolo about the fund's capital-preservation philosophy
As central banks cautiously start to tighten monetary policy, with potentially serious consequences for markets, it would seem prudent to choose absolute-return strategies over benchmark-related ones. The opposite might have seemed obvious when central banks began to lower interest rates and buy bonds to support markets after the financial crisis. But that is exactly when the Ericsson Pensionsstiftelse (Swedish for pension foundation) chose to abandon benchmarks and become a true absolute-return investor, according to CIO Christer Franzén.
"We did not understand to what extent central banks were going to use quantitative easing (QE), and thought the future was going to be gloomier than it had been in the past decade. That was the starting point. We decided to construct a portfolio that, in the long term, would provide a safe income rather just capital gains," says Franzén.
Franzén has led the organisation's investment activities since 2008. Previously, he held various treasury positions at Ericsson. His career began in the foreign exchange trading sector.
The portfolio has provided both a safe income and capital gains ever since 2009, partly a result of the market-boosting effects of QE. But thanks to its strong focus on absolute returns, today the Ericsson pension fund is hopefully better equipped to face the next market downturn.
Franzén adds that since 2009, the Ericsson pension fund has reduced its portfolio's risk exposure. This was done partly to reflect the fund's expectation of lower returns in a central bank tightening environment. But it was also possible, thanks to the good returns of the past years.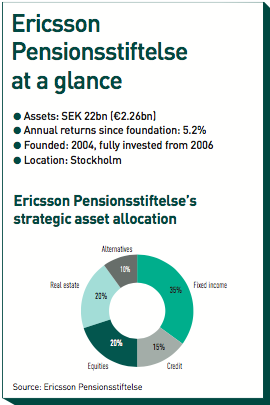 "We have adopted a clear capital-preservation approach. This follows a philosophy that our sponsor should not carry too much risk within the pension fund, particularly during times of economic stress, when the market it operates in could be under pressure. In this sense it is a countercyclical approach," says Franzén.
Until recently, the fund's annual return target was about 4.5%. This was essentially determined by the return needed to insure Ericsson's pension liabilities, which are held on the company's balance sheets. In the Swedish system, corporates keep pension liabilities on their books and set up pension foundations like the Ericsson Pensionsstiftelse to fund the sponsor's pension promises. At the same time, pension promises are insured through a mutually-owned insurance company.
That target is about 3.5%. It has been lowered because the fund is forecast to be in a cash-positive position for the foreseeable future. The good returns that it has enjoyed since 2009 also allowed that. "The fund is expected to grow until 2035, when it will be almost twice as big, so we do not need to chase the market as it is," Franzén points out. The fund also has a goal to never lose more than 5%, but the CIO calls that a "soft target".
The portfolio has evolved to fit the fund's capital-preservation approach, having become significantly more diversified compared with pre-crisis times. Franzén recounts: "When the fund was created in 2004, the portfolio was very basic. After 2009, we were looking to get better coupon returns, and looked at private equity, hedge funds and real estate. Public equity was very volatile at the time. We figured that perhaps we needed to hold more assets that are not priced by a market in order to stabilise the portfolio."
In general, the fund tends to invest in large-cap public equities, while it favours credit and senior secured loans for small-cap companies. The credit and loan portfolio, which was launched in 2009, has performed better than the equity portfolio for the most part.
However, the fund stands out because it invests almost half of the assets in what are normally considered illiquid markets. This includes long-short credit, private debt, private equity, real estate and infrastructure. That choice of assets might seem at odds with the fund's capital-preservation approach. But Franzén argues that the less liquid markets will provide more safety in the long run.
"You should not think you are safe just because you invest in publicly traded assets, on the basis that they are liquid. Regulator pressure has become unbearable and with banks discouraged to be market makers, liquidity is available only one way. Next time we have a crisis, public markets might not be as liquid as investors and regulators anticipate," says Franzén.
That is why the fund has been particularly active in direct lending, primarily with mid-sized and large managers that are able to access deals on their own or in partnership with a bank.
Direct lending is a notoriously tricky space, where manager selection is perhaps more important than others. But Franzén is confident that the fund has learned the right skills and approach. "When it comes to private investments, the dispersion between managers is much greater compared to mutual funds, so you are at risk if you do not have the right manager selection skills," he notes. That said, direct lending has an edge over private equity because the investments have a shorter lifespan. This means managers can be changed more often if necessary.
"In direct lending, scale is very important. Smaller managers either have to invest in smaller, riskier companies or participate in syndications where they are one of several lenders. But the whole point of direct lending is to be the only lender or one of few lenders, so you can negotiate terms better and, if needed, workout processes can be done properly. Managers need the origination and control capacity," adds Franzén.
Conversely, a large size in terms of assets under management can be a disadvantage in this market. "An asset manager that becomes too large can change focus from investment returns in favour of the fees its business can generate. There is nothing wrong with that, as long as the end-investor understands the difference. But we would not want to be invested with a firm that focuses more on fees than our return," adds Franzén.
The fund is likely to maintain an allocation to direct lending for the foreseeable future, according to Franzén. He says the European market will continue to present opportunities as it catches up with the US, where non-bank lending is more prevalent.
"Everything that has to do with non-bank lending will continue to grow in Europe. It's still early days from that perspective. At the moment, we invest mainly in northern Europe, including Germany, Benelux, France and the UK, but southern Europe has started to become a bit more interesting," says the CIO. However, the legal framework in countries such as Italy makes direct lending less attractive, he notes, despite the potential wealth of opportunities.
The beauty of direct lending, Franzén says, is that it is a time and resource-consuming asset class. "Direct lending is different from the hedge fund industry of several decades ago, when managers with a Bloomberg terminal could just exploit market dislocations," he says. In other words, likelihood that excess demand leads to overheated markets seems smaller.
As for other alternative assets, the pension fund has a private-equity portfolio invested mainly in mid-cap companies. It has also invested in infrastructure, but has kept the allocation stable over the past few years at 5%. Franzén recalls how, at times, this has been a difficult asset class to invest in, due to the time lag between committing capital to a fund and seeing the capital actually invested.
Risk factors is an area of future expansion for the fund, says Franzén. At the moment, the strategic asset allocation is decided on the basis of regular asset-liability management (ALM) studies. These return asset-allocation bands for asset classes such as equities, bonds and alternatives. The plan is to develop the use of risk factors, rather than asset classes, to build the asset allocation. The CIO says: "We have started to look at risk factors, but that is still on an index level. We need to dig deeper to find the actual risk factors of existing portfolios. As we go forward, we should learn and be able to explain what risk we have in the portfolio."
The fund is already using risk premia-based strategies for downside protection. "We have a strategy to protect us from equity drawdowns, which has worked really well in 2015 and 2016. We also have a risk premia allocation that invests in the opportunity set of a macro hedge fund. This has mostly outperformed traditional commodity trading advisers (CTA) strategies over the past few years," explains Franzén.
The CIO, who has a background in foreign exchange and fixed-income trading, warns that misuse of risk-premia strategies could lead to dangerous herding behaviour among investors. "This is something one needs to be aware of. Risk premia is a zero-sum game. A manager with too much capital on its hands may not be able to exploit the available opportunities in this area. In general, risk-premia investing is not for everyone, and investors really need to know what they are doing," says Franzén. The same idea applies to exchange-traded funds (ETFs), which are growing so large they could become dangerous, according to the CIO.
The fund's portfolio appears to be well-diversified but there is one striking feature. Emerging market assets have been mostly absent from the portfolio for at least four years. This is in stark contrast with European pension funds. Franzén says his organisation divested from the area, fearing the combined effect of China's growth peaking and the Federal Reserve tightening, which could negatively affect corporate earnings.
The equity portfolio is roughly divided into three parts according to management style. One-third is invested in long-short equities, one-third in index and derivatives and the rest in active-equity managers, the latter being a recent addition. The fund decided a year ago to focus on concentrated, long-only active-equity strategies, to contrast the market's tendency towards passive strategies. "We will probably add to the active portfolio, partly because everyone has gone in the opposite direction. This normally creates opportunities," says Franzén.
The share of assets managed internally has declined as the portfolio has shifted away from fixed income. There has been some turnover of staff in the fund's investment team in recent months. However, Franzén says that by early next year the strategy will be managed by a team of six, including those responsible for risk management and administration. Franzén's deputy left earlier this year to work for the AP7 buffer fund, but the CIO confirms that the fund is in the process of hiring an analyst and a portfolio manager.
Franzén has figured out and implemented a strategy that should keep the fund out of trouble for the next few years. However, he has one particular concern, which he shares with many investors today. "I have been a macro guy all my life," he says. "That means I tend to worry about geopolitical risk all the time, and I am more worried about it than I was 10 years ago. Today, the models implying that people are rational agents do not seem to apply anymore. It's more about animal spirits." If that is the case, then taking countercyclical moves might be the only sensible way to manage markets.