---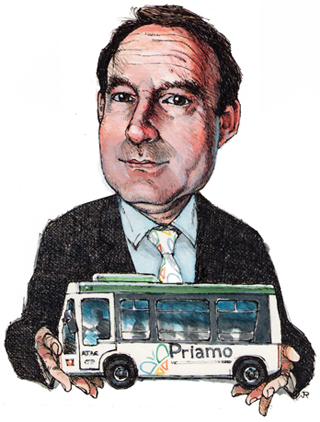 Osvaldo Marinig (pictured), chairman of Fondo Pensione Priamo, the second-pillar fund for the Italian public transport industry, tells Carlo Svaluto Moreolo about how it is building a new asset allocation to manage its high rate of maturity
Many Italian pension funds are still in their infancy, struggling with slow contribution growth rates and a challenging domestic investment environment.
Priamo, Italy's second-pillar fund for public transport workers, is among those that are maturing quicker than others, despite its small size.
The fund, which had assets under management of €1.19bn at the end of 2014, serves employees of Italy's public transport companies and affiliated companies. It was set up in 1998 by an agreement between the employers' association and a number of trade unions involved in the industry.
In October, the fund approved a new strategic asset allocation, the result of a process that started earlier in 2015.
This will be remembered as a busy year for the fund. As well as its new strategic asset allocation, the board worked on its investment policy document, which was is due to be updated within the year.
During the second half 2015, Priamo appointed a new adviser, ending its seven-year relationship with Prometeia. After a public search, the fund selected Link Institutional Advisory, a consultancy based in Lugano, Switzerland.
Osvaldo Marinig, Priamo's chairman, explains that the first task delegated to the new adviser was analysing the retirement needs of the fund's members.
This took several months, owing to the membership, 80% of whom are bus drivers. According to the terms of the collective contracts regulating the profession, they can retire five years earlier than other workers. If they can no longer work for health reasons, the retirement age is set at 60.
Marinig says: "This particular characteristic of our fund prompted us to reflect on our investment strategy. The time horizon of the fund is reduced compared to other funds."
Other aspects made this even more challenging. The age profile of members is already old, which means that more workers are expected to retire soon.
Additionally, the sector is undergoing budget cuts and restructurings that will result in redundancies. This, explains Marinig, is not a development that the sector is used to.
"What is the correct risk-return profile we should build in our investments, in light of the shorter investment horizon of our members, and particularly in this phase of low returns from traditional asset classes?", asks Marinig. This is the question that the board had to address when reviewing the asset allocation.
The answer is a departure from a relative value management style and the introduction of an absolute return approach. This is fairly innovative for Italian pension funds, most have chosen not to do it because of the good results garnered from benchmark investing in benign markets.
Marinig says: "We want to encourage our managers to be more active in their investment style, to make sure they don't just focus on beating the benchmark."
The current mandates expire in 2017, which means that new manager searches will be implemented through 2016. For the time being, however, the board also foresees changes to the portfolio, as mandates are amended to reflect the new asset allocation.
The new model will involve a higher weighting of equities, with changes in geographical horizon and investment styles.
"We will now implement a prudent management approach, without overhauling the current mandates", he adds, as the fund aims to ride out the difficult times ahead.
But, the future structure of external mandates, in particular for traditional asset classes, will have an absolute return bias. The aim is to build a structure that does not resemble a "mix of specialist mandates, assigned according to the managers' individual qualities."
There will, however, be specialist mandates for asset classes that are yet to be introduced in the portfolio. Marinig says the fund is about to launch two specialist searches, one for convertible bonds, and one for European small and mid-cap equities.
"We want to add these asset classes to discover whether they can give us the additional return we might need", says the chairman.
Alternative investments – particularly real assets – have been a talking point, both within Priamo and nationally. Marinig confirms that like its peers, the fund has been under pressure to invest domestically.
The fund changed its statute at the beginning of 2014, a move which allowed investments in alternatives.
Marinig barely mentions the new law on investment freedoms, codified in the Decreto Ministeriale 166 (DM 166) and approved at the end of 2014.
These abolished anachronistic limits for Italian pension funds, but Priamo anticipated the change. Even before the approval of the DM 166, which replaced the DM 703 of 1996, pension funds could invest in non-traditional asset classes. But, few took the opportunity, given the good returns available from traditional, balanced mandates. One exception was Eurofer, the railway network employees' second-pillar fund. This was the only fund that invested in real estate, an asset class ignored by the 41 second-pillar sector funds in Italy.
Eurofer adopted real estate investment under the chairmanship of Marinig. It was an innovation that did not go unnoticed in the industry.
Marinig says Priamo may soon announce its first real estate investment. At the beginning of 2015, the fund was to launch a search for a real estate manager, before finding a new adviser took precedence.
However, the fund has committed to alternatives, to a degree. "There is a limit to the alternative exposure we can have. If we have to lock away capital, we have to make sure it does not affect our members, particularly those that will retire in the next 10 to 15 years", says Marinig.
That also limits the possibilities for Priamo to invest in the domestic economy. The external pressure to do it, as Marinig points out, is significant. But, there are several elements to analyse before investments in the Italian economy are considered.
Marinig says the fund is assessing investment opportunities with Fondo Italiano di Investimento. This is a private debt and venture capital fund set up in 2010 by the Italian Ministry of Finance and part-owned by the ministry and a group of banks, including public lender Cassa Depositi e Prestiti.
He says: "We must evaluate every opportunity as well as our capability to control investments."
There are some serious issues with investing in the local economy, according to Marinig. "In this country's regulatory framework, companies under a certain size are protected from fines resulting from accounting fraud. This makes it very difficult for an institutional investor to commit."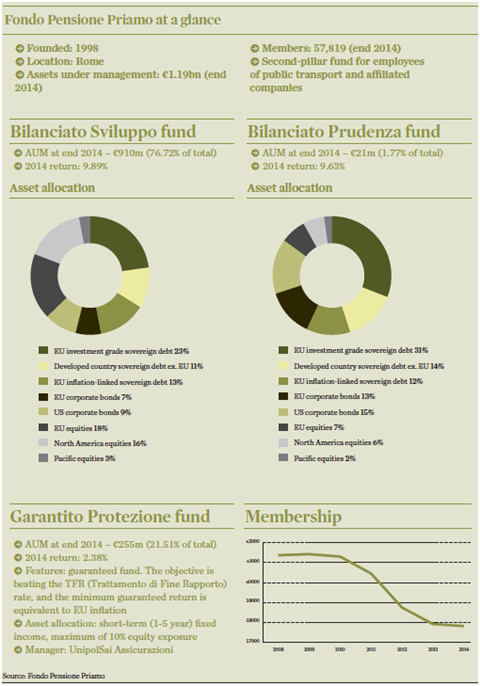 He adds: "The real problem is the lack of transparency. We may receive proposals by bank-owned asset managers to invest in instruments aimed at SME [small and medium-sized enterprise] finance. Then we realise the banks involved do not invest in the same SMEs, and we cannot understand why. These are elements a board has to think about."
Clearly, Marinig says, there is also a lack of expertise and skills at board level, which does not help.
"But we need transparency and control above all, as in all traditional investment instruments. The board needs full visibility of the process, so that it can be acknowledged that everything is done in good faith. Larger funds than us have made mistakes in the past, because of this lack of process", adds the chairman.
For Marinig, it is unsurprising Italian pension funds are risk-averse, as they are still in the early stages of their journey. He says: "So far, funds have performed relatively well, so why would they look for complications?" Their mission, after all, is to serve their members.
The discussion returns to Priamo's future pensioners. Priamo will see 20% of its active members retire in the next five years. At the same time, most young members joining the scheme choose the default fund: the Garantito Protezione.
Marinig says he has new members why they worry so much about investment risk in their youth. The Bilanciato Prudenza or Garantito Protezione funds give members the highest impression of security, notes Marinig. But analysis shows a young member in those is likely to be worse off in the long run, as the equity allocation is low. "Young people are still inherently cautious", he says.
"The board needs full visibility of the process, so that it can be acknowledged that everything is done in good faith"
The tough task for Priamo is not only providing good returns, but attracting members, to support the growth of the fund is also urgent. One way to do this is providing more tailor-made portfolios in each of Priamo's funds, which needs to the reflected in the overall asset allocation.
The chairman says the new strategic asset allocation is still based on an average member model, but is exploring ways to improve this.
He explains: "We want to focus more on the structure of our membership. First, we need to gain a better understanding of their needs, and then we need to create a product that suits those needs. It is just a hypothesis at the moment, but on our agenda."
Another way of increasing membership would be to merge with other schemes. Italy's pension regulator, COVIP , has regularly advocated fund consolidation. The transport sector is one where mergers are seen as particularly appropriate.
But larger is not always better. Marinig says: "We don't want to create a generic, open fund for transport workers. The needs of our members are very peculiar."
Perhaps Priamo is better off on its own, as it embarks on a journey to new regions of the institutional investment world.