---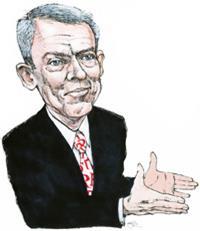 Olivier Rousseau (pictured), member of the executive board of Fonds de Réserve pour les Retraites, tells Carlo Svaluto Moreolo about regulation, ESG and his vision for the markets
Ask any European pension fund about regulation and they will say it is making their job more difficult. Regulators have become significantly more influential over the past 10 years. This was in response to the financial crisis, which was deemed to be partly caused by a lack of regulation.
As a public organisation and France's largest pension reserve fund, the Fonds de Réserve pour les Retraites (FRR ) is constrained by a lot of regulation. Yet it has found a way not only to maintain its promise but also to become a leading investor.
The €35bn public pension fund began in 1999. In 2001 it was given the task by French law to smooth-out the impact of demographic changes on the country's pay-as-you-go pension system. It did not start investing until 2004. Since then it has more than doubled its assets with annualised performance of 4.4%. It has done so thanks to a blend of careful management, good planning and the ability to adapt quickly to changes in markets and regulation. FRR is also one of the most active ESG investors in Europe.
One of the architects of FRR's success is Olivier Rousseau, executive board member, who joined in 2011. Prior to FRR he spent many years in senior roles at BNP Paribas and worked for the French treasury and the European Bank for Reconstruction and Development.
Rousseau says: "We feel lonely in the French pension fund landscape. We are not a very lucky institution, but we do our absolute utmost to provide the French state with a good return, within the severe constraints that we have."
The list of constraints is long. First, FRR cannot manage assets directly and managers are appointed through public tenders. "The rationale is that we handle public money, so it must be ensured that we are handling it sensibly. It is good to have a structured process for hiring managers, but it would be good to have flexibility. The structured process means that FRR is often straitjacketed. But hiring an asset manager is a complex matter, to which a public procurement process is not always suited," says Rousseau.
Some rules governing FRR are established by law, others are decided on by the organisation's governance structure. The strict and complex framework FRR has to comply with can change dramatically. Pension reform in 2010 was a game changer: inflows were stopped and a fixed-liability schedule between 2011 and 2014 was set. FRR had to switch from an 'assets only' to a fully-fledged liability-driven investment (LDI) approach.
Rousseau describes the de-risking process as "brutal". He recounts: "The fund had to sell equities at the wrong time, we abandoned real estate investments just when we were about to award two mandates worth €1bn and had reduced our commitments to private equity from €1.5bn to €1bn.
"Even our fixed-income portfolio has faced headwinds, because as a result of our new 2024 investment horizon and a 6% annual negative cash flow, our hedging portfolio has only had medium duration. This has meant that we have not enjoyed the full capital appreciation brought about by the collapse in interest rates."
Rousseau says FRR reacted bravely to the situation. He says: "LDI was a big trauma for the institution. It was a blow for the morale, but the team reacted very gallantly, putting together a new model very quickly."
FRR's governance structure, which consists of a supervisory board, establishes the relatively long list of no-go areas in terms of asset classes. FRR cannot engage in short selling, buy credit default swaps, hedge funds, CLOs and CDOs. The use of leverage is theoretically possible but seen as dangerous, and therefore avoided.
The supervisory board usually meets at least three times a year. It has 20 members including members of the French parliament, trade union and employer association representatives, officials of the welfare and finance ministries, as well as independent professionals with relevant credentials.
"Our proposals are not always accepted but there is a positive interaction and a constructive spirit. We have achieved major successes in relaxing our constraints," says Rousseau.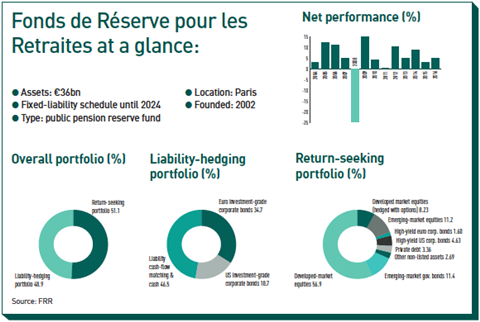 One such achievement was scaling up the return-seeking portfolio from 38% of the overall portfolio in 2011 to 50% in 2015. The executive board bid for 60% this year, but it had to settle for 55%.
The portfolio had significant private equity commitments and other illiquid assets that were frozen after the launch of the LDI programme. But FRR's alternative investment programme is now back on track. In 2013, the organisation started investing in private debt. Two years later it received approval for a €2bn programme of investment in the French economy. This consists of €1bn worth of private equity investments, €600m in private debt and €400m in real estate and infrastructure.
FRR's diversified investment strategy includes a significant factor investing allocation. The fund began with a tactical investment in a RAFI value index in 2009. It later decided to build more strategic exposure to factors, which was implemented by investing in four indices. There are a low-volatility index, an EDHEC risk-efficient index and a risk-parity index complementing the RAFI value index. More recently, FRR teamed up with MSCI to develop an index combining the value and momentum factors.
Rousseau says: "Because of the niceties of public procurement, it can take a long time for FRR to implement its investment strategy, which is reviewed every year." The organisation is less able to react to changes very quickly, he adds, yet it has evolved rapidly since its foundation thanks to its relatively large staff numbers.
"We are very proud of what we do. Each of the awards we receive are well-deserved by our team," says Rousseau. While the assets are managed externally, the asset allocation department has a very active role, in that it takes care of foreign exchange management and hedging strategies.
Naturally, managing a public pension fund with a fixed-liability schedule has its upsides. Rousseau says: "We have many constraints, but we can tolerate higher volatility, and therefore we don't have to maximise the Sharpe ratio." For that reason, when he joined he pushed for big changes in the way FRR's risk management works. "At the time, there was enthusiasm about flexible allocation management. I soon realised that adjusting the portfolio based solely on volatility reduced our expected return. It cost us money and therefore it was not ideal," adds Rousseau. Crucially, the risk department now focuses on careful monitoring of performance attribution. This has had a positive impact on results, he says.
Rousseau is particularly proud of FRR's environmental, social and governance (ESG) credentials. It is a founding member of the United Nation's Principles for Responsible Investment (PRI). "We have always insisted on being a responsible investor. We will push further with our agenda," says Rousseau. FRR stands out in terms of decarbonisation efforts, which began in 2014 with the creation of the Low Carbon Leaders indices in partnership with Amundi, AP4 and MSCI. FRR is an active member of the Portfolio Decarbonization Coalition. In December 2016 it adopted a stringent policy on coal exclusion.
"Today, our equity portfolio is 29% below its benchmark in terms of CO2 emissions and fossil-fuel reserves. We could go to 33% or even 35%, and in general we will continue to decrease the environmental impact of our portfolio. Some of our mandates are up for renewal next year and we will be more ambitious with those", explains Rousseau.
However, the organisation will also focus its efforts on other areas of ESG. Rousseau explains: "We have adopted a full tobacco exclusion, which will be very advanced in its implementation already at the end of this year, including full divestment for investment-grade bonds.
"We expect our managers to have a process for the 'social' and 'governance' parts of ESG. We have not imposed our view on managers on these aspects in the same way we did for carbon emissions. We are working to build our understanding of what is the best approach.
Rousseau does not shy away from offering his views on difficult topics such as geopolitical risk or the unwinding of quantitative easing (QE) programmes. He says: "There are always geopolitical risks affecting portfolios, and I would agree that investors cannot do much. However, I believe the risk is above average today, considering all the circumstances, from the Middle-East and the relationship between Russia and the Western world to the North Korean situation. I am not saying investors should be out of the market, but it is worth buying insurance if it is cheap." FRR does use options to help protect its equity holdings.
However, Rousseau is fairly confident that the end of QE will not spell trouble for the markets. "Bond markets will correct, which is a good thing, but equity markets will not necessarily correct. The equity risk premium is extremely high at the moment, particularly in the euro-zone, and if it goes back to normal levels as a result of QE unwinding it will simply be that risk appetite is back to normal levels. That would be the best proof of the success of the zero-interest-rate and QE policy."
Of course, the risk in that scenario is that markets misunderstand central banks. A bigger worry, says Rousseau, is a slowdown in the US economy. "The market is expecting nice growth levels for US corporate profits, but part of the current profit growth could be an effect of inflation accelerating. I expect flatter profits, which could imply a 10% correction."
His assessment of the European economy and euro-zone is more positive. "We have got used to being pessimistic. If growth stabilises close to 2%, the next two years should be quite bright. A 20% rise in corporate profits at least is on the cards and it would support equities. That is not to say that all risks have disappeared. The Italian election next year and the ongoing refugee crisis are risks to be watched.
"I disagree with the fact that the euro-zone is obsolete and that its collapse is imminent. If we still had national currencies, the management of the crisis would have been very difficult, with competitive devaluation and potentially trade barriers. More generally, it is wrong to blame all woes on the euro," argues Rousseau.
Judging by his words, FRR's mood is positive. The company is confident its focus on diversification, even within such a restrictive framework, should help it withstand the worst shocks.