---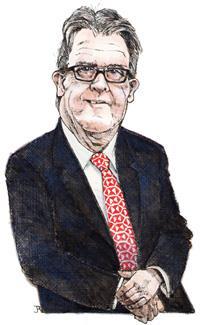 Mark Thompson, CIO of HSBC's UK pension scheme (pictured), tells Carlo Svaluto Moreolo about the scheme's creative de-risking solutions and search for innovation in DC provision
The pension funds that make headlines in the media are inevitably those that encounter serious difficulties. Although these are a small minority, there have been several such cases in the UK over the past year or so. BHS and Tata Steel were simply the most high-profile. The pension funds that do well, even those that enjoy exceptional performance, are rarely discussed. But there are many examples of proactive pension fund management among UK blue-chip companies. Thanks to good governance and an innovative spirit, these pension funds are successfully coping with the unprecedented pressure of prolonged low interest rates.
The UK pension fund of HSBC is an example of innovative pension fund management over the past decade. The fund has a large legacy defined benefit (DB) section, which closed to new accrual in June 2015, and a fast-growing defined contribution (DC) section. With £27.5bn (€30.2bn) in AUM, the DB scheme is one of the largest of its type in the UK, as is the £3.5bn (€3.8bn) DC scheme.
The pension fund is finding creative solutions to both DB and DC problems, according to the CIO Mark Thompson. It upholds innovation as a key value. "We are not against being imaginative with some of the solutions we come up. We believe it can be advantageous to be the first mover, so we like to be innovative in what we do, provided it makes fiduciary sense," says Thompson. He emphasises, however, that every decision has to be in line with the trustees' fiduciary responsibility.
A practical example of that creative effort is how the scheme is finding long-term investment opportunities to match its DB liabilities. Thompson says the scheme is increasing exposure to areas such as infrastructure debt, long-lease property, operational ground rents and high-quality long-dated credit that can generate cash flow.
"We have to be more imaginative about how we create these opportunities. There are many investors competing for them, so if we were to go out and buy straight away what is available on the market, prices would be high," says Thompson.
With that in mind, the scheme is redeveloping an office block in Croydon in south London, which is part of its conventional property portfolio. The local authority gave permission for redevelopment into a residential block. The scheme found a housing association that will take a 25-year lease on it, which matches retail prices index (RPI) inflation.
Thompson says: "We have created a matching asset. We are looking to access these types of opportunities using our size and leveraging on the very good, long-term relationship we have with our asset managers."
Thompson is, understandably, reluctant to give further examples of similar deals but hints that there are several on the way. This approach is possible, he says, thanks to both a robust governance structure and a productive dialogue with fund managers. They are responsible for feeding ideas to the board and bringing them to fruition.
"I perceive the relationship we have with our fund managers as a partnership. I am working with managers that know exactly what I am trying to achieve in this area and are looking for opportunities that we can fund," the CIO says.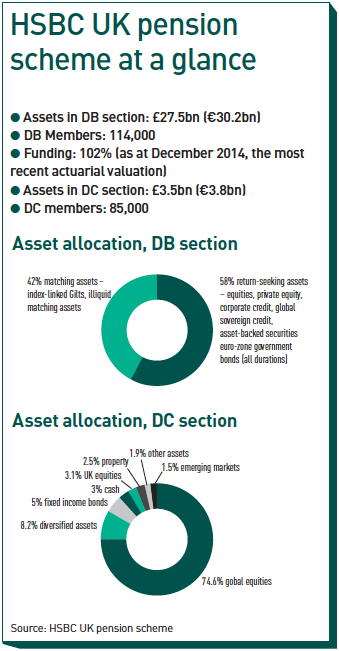 Creating these matching assets is part of the trustee's plan to achieve a form of self-sufficiency (a target-matching portfolio) by 2025. The plan was devised in 2011, after the deficit that had emerged from the 2008 valuation had been filled. The sponsor paid £64m in 2013, 2014 and 2015 and agreed to pay a further £640m over several years after the 2014 actuarial valuation. But the approach is coming to rely less on sponsor payments than on solid liability-driven investment (LDI). The scheme was an early adopter of LDI, having formally embraced it in 2006.
The goal of the plan, says Thompson, is to build an "internal annuity-matching portfolio", consisting of a liquid element and a high-quality but less liquid one. "In our plan, the DB portfolio will be managed in a very similar way to the way an annuity provider would manage theirs. We will need liquidity, so we will have government bonds, index-linked Gilts and swaps. But the idea is to also create a portfolio of less liquid high-quality assets that match the cash flows of the liabilities." As the scheme moves closer to that goal it will increasingly favour physical assets over swaps.
At present, however, the portfolio of the DB scheme is split between return-seeking and matching assets, with the return-seeking part gradually reduced as de-risking opportunities come forward. The actuarial valuation is taking place at the moment, and depending on the funding level, further de-risking opportunities through liquid or illiquid assets may emerge. "I expect us to continue on our journey to develop our target-matching portfolio," says Thompson.
When it comes to innovation in pension provision, the bank's DC scheme has been a fertile ground. The scheme has a long history – it was introduced in 1996, when the DB section of the fund was closed to new members. The bank is generous to its staff in terms of DC contributions, which puts the trustee board in a good position explore innovative solutions to common DC issues. An employee earning £20,000 a year and contributing 7% of that value will save 24% of salary into the scheme every year.
For DC members the trustee has created a 'three-headed' investment strategy, which Thompson likens to Cerberus, the guardian dog of the underworld in Greek mythology. The strategy is built to suit every member by giving a choice between the three options for benefit payout at retirement – a cash lump-sum, an annuity or drawdown.
The three options were introduced by the UK's pensions freedom reform of 2014. The 'body' of the strategy is the same, in the sense that when members join the scheme, their contributions are invested in the global equity fund; and 20 years before retirement assets are gradually shifted to a diversified growth fund (DGF). Prior to retirement they choose their preferred option for pension payout and their savings are treated accordingly.
"We are never going to know exactly what is appropriate for each member. However, our strategy provides a ready-made solution that is consistent with the Pensions Freedom agenda," says Thompson. As in most DC schemes, HSBC's members tend to avoid making choices about their investments, which means most are signed up to the default fund. Therefore, the focus is on two aspects: adapting the communication to different age groups of members and improving the design of the default fund. Thompson explains: "What we are doing, and will do more of, is tailor the communication to the needs of members at any particular point in time."
At the same time, the design of the default fund has to take into account the young age of the average member. "About 60% of our members are under the age of 40, so they are at the beginning of their journey. Early last year, I said to myself, we must be able to do better than just having a global passive equity fund," says Thompson.
That need to improve the default choice for young members led to the creation of the Future World fund. It is a factor-optimised global equity fund with a climate change focus managed by Legal & General Investment Management (LGIM). The HSBC pension scheme designed and funded the vehicle.
The fund, explains Thompson, has three investment objectives, and one important add-on benefit. "Compared with the market cap weighted fund, it gives a better risk-adjusted return by using a four factor model consisting of value, quality, low volatility and low size," he says.
The fund has built-in climate change protection. "We dial down exposure to companies with significant carbon reserves and carbon emissions, and dial up exposure to companies with green revenues. But we do it in a way that the tracking error of the fund is very low. In that sense, it is not a niche green fund, but a mainstream fund that incorporates green tilts, which means the approach is consistent with our fiduciary responsibility."
In designing the fund, Thompson also sought to improve the company's engagement policy. LGIM has contacted the chairmen of the 84 largest companies in the most climate-change-sensitive sectors as part of its climate impact pledge. If the dialogue with the companies on their plans to mitigate global warming does not yield satisfactory results, LGIM may vote against re-election of the chairmen.
"I believe a benefit of this approach is that a focus on the future world and the impact of climate change, in a fiduciary framework, is attractive for my younger members. I think it will help them become more engaged with their pension fund. I have seen the anecdotal evidence for this in the feedback we have received," says Thompson.
The process that resulted in the seeding of the Future World fund was rigorous, according to Thompson. "The trustees were very supportive. I had to go through the ESG steering group, which I chair, the investment committee, and the board. The tyres were very well kicked during the whole process," adds Thompson. FTSE helped design and launch the new index, and the trustee received advice by Redington.
Climate change is an emerging risk that the fund has to deal with as part of its fiduciary responsibility, says Thompson. "This is not a moral crusade," he adds. "One of our boards' investment beliefs is that incorporating the management of ESG risk into our standard investment process is consistent with our fiduciary duty. We quiz every manager about how they manage ESG risk in their process."
Fiduciary duty underpins every decision the scheme makes, but the board's investment beliefs facilitate the decision-making process. ESG risk and the benefits of innovation are only two of several pension fund management principles the board abides by, says Thompson. Robust governance is another one, and the rigour with which new initiatives are analysed is testament to that. Investment principles are reviewed regularly as part of that governance process.
One important principle is that active management only works in certain markets. "In developed markets, we have very little in terms of active management. In other portfolios, our managers have been very active. It depends on the assets class and the likely added value a manager can bring," says Thompson.
That is straightforward, but if taken to the next level, it leads to the search for innovation in de-risking and DC design. "Added value is not just outperforming the benchmark. It is also trying to develop opportunities to find matching assets," says Thompson.
In seven years as CIO, Thompson has overseen a pension scheme with an increasingly global outlook and forward-looking strategy. It is unlikely to be the end of the pension scheme's journey towards self-reliance and innovation.