Laila Mortensen (pictured), CEO of Denmark's Industriens Pension, tells Carlo Svaluto Moreolo about her efforts to improve the fund's main pension product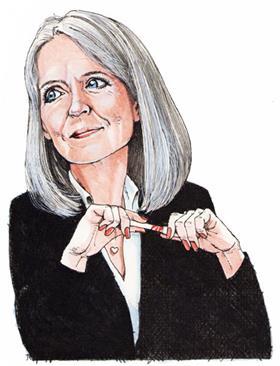 Denmark is among the countries with the highest number of women on corporate boards, according to MSCI. In 2015, women occupied 25.9% of board seats of Danish corporates. Not quite as good as Norway (40.1%), Sweden (33.7%) or France (33.5%), but better than most of the world.
MSCI's data is probably not a good proxy for women on pension fund boards. But in Denmark, at least, there are several women in the top seat of large pension funds. Among the most notable are Dorrit Vanglo, CEO of LD Pension, Helen Kobæk, CEO of PenSam unitl she retires this July, and Cristina Lage, who led Unipension until the beginning of 2016. Female participation on pension fund supervisory boards is also high and there are many in portfolio management roles.
Therefore, it is no surprise to see a woman at the helm of Industriens Pension, one of Denmark's ten largest pension funds according to IPE data. Laila Mortensen has held the CEO role at the DKK150bn (€20.1bn) fund since 2009, having joined more than ten years before. She worked previously at other financial institutions.
Under her leadership, the fund has performed well, posting compound annual growth of 126% since her appointment. More importantly, the fund completed a significant transition in terms of its product offering.
In 2012, the fund transformed its offering from what Mortensen describes as a "solid" conditional defined contribution product to a unit-linked product with a clear lifecycle strategy.
Mortensen recounts: "That was quite a big change. Paying pensions is a long-term commitment. When you make a big change to the product, you have to make sure people don't get a worse deal."
Industriens Pension at a glance
• Assets: DKK150bn (€20.1bn)
• Members: 400,000
• Bonus reserves (end 2015): DKK8.6bn (€1.15bn)
• Compulsory fund for heavy industry and the food sector
• Location: Copenhagen
• Founded: 1992
She explains that the switch was significant from a member communication point of view. Under the previous system, the true investment returns made by the pension fund were not immediately obvious as the yield on accounts was pre-determined in a form of with-profits scheme. The reserves set aside from outperformance were used to stabilise the yield when needed.
Under the new system, members have immediate visibility of negative returns in their accounts. Mortensen continues: "We had to design a product that made people feel sure that they are not losing anything in the long run. Before the launch, we made an effort to establish that the product we had designed was just as good as the old product, and had to communicate the changes to members clearly."
Today, the members of Industriens – mainly employees of the Danish heavy industry and food sectors – invest in a unique lifecycle strategy that differs from most.
According to Mortensen, Industriens' lifecycle product loads up much less risk in younger members' portfolios when compared to most other lifecycle products. As older members approach retirement, the risk profile is decreased at a slower rate than the indusrty standard.
When people join, their assets are normally invested in high-risk assets, and this exposure is gradually lowered from age 45, similar to other lifecycle strategies. At retirement – which is between 65 and 67 years – portfolios are split 50/50 between high and low risk assets. At 85, only 15% of funds are allocated to high-risk assets.
The logic is clear. "This is to reflect the fact that it is important to have an adequate risk exposure when you have a lot of capital to invest," says Mortensen. But it begs the question: what happens with sudden shocks that wipe out capital from older members' portfolios?
To mitigate the risk, says Mortensen, the fund has designed an innovative system based on payout profiles. "We start with a pension benefit that is slightly lower than the defined benefit pension, but build up gradually to guarantee purchasing power," she explains.
This is how the fund maximises pension outcomes. The objective is maximising not just savings, but also payments over its members' lifetime.
Longevity remains an issue, but Mortensen points that that stress tests have verified the stability of the model. "In almost all scenarios, we should be able to provide stability in pension payments, and probably return some bonuses," she adds.
The replacement of the old product with a new one was not dictated by Solvency II, says the CEO. Along with the whole pension fund sector, Industriens was ready for new solvency rules long before their introduction in January 2016.
The fund began thinking about improving its product as Denmark its financial crisis induced recession. This led to large job losses in the heavy industry and food sectors, which has forced members to join new pension suppliers.
According to the fund's statute, departing members were not entitled to access the excess reserves set aside. The board sought a solution. It had to find a way to hand over excess reserves to all members, including those that had a pension with Industriens but were now with another provider.
The board soon realised that a unit-linked lifecyle product would allow them to achieve this and the response from members was positive. They understood the concept and were content with receiving a one-off bonus of 26% in their account: "People saw it was a good story," says Mortensen.
How was the product shift reflected in the investment strategy? Mortensen suggests that the product was constructed upon the investment strategy, which had been built successfully over a number of years. "We did not want to change the good things we were doing."
Mortensen says her focus, since she took the job, has been to keep the organisation as lean as possible. "But, being lean does not mean that you can compromise the quality of the work you do", she adds.
When it comes to investment, that clarification is important. The board has sought a good balance in terms of insourcing and outsourcing investment capacity, keeping investments in-house where it feels it benefits the fund.
Mortensen says: "You cannot make the right investments all the time if you do everything in house. Still, in the investment area, it is not so much about being lean, it is about having the right people internally do the things they can do better, and outsourcing the rest. We only use in-house capacity if we feel we can do a quality job."
A team of 20 people manages 'traditional' government bonds and mortgage bonds, part of the Danish listed equity portfolio and a European listed equity portfolio. Domestic real estate is also managed in-house. There is also an internal team working on tactical asset allocation. The list of external managers is long, with about 28 firms, including those responsible for asset servicing.
The objective is to maximise long-term real returns after costs. The return target is set annually according to inflation and this year has been set at 5.5%. The investment strategy – which is also reviewed annually – is designed according to the return target and built around investment beliefs.
As beliefs go, they have not changed much since Mortensen joined, except for an increasing interest in alternative investments, perhaps unsurprisingly: "We need to find something that gives us some stable return".
Private investments through funds are favoured as long-term investments. The private equity portfolio originates from around 15 years ago but Industriens has recently diversified into direct investments in infrastructure and real estate. "Finding these assets takes increasing effort, but I expect this trend to continue unless bonds start giving back some yield," says Mortensen.
She adds: "We feel that as long-term investors we should be able to harvest the illiquidity premium, as well as the specific premia found in alternative assets such as private equity, infrastructure and real estate. Private investment is one of three layers that we put upon the pure beta exposure."
The second layer is active management: the fund believes it can add value in combination with basic beta exposure. "We have no plans to change that view. Of course we try to be pragmatic, and there are markets where we cannot find active managers that beat the index. But, we monitor both the asset managers we employ and those we could employ. They have to show their strategy works for a few years before we consider investing."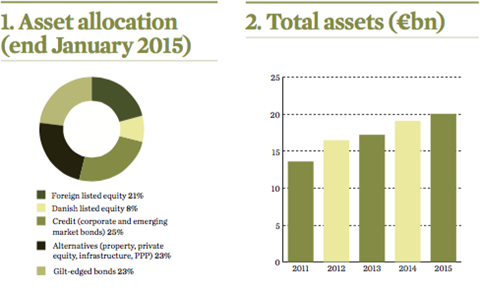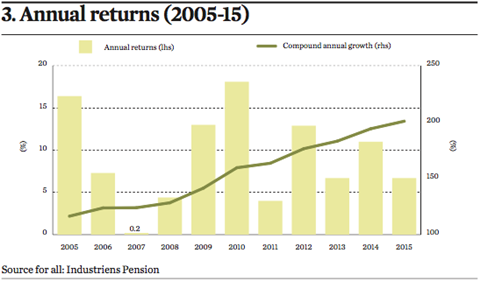 Hedge funds are not part of the fund's investment universe as the board is not convinced that they can bear fruit. But, Industriens does do tactical allocation, which is the third layer. An investment committee, led by the CIO, meets weekly to adjust exposure to risk premia such as inflation and the US dollar.
Mortensen concedes that taking tactical positions does not always pay off. "It is very difficult in these times. But, having set it up internally, it is a good idea to use it. It is very much about building a view of how markets will move and when. We think this part of the strategy will contribute to our long-term goal. But, we are aware that in times such as these we are not going to get much out of it."
Difficult times in the market have coincided with a leadership vacuum in the investment team. Karsten Kjellerup Kjeldsen will be employed as Industriens' CIO from April 2016, moving from Nordea Life & Pensions where he was head of liability-driven investments and head of advisory and trading.
The post had been vacant since last autumn, when PFA, Denmark's second largest fund, recruited Henrik Nøhr Poulsen. This was part of an on-going battle to acquire talent at Danish funds. Former CIO and current head of investments, Jan Østergaard, led the investment team during the transition period.
A significant part of Mortensen's time is spent on ESG work. She says that the fund is taking steps towards creating an all-encompassing ESG framework.
This is done by putting internal resources to work as well as in partnership with external entities.
Current activity is based on dialogue. But Mortensen adds: "In the end, there are a number of situations where we can exclude a company if the dialogue does not lead anywhere. Those will then be added to a list of companies that we do not invest in." As a further step, in 2014, Industriens began voting at company AGMs.
She notes that the time dedicated to ESG is increasing. "We are spending more time in the area. It is very important to do so, because we need to be a responsible investor. But, we try to take one small step at a time, to understand what really works for us."
Now that the investment management function is back to strength, the fund can focus on its investment strategy. Industriens is a compulsory pension fund serving a specific set of industries, and having 400,000 members from 8,000 companies. There is no membership growth strategy.
"Industriens was founded 23 years ago – it is a young fund. The AUM is growing rapidly, as we currently receive twice as much money as we pay out. Our effort is to find assets to invest in in this pretty difficult environment. That is where we spend most of our time", Mortensen explains.
The work is paying off. The total return for 2015 was 6.7%, thanks to a 2.5% and 3.4% outperformance in Danish equities and foreign equities, respectively. The Danish equity portfolio returned 33.3% . Unlisted investments returned 15.7%. The only negative was the fixed income class, with the corporate bond portfolio losing 1.8% and other assets returning less than 1%.