---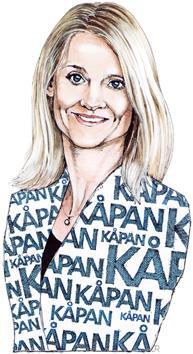 Marie Giertz, (pictured) CIO of Kåpan Pensioner, the pension fund for Swedish government employees, tells Carlo Svaluto Moreolo about the fund's strategy and ongoing projects
Sweden is considered one of the most innovative countries in dealing with pension matters. In the 1990s, the pension system was overhauled and improved in an unconventional manner. The framework for the pay-as-you-go public pension system was changed from a defined benefit (DB) to a notional defined contribution (NDC) model, and the AP buffer funds were overhauled. The country was also among the first to introduce modern occupational pensions based on agreements between unions and employers.
Kåpan Pensioner, the pension fund for Swedish government employees, was founded in 1992, during that period of innovation. It is perhaps not among the best-known Swedish pension institutions, at least in Europe where giants such as Alecta , AMF and the AP funds often steal the limelight. However, with assets under management of SEK87.4bn (€8.9bn) at the end of 2017, it is one of the top 10 largest Swedish pension funds, according to IPE's Top 1000 ranking.
Since its inception, Kåpan has focused on keeping costs low, as well as on reaching an appropriate level of diversification. This is how the fund proposes to achieve positive returns after costs, notwithstanding the market environment.
Marie Giertz, Kåpan's CIO, is a former chief economist at the Swedish Export Credit Corporation (SEK) and Länsförsäkringar, the insurance group. She joined the fund as chief economist in September 2016 and was promoted to CIO less than one year later. She has been busy making sure Kåpan's portfolio is robust enough to endure the next market downturn. "Our investment process basically consists of building a well-diversified portfolio, in order to sustain periods of large declines in equity markets," says Giertz.
There are plenty of potential distractions from that key task. Regulatory change is on the horizon, as the finance ministry next year plans to review the 'traffic light' pension solvency system. Giertz explains: "The new framework will probably be somewhere between the current traffic light system and Solvency II. Capital requirements will be a little stricter, following EIOPA and IORP II rules. We have been stress-testing our portfolio against different types of regulations and requirements and find that we have sufficient buffers."
Strengthening the fund's ESG credentials is another important task for Kåpan, Giertz says: "We've been trying to improve how we implement our ESG policy, since we are so diversified globally and have large index fund investments.
"At the moment, we do what most Nordic pension funds do. We do normative screening, which means that we screen for companies that don't follow international norms. First of all, we want to engage with the companies, and therefore we have a dialogue with them via a third party. When this is not enough, we ban the companies. The list of banned companies is short. However, because we are invested in funds, to comply with our ESG policy we need to short-sell those companies," Giertz explains.
"In addition, we also use positive ESG screening, which consists of scoring and weighting the companies within the portfolio."
The fund intends to increasingly focus on engagement with companies. Most of this activity is outsourced. "When it comes to our fund investments, we have looked through our active managers and made sure they are PRI signatories and have an ESG process. We want all our active managers to be ESG-labelled. Just changing that has made our portfolio look better from an ESG perspective," Giertz adds. Kåpan is also gradually making sure its index fund investments are ESG-compliant.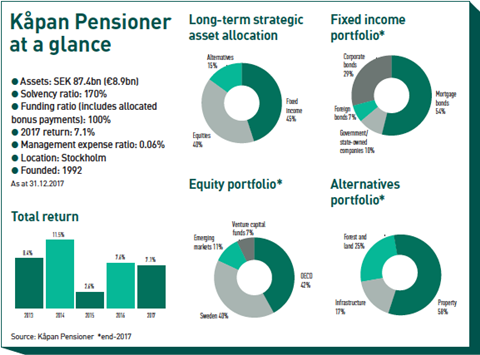 "The other issue that has got us thinking is whether it is more effective to do ESG mainly internally or externally, which is what we are doing today. With our global developed market equities portfolio, we think we might do a better job with ESG if we owned the companies, instead of having them in funds. Hopefully, by year end we will have a new set-up in this area," says Giertz.
The main preoccupation for Kåpan, however, is to keep risk levels under strict control. The fund, while a DC arrangement, also has to guarantee at least the value of premiums paid in, with bonuses paid each year, depending on the surplus return. Therefore, it has to regularly run asset-liability management (ALM) studies and stress test its portfolio against different scenarios.
Giertz says: "Considering the results of the yearly ALM studies, and of the stress tests, and given the high solvency ratio we have at the moment, we could probably increase the risk in the portfolio. But we are late in the cycle and we see signs that the global economy might be weakening. With the Fed on a hiking path, we do not see the point of increasing risk, even though the portfolio is in good shape. It is very difficult to time the markets, so we prefer to build a buffer for bad times. That is why I have been quite hesitant and have stayed neutral recently, putting new premiums into low-risk fixed-income assets."
Inevitably, Kåpan's portfolio now looks quite different from when the fund began its journey. However, it maintains a strong domestic bias. Giertz explains: "The relatively strong home bias we have in our fixed-income portfolio reflects the fact that our liabilities are in Swedish kronor. In terms of our equity portfolio, our deep knowledge of the local economy also allows us to be a better investor in Swedish and Scandinavian companies, which have performed particularly well over the past few years. Furthermore, Sweden is a broad-based economy and therefore through our domestic equity exposure we have been exposed to growth at a global level."
Chronically low interest rates over the past decade have made things particularly tough for institutional investors, notes Giertz. Indeed, Sweden's central bank, the Riksbank, was among the first in Europe to set negative policy rates. Pension funds have paid a high price for that bold, unconventional policy decision.
As a former chief economist, Giertz argues that the central bank's decisions are difficult to fathom.
She says: "At the moment, the Riksbank is very divided and split in terms of its direction. They have focused so narrowly on inflation over the past two years. The unemployment rate is at historically low levels, employment growth is strong, credit growth has been going through the roof. Basically, the Swedish economy hasn't given any sign that the business cycle is tightening."
Yet, the Riksbank has been reluctant to turn base rates positive. The CIO says: "Now we have an economy where inflation has picked up to about 2%. It's very subdued still, owing to the low level of inflation internationally. However, I think it's very strange to keep negative interest rates in an environment where the economy is near the peak of the business cycle, with very low unemployment, and inflation more or less on target.
"Even if rates were moved to zero, the result would still be a very expansionary monetary policy. It is hard to understand their argument, which is that they don't want to be too far away from where the ECB is because they are afraid of the krona getting stronger," she adds.
It is reassuring, however, to know that the bank's executive board is split, and although the dovish side has prevailed, there are those who favour tightening. But things could become even trickier if, globally, the business cycle were to slow down. Giertz says: "It will be even harder to raise rates as we approach the peak of the cycle."
The situation presents a unique challenge, as pension funds have to weigh the opportunity cost of raising risk to obtain higher yields. Kåpan has resisted the temptation to raise risk levels at this time, hoping to be in a stronger position once the cycle turns, whatever the interest rate level.
How Kåpan allocates its assets
Marie Giertz, Kåpan's CIO, instinctively describes her fund as a small organisation from an asset management point of view. But in reality it is not so small compared with many of its European peers.
The investment team numbers 15, including one person in charge of Swedish equities, two on listed equity funds and another two on fixed income. There are also two people managing alternatives, including private equity and real estate, and one dedicated to performance monitoring and ESG.
The fixed-income portfolio is about 45% of assets, mainly invested in low-risk Swedish fixed-income – mortgage bonds plus some investment-grade corporate paper.
A relatively small part of the portfolio is allocated to alternative fixed-income funds, including high yield, senior loans and emerging market debt.
About half of the listed-equity portfolio is invested in Swedish equities. The rest is split between index funds and actively-managed funds. Index funds take the lion's share, about 80% of the foreign equity holdings, in keeping with Kåpan's goal to optimise costs.
The fund uses enhanced index products to invest in emerging market equities but still seeks active managers that can provide an edge.
Despite the home bias, Kåpan has a diversified portfolio, with long-term investments in global equities and a presence in private equity and real assets including real estate, infrastructure and forestry.
The global private equity portfolio also dates back several years, and includes both European and US managers and firms. Giertz says: "So far, it has performed very well, but we realise that it will become more difficult to find good business to invest in. Valuations are stretched, and due to the ongoing hunt for yield, even good private equity managers are hesitant. It takes longer for them to deploy capital."
One asset class that has been left out of Kåpan's portfolio is hedge funds. Giertz explains that Kåpan was invested in hedge funds, but the positions were closed in recent years owing to poor transparency and cost considerations. She says: "That is where perhaps we differ from most of our peers in the Nordic region. I have looked at different types of risk-premia products. However, we find that hedge funds are not, at the moment, the best way to get good risk-adjusted returns. They have improved in terms of transparency and costs, but those two factors still weigh negatively."
"Of course, with persistently low interest rates in Sweden and in Europe, there might come a time when we must look at that asset class again. But if we were to take more risk now, we might do that in private equity, infrastructure or even forestry funds. These asset classes may give better returns for the risk we are taking."