---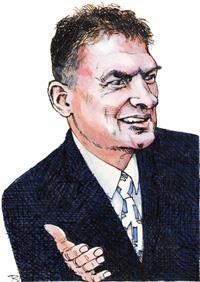 Mark Hedges (pictured), CIO of the UK's Nationwide Pension Fund, tells Carlo Svaluto Moreolo about the fund's alternative assets portfolio
With low expected returns on every major listed asset class, the case for increasing investment in unlisted alternative assets is stronger than ever. Studies such as the OECD's annual survey of large pension funds consistently show increased global appetite for alternatives by pension funds.
Many pension funds, however, are only at the beginning of their journey in the world of alternative assets. Few can boast 10 years of experience with the asset class.
The Nationwide Pension Fund, a £4.47bn (€5.68bn) UK pension scheme, is one of a minority of seasoned investors in alternatives assets. But according to Mark Hedges, the fund's chief investment officer, the trustees' work on alternatives investments is far from complete.
"The fund commenced this process back in 2006, when it first went into infrastructure. Slowly we have widened out our presence in that market place. However, we have not reached our target allocation to the asset class. We're not rushing at this because, clearly, you have to build it slowly," says Hedges.
The scheme provides pensions for employees of the Nationwide Building Society, Britain's largest building society. The lion's share of the scheme's assets, about £4.19bn, belong to almost 29,000 current and former employees of Nationwide.

A smaller section of the pension scheme, with £280m of assets, caters for just under 1,400 employees of the Cheshire and Derbyshire building societies, which Nationwide acquired in 2008.
Both sections are closed to new employees and, since 2011, accrual is on a career-average basis. New employees of the building society join the company's group personal pension plan (GPP), a DC arrangement managed by Friends Life, now part of the Aviva group.
For the Nationwide Pension Fund, alternative assets play a key role both within the return-seeking and the liability-matching parts of the portfolio.
The trustees have set an overall 20% target allocation to "private market" assets. Hedges says that target has nearly been reached in terms of net asset value (NAV), but the actual allocation in terms of capital at risk is closer to 15%.
Furthermore, the scheme has a 10% target allocation to liability-matching alternatives within the matching portfolio, but at the moment only 6% of the fund is allocated to this asset class.
The portfolio of alternative assets that sits within the liability-matching portfolio consists mainly of ground rents and long-lease properties. "These are relatively low-risk assets that are illiquid but are linked to inflation, as well as generating a steady on-going long-term cashflow. These are good cashflow-matching characteristics relative to our liabilities," explains Hedges. He adds that the scheme will continue pursuing these strategies as they represent "good value and relatively low-risk", but infrastructure debt is also among the options being considered for the liability-matching portfolio.
The private markets portfolio, which is a subset of the scheme's return-seeking portfolio and takes up 19% of the overall assets, is split between several asset classes. Within this portfolio, the Nationwide Pension Fund has placed investments in private equity, infrastructure equity, real estate, private debt and real estate debt funds. "We have a variety of strategies and we really see this portfolio as a key driver for reducing the deficit of the fund," says Hedges.
A decade of experience investing in alternatives has taught the Nationwide Pension Fund some important lessons on the best approach for building a portfolio of alternative investments. Hedges emphasises three key requirements.
Nationwide Pension Fund at a glance
• Closed DB pension scheme for employees of the Nationwide Building Society and subsidiaries
• Total assets: £4.465bn (€5.68bn)
• Funding: Nationwide section – 86%; Cheshire and Derbyshire section – 111%
• Total return 2014-15: 19% (benchmark 18.7%); total return 2012-15: 12.3% (benchmark 10.7%)
First, you need patience and a clear long-term commitment. Second, you need the time and skill to scrutinise every investment. Third, you must have a disposition to take up opportunities as and when they become available.
Patience is absolutely critical, according to Hedges. "What you should not do with this market is try to deploy the money too quickly. You have to recognise that putting all the money to work at the same time is the wrong way to do it. You have to do it at a steady, progressive pace."
The CIO explains that trying to deploy the allocated capital in a short time is possible, but not advisable. Alternative asset markets are, by their nature, more inefficient, and in certain periods heightened demand for capital by managers may lead to overvaluation of assets.
"We have been doing this for 10 years, and we haven't filled the allocation yet. But we don't feel concerned about that, because we feel we're doing it in the right way," Hedges adds.
He says the scheme tends to get "inundated" by potential fundraisings for alternative funds, and that sifting through the opportunities to select the right ones has become a challenge.
Instead, the Nationwide Pension Fund stands ready to pick up the best opportunities, which are likely to come from managers that operate in niche markets. Hedges explains: "We look for managers that operate slightly differently, that have a unique selling proposition, perhaps because they work in a sector that is less competitive.
"Ideally you want to find managers that are not bidding in auctions that often, because they find their way into deals where they have some proprietary access. But finding these managers takes time. You have to spend time understanding each manager and how they earn returns. You have to speak to other investors with them, the people they've invested in and perhaps, in the case of private equity, the managers they employ to manage companies they buy."
There is no need to set a preconceived allocation to each sub-asset class, according to Hedges. "We don't specify an allocation to each, because we think that's the wrong way to manage things. We tend to think in terms of where the portfolio is and whether there are gaps. We would try to fill those gaps but only if we thought it would represent a good opportunity at that particular time," says the CIO.
Hedges describes what seems a somewhat opportunistic approach to the scheme's allocation to alternative assets. The scheme allocates to Asian infrastructure, Asian real estate, US buy-and-build private equity and European real estate debt among others but, at times, the scheme has been invested in different asset classes.
It is really a matter finding the opportunities that fit the scheme's investment philosophy, while keeping the portfolio sufficiently diversified. "While we don't have specific allocations, we do try to diversify the portfolio across strategies and geographically as well," says Hedges.
The painstaking due diligence work on managers, according to Hedges, is intense but does generate good value. He says the portfolio has exceeded its benchmark target: "The only issue we do have, like many other pension funds, is that while asset performance has been good, the liabilities have grown faster."
That is why the scheme has focused on illiquid, higher-yielding assets within the liability-matching portfolio. A ground rent, according to Hedges, can pay the retail price index (RPI), a measure of UK inflation, plus 2%. By comparison, a 30-year index-linked Gilt might pay RPI minus 1.50%.
He adds: "It is worth spending time looking at these alternative liability-matching asset classes because they can deliver a margin over Gilts, and yet have a risk profile that you can get comfortable with. As a pension fund, you do not need to have all your assets in liquid positions, because you are unlikely to be called on that liquidity in its entirety over a short period of time. You can quite easily put large slices into illiquid assets that are going to generate you a matching cashflow."
From a funding perspective, the life of the Nationwide Pension Fund has been challenging. While the Cheshire and Derbyshire section is 111% funded on a technical provision basis, the main Nationwide section has an estimated £669m deficit, which means the fund is about 86% funded. The funding level has been negatively affected by the post-Brexit vote fall in Gilt yields.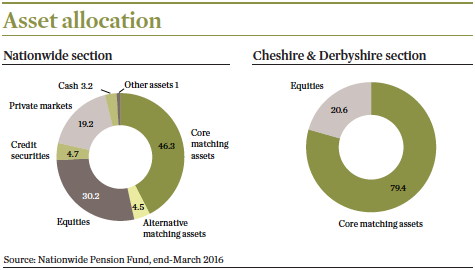 But the scheme has a long-term plan to reach a state of self-sufficiency, "although our actuaries prefer to call it low-dependency", Hedges explains. "Everything is designed around achieving that long-term plan," he says. At the moment, the scheme has a 50% chance to reach that low-dependency state between 2026 and 2031.
The scheme has chosen low-dependency over a buyout target. Hedges argues: "To our mind a buyout would look exceedingly expensive from a sponsor perspective. Our view is that, given the size of the fund, the more appropriate approach is to target a situation where the fund can invest to meet its liabilities on a standalone basis."
Over the past years, says Hedges, the scheme has de-risked, when appropriate, using a combination of derivatives and matching assets. As early as five years ago, the matching portfolio was 25% of the overall assets, whereas now the split is in the middle.
The matching portfolio is naturally made up of Gilt and index-linked Gilt positions, as well as the alternative-matching asset portfolio. There is a further 10% in interest rate and inflation swaps. The scheme also uses repos to add additional short-term liability matching. Part of the index-linked Gilts are used to collateralise repo positions in corporate bonds that provide hedging of shorter-duration liabilities.
As for the return-seeking portfolio, the fund is invested in credit (5%) and equities (30%) and private markets (19%). Three-quarters of the equity portfolio is invested in a passive portfolio of developed market shares, while the rest consists of actively-managed emerging market stocks.
The vast majority of the assets are managed externally. Hedges' work is focused on selecting fund managers, which is done jointly with the scheme's adviser, Aon Hewitt. LaSalle and CBRE advise on the scheme's investments in ground rents and long-lease property. Insight Investments manages the swaps and repo positions that complement the scheme's LDI strategy.
Hedges hopes that the private market investments will drive the outperformance of the return-seeking portfolio. "We tend to see the private market investments as either capital growth or income producing activities. Your classic private equity fund and your opportunistic real estate fund are really about capital growth. Meanwhile, the private debt funds, the real estate debt funds and core property are really a means to generate an income stream."
"Over time, as we de-risk the fund we would expect that mix to be less focused on capital growth and more focused on the income," argues Hedges. He adds that at the moment around 75-80% of the portfolio is capital growth assets and 20%-25% is income producing ones.
But the pace of execution of the de-risking strategy may slow down in the post-Brexit referendum world. However, the Nationwide Pension Fund will maintain its course, which reflects a long-held vision that was formulated after the 2008 financial crisis. Hedges recounts: "I believe that post-crisis there was a general expectation that rates would return to what people thought was normal at the time. I was not necessarily convinced of that, and I did say to my trustees in 2010 that we could be entering a longer period of low rates, such as the one experienced by Japan."
"I suspect that one of the fallouts from Brexit is that we might face lower rates and lower growth for longer," Hedges adds. This, he says, could lead to a more intense debate on how to best account for and deal with funding deficits.
The CIO explains: "From an accounting perspective, clearly you have to discount the deficit in a prudent way. But I think an alternative way to think about it is: where are you going to source the cashflows to pay off your liabilities? In that vision, pure mark-to-market accounting is, in my mind, less of an issue.
"It is challenging to come up with a different approach, but driving your business based only on what the accounting figures tell you is not necessarily the right thing to do," Hedges concludes. "It should be the economic fundamentals that drive the decision-making. In that sense, we see opportunities to invest in assets, such as ground rents and long-lease property, that incrementally may not bring much more risk than traditional assets but generate higher returns."