---

Torben Möger Pedersen , CEO of PensionDanmark , tells Carlo Svaluto Moreolo that he sees the Danish pension provider as part of an improved Scandinavian welfare system
PensionDanmark, the €34bn pension provider, has been a key actor within the development of Denmark's pension system, a system that is regularly ranked among the best in the world.
Its CEO Torben Möger Pedersen, the organisation's first employee, has been at the helm since the early days. In 1990 he was appointed CEO of PKS Pension (Pensionskassen for Kvindelige Arbejdere og Specialarbejdere), which was set up to manage several newly-created pension funds for blue-collar workers. That was the first incarnation of PensionDanmark, a brand created in 2002.
Pedersen, an economist by training, has overseen the growth of the organisation from a fledgling pension administrator into one of the world's most prominent asset owners. PensionDanmark leads on matters such as responsible investing, investment in real assets and customer-focused technology.
Notwithstanding the success of the organisation in those fields, Pedersen says his proudest achievement is being able to provide a large portion of the Danish public with a good income in retirement. "Thanks to pension funds like PensionDanmark, in Denmark we hardly have any problems relating to workers retiring with insufficient income," he says.
"Retired workers can earn between 60% and 90% of their last salary for the duration of their lives, which means they can retire with a high degree of safety and trust. I see the way the Danish pension system has been developed over the past 25 years as a 2.0 version of the renowned Scandinavian welfare system. With its combination of tax and supplementary savings, the system is sustainable and delivers good outcomes for the wider population. It is a successful example of social engineering, the biggest welfare reform in our generation, and I am very proud to be a part of it."
PensionDanmark and its peers have enjoyed a favourable economic environment despite the occasional headwinds. Since the organisation was established, Denmark's GDP growth rate has only been negative twice – in 2008 and 2009, when it fell 0.5% and 4.9%, respectively.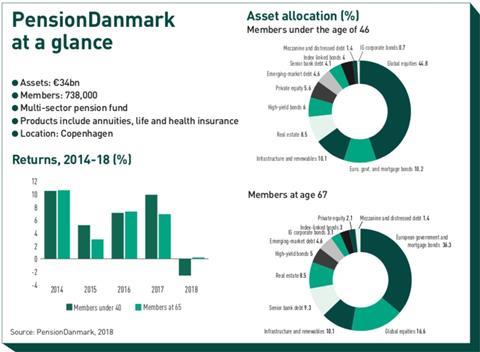 That does not detract from PensionDanmark's record. Assets have grown at an impressive rate and annual returns have been negative for only six years since its launch.
Earlier this year, the fund reported an overall investment return of €2.3bn, its highest-ever half-year return. At the time, Pedersen announced further divestments from its portfolios of more liquid fixed-income assets to make way for investments in real assets.
Harvesting the illiquidity premium is a core principle of PensionDanmark's investment strategy, whose focus is 'to build a well-diversified portfolio with an attractive risk-return profile and good downside protection'.
There is little downside protection in public markets, let alone attractive returns, and that is why the fund has been an early investor in real assets. The fund allocates about 10% in real estate and 10% in infrastructure. The latter allocation should grow another two percentage points in the near future, according to the CEO.
Pedersen says: "Both of these asset classes have generated very stable and attractive returns in the last decade, in the range of between 6% and 10%. Looking forward, we expect slightly lower returns, but still in the upper single-digit area, which makes them attractive compared with bonds and even listed equities.
"The fact we have included real assets in the portfolio has actually reduced the overall risk, because these assets have quite low correlation with equity markets and business cycles in general. By investing in renewable energy assets, for instance, we can lock in the price of power produced for lengthy periods. This is freeing up risk within our risk budget."
But competition in the real assets sector will become increasingly stronger, as global institutional investors desperately search for yield. "That means we are no longer active in the brownfield market. To find assets at attractive returns, you have to take development risk. But in order to come in at the very early stages of projects, you need an organisation with sufficient skills, capacity and experience," says Pedersen.
To that end, PensionDanmark has developed its real estate operation, which has 25 staff. On the infrastructure side, the portfolio is partly managed by Copenhagen Investment Partners (CIP), a vehicle established in 2012. Pedersen recounts: "In the beginning we were the only investor in CIP, now there are more than 50 institutional investors, making CIP one of the largest fund managers in the world in the renewable energy infrastructure sector.
"With more than 100 staff, the organisation can identify and participate in the development of new projects. Through CIP we invest in Europe, the US, Taiwan and Australia, and we recently established a fund focusing on the emerging markets, where we see growing opportunity in renewable energy infrastructure over the next decade will be very large," he says.
For PensionDanmark, investment in real assets is a means to pursue its responsible investment strategy. Pedersen says: "We look for sustainability in all our real estate investments. All new real estate we invest in has to have sustainability certifications. Similarly, as owners of renewable energy infrastructure assets, we are fulfilling our ambition of contributing to the green climate transition.
"The wind power and solar energy infrastructure we own generates 3,600 megawatts per year. We have calculated that this is more than the yearly power consumption of all our members. That means we are close to becoming one of the first carbon-neutral pension funds in the world."
PensionDanmark has been active on the sustainability front through various initiatives. One was the establishment of the Net-Zero Asset Owner Alliance. Launched at the beginning of this year, the initiative was made public at September's United Nations' Climate Action Summit in New York.
As part of the initiative, several global asset owners, including PensionDanmark and regional peers AMF, Folksam , Alecta and Nordea Life and Pension, have committed to achieve carbon net neutrality in their portfolios by 2050.
PensionDanmark may already be close to reaching that objective, but Pedersen notes the organisation values the transformative power of collaborative efforts in this field. The organisation is already a member of Climate Action 100+, the initiative launched in 2017 to push corporate greenhouse gas emitters to take action. "PensionDanmark is a relatively small shareholder in many companies, so it is very important to team up with other investors," says Pedersen.
Members of the Net-Zero Owner Alliance have committed to publicly report on intermediate targets, in line with the Paris Agreement. The idea is to influence governmental efforts in the green transition and build on existing initiatives.
Pedersen emphasises that supporting the transition to a greener economy and achieving the UN's 17 sustainabile development goals (SDG) requires active ownership. PensionDanmark is still an investor in oil and gas companies, including Exxon and Royal Dutch Shell, but the CEO points out: "We do not believe that the divestment approach has any significant impact. It is important that responsible shareholders engage with all kinds of companies and assist them with changing their business models to more sustainable ones.
"The pension fund community has been quite successful with the active ownership approach. Thanks to its investors, Shell has transformed itself from a 100% fossil fuel business, to one of the leading companies in the green transition. We need to engage with companies in all sectors, including agriculture, heavy industry, transport and shipping. That is the focus of the Net-Zero Alliance.
"But this is an area with lots of dilemmas. We have quite clear policies when it comes to our listed equity portfolio. It is more difficult with investments in private equity funds, and we still have a challenge dealing with our investments in corporate credit, where we struggle to define what a proper ESG policy is. This is an area we are working on and we expect to have some answers soon," he says.
PensionDanmark was created to serve blue-collar workers, who are often thought to be less attentive to pension matters. In fact, Pedersen says that thanks to the organisation's efforts, PensionDanmark has a close relationship with its members.
Member engagement has increased in recent years as PensionDanmark has almost fully digitalised its communications strategy. "We have established a digital dialogue thanks to a platform that consists of our website and a mobile app that is heavily used. We have also introduced the use of artificial intelligence (AI) to customise dialogue with individual members," says Pedersen.
"The AI tools are used to gather information about individual members, such as age, family and housing situation, income and wealth to generate fully individualised communications. We have used AI to flag to our health programme to our members, letting members know where they can get health services covered by PensionDanmark."
Pedersen adds: "By customising communications, we have increased positive feedback from our members. This has also helped us reduce our administration costs, increase speed and increase customer satisfaction. We continue with our machine learning and robotics programme, which has allowed us to automate more than 60 processes."
That is a lesson for pension funds anywhere, says the CEO. "Interest from members is increasing, but also from other stakeholders, including the media. Particularly due to the low-interest-rate environment, people are interested in how we are investing their savings. We have had a very positive response to our investments in wind farms and solar power, as stakeholders see that we are able to provide members with good pensions and protect the environment at the same time. They know that when they turn the lights on in their home, the power is generated by their own wind turbine. It is a compelling story and a concrete way of showing how we are dealing with the multiple challenges we face."