---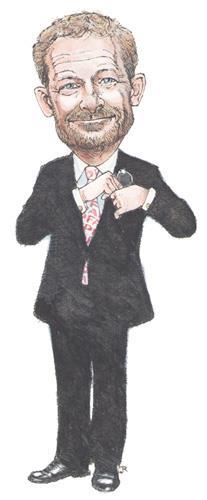 INTEXTLINKTEXT" src="/Pictures/web/y/j/a/HWROM_Anders_Damgaard_PFA_Pensio_207.jpg" />
Anders Damgaard (pictured), the CFO of Denmark's PFA Pension, tells Carlo Svaluto Moreolo about his company's plans to strengthen internal investment capacity and its quest for yield in illiquid markets
From a leadership perspective, the Danish occupational pension sector has experienced two years of instability. The country's largest pension providers made the headlines in 2014 and 2015, announcing several new top management appointments. Key executives were often poached from competitors in a frenzied rush to acquire talent.
PFA Pension, one of Denmark's oldest and largest occupational pension providers, was on the frontline of that battle. In August 2014, it poached Anders Damgaard, the company's current chief financial officer (CFO), from Danske Bank.
His appointment was followed by a series of high-profile job changes. Chief executive Henrik Heideby was replaced by Allan Polack, former CEO of Nordea Asset Management, in January 2015. Last May, Poul Kobberup and Jesper Langmack, joint managing directors of PFA Asset Management, the company's asset management arm, moved to rival Danica Pension. Chief commercial officer Lars Ellehave-Andersen was lured by Danica the following August. Only last September, the company filled the CIO role with Henrik Nøhr Poulsen, formerly at Industriens Pension.
Damgaard says the search for talent at PFA Pension continues. But now the new management team is in place, recruitment efforts focus on investment professionals. For Danish pension providers, acquiring skilled staff and internalising investment capabilities to control costs is the preferred strategy to offset rising competitive pressures.
PFA Pension's risk and investment division has grown in recent years and employs 75 staff, including middle and back-office personnel. The headcount is going to rise, however, according to Damgaard, to allow PFA Pension to fulfil its commitment to be an "active and responsible" investor.
PFA Pension at a glance
• Customers/members: 1m
• Assets: DKK500bn (€67bn)
• Liabilities: DKK374bn (€50bn)
• Solvency: 300%, or DKK30bn (€4bn) in tier-one capital
• Founded: 1917
• Location: Copenhagen
Being active in a broad sense, which means scrutinising each investment, is essential, particularly as PFA Pension ventures deeper into the unlisted sector. Damgaard says that is the key area where the company will find the yield it needs. Cash-flow stability is paramount to PFA Pension, as it is to many Danish pension providers that offer guaranteed returns on certain products.
The fixed-income portfolio is predominantly made up of European and Danish fixed income. But bank disintermediation in Europe is providing investors like PFA Pension with significant opportunities, says Damgaard. The company is evaluating opportunities in infrastructure and private lending to make up for the lack of yield from its traditional fixed-income investments.
However, the CFO warns: "When you go into the unlisted space you do everything on your own. You have a much higher requirement for due diligence, documentation, risk management and monitoring. Being an active investor takes a whole lot more work, and we are very conscious of that."
That is why Damgaard says more resources will be deployed within the risk and investment division. "It is a very expensive way to invest, but the question is whether we have any choice," he says.
So the answer to that fundamental yield challenge is unlisted investments, owing to the illiquidity premium they offer. But there are other areas where attractive risk-adjusted returns can be found.
When it comes to alternative risk premia, says Damgaard, PFA Pension has extensive experience. "We have invested in alternative risk premia for many years now, starting from the liquid space, with carry trades, momentum trades, volatility trades and other alternative strategies in fixed income and foreign exchange."
Damgaard says the company is planning to apply alternative risk premia strategies to new asset classes. This will be a core element of the investment strategy in the near future, complementing the search for yield from unlisted assets.
For the most part, the risk premia strategies will be managed internally. Although many Nordic investors still employ hedge fund managers, PFA Pension does not. Damgaard says there are no plans to invest in the asset class through external funds or mandates.
"When it comes to hedge funds, there is a problem with fees and a problem with the return correlation to other asset classes. There may be exceptions, of course, but generally speaking, those are problems," he says.
PFA Pension itself, however, runs Midgard, a hedge fund listed on the Irish Stock Exchange. The fund invests on a long/short basis in European fixed income, excluding corporates. The focus is on Scandinavian assets, and transactions mostly consist of leveraged repo trades. As of 2014, PFA Pension had invested about DKK4bn (€573m) in the fund. In 2014, the fund had returned 1.1%, down from 11.7% the previous year. The average annual return between 2009 and 2012 was about 20%.
Damgaard mentions investment in emerging markets as another pillar of PFA Pension's current strategy, which will remain in place despite the recent turmoil. He argues: "Even though emerging markets are not doing very well at the moment, looking at the longer term, that is where most of the growth is going to come from in the world. We are looking at how we can optimise our exposure to that expected future growth."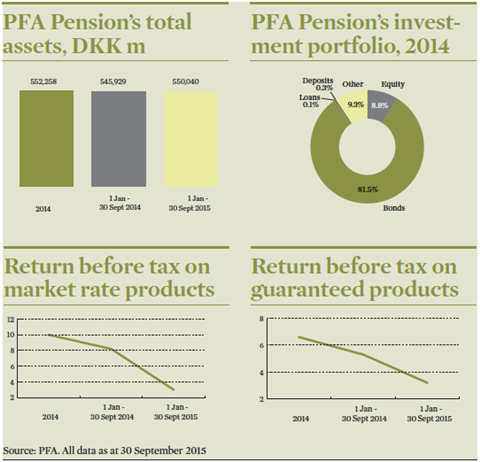 With regard to the developed markets, he says there is no certainty whether the "big experiment" of massive central bank balance sheet expansion will continue to work. But the US is back on its feet and the expansive phase of the business cycle should continue.
Yet for PFA Pension, Europe is among the most attractive developed regions to invest in during 2016. "That is driven by a steady recovery, albeit from a low base, as well as very expansive monetary policy," Damgaard says. The recovery, and the fact that some countries are working on reforms, makes the company "quite optimistic" on Europe compared with other parts of the world. Still, the CFO is keen to point out that the reform process is much slower than it should be.
The asset allocation strategy is changing to keep up the rapid structural shifts taking place in the markets. But the overall strategy is shaped by PFA Pension's product offering and will be maintained.
The company organises its offering around two product lines, one consisting of guaranteed products, and the other of market-rate products. The latter products offer four different risk profiles. The lowest-risk profile focuses on capital preservation on a five-year horizon. The highest-risk profile aims to maximise the long-term absolute return, with a risk budget comparable to a global equity portfolio, but diversified across asset classes.
The risk budgets for the overall portfolio, says Damgaard, are defined according to the product lines, but the portfolio targets absolute returns. That implies using quantitative techniques to a large extent, to make sure the risk budgets are fully utilised.
To follow through with this approach, Damgaard says the optimal structure for the portfolio is divided into three components. The first is a core portfolio, which is built with a bottom-up method. "We do name selection on every company and every security. The investments we choose for this portfolio should be the ones that generate long-term returns."
The second component is an overlay portfolio, consisting of derivatives used for hedging purposes. "That is where we make the more flexible risk adjustments. It is where our interest rate and FX [foreign exchange] hedging sit, and where we risk-manage our equity exposure," says the CFO.
The third component is an opportunistic overlay portfolio. "That is where we try to harvest alpha. It is not a big component in terms of both risk and return, but it is just to make sure that we have squeezed out every source of return there is for that specific portfolio of that specific product," says Damgaard.
About 90% of PFA Pension's assets are managed in-house. In particular, 95% of the fixed-income portfolio, about two-thirds of the equity portfolio and 50% of the real estate portfolio are managed internally.
Some of the assets managed externally are high yield and emerging market fixed income as well as Asian and global equities. In addition, about half of the alternative portfolio, including infrastructure and private equity, and excluding real estate, is managed externally. Damgaard specifies that PFA Pension invests directly in local real estate, whereas for international real estate the company uses funds.
PFA Pension is, at the same time, a global investor and a quintessentially Danish company. Its strong local identity is one reason why it has no plans to acquire customers from outside Denmark although, technically, that would be possible.
"PFA Pension has very strong roots in the Danish labour market, both from the employer and employee side. Our identity is very closely linked to that," says Damgaard. An important element of that identity lies in the almost 100-year-old company statute. This foresees that shareholders receive a maximum amount in dividends of no more than DKK50,000. In other words, almost all of the value created by PFA Pension goes back to the customers.
That identity shapes the nature of the products, he says. And from a product point of view, the company has not noticed any significant potential for cross-border synergies. Another barrier to expansion outside Denmark is regulation; although the company falls under Solvency II, there are "very Danish elements" to the legal framework in which it operates.
The only way to grow the customer base, therefore, is through mergers. Last April the company took over Pensionskassen for Apotekere og Farmaceuter, Denmark's pension fund for pharmacists. At the moment, PFA Pension is negotiating a merger with Bankpension, the DKK21bn Danish pension scheme for banking-sector employees.
However, there is no sense that mergers are at the top of the agenda. "We are open for mergers, but they have to fit in, meaning they have to be good for current PFA customers," says Damgaard.
To PFA Pension organic growth looks more attractive than mergers. One way to achieve growth is to increase members' participation in the company. This is why the CustomerCapital concept was created. PFA customers can transfer 5% of their annual pension payments to individual savings accounts in exchange for attractive returns with a minimum guarantee. The funds supplement PFA Pension's capital base.
The initiative has put PFA in a stronger solvency position. The solvency ratio was 300% at the end of September 2015, having risen consistently over previous years.
Like many of its peers in the Nordic region, PFA Pension makes responsible investment a priority. Damgaard says engagement with investee companies is one of the fundamental steps PFA Pension is taking to develop its approach. In particular, the company has begun publishing information about the engagement process on its website.
"In that space, we will address companies with whom we have engaged and there have been positive outcomes," says Damgaard. This is a step further from just publishing the names of companies that are excluded from the portfolio for environmental, social and governance (ESG) reasons.
Damgaard continues: "This is an area that is very important to us, but it's also an area in evolution. We want to mention the companies with whom we are engaging and how we are progressing. But obviously there's a balance between how much we think is appropriate to expose. For engagement to be effective, there should also be some confidentiality. Our ambition is to disclose the main points and the main dilemmas."
"Being an active investor takes a whole lot more work, and we are very conscious of that"
The CFO says that being aware of the dilemmas is key to bing a credible ESG investor. This applies to investment in emerging markets in particular. He says: "For instance, some of the NGOs we work with promote investments in Africa, even though from an ESG point of view that can be very challenging. But the alternative – not investing in Africa – could be even worse."
To address this challenge the company teams up with partners that are already investing in some of the more difficult areas. This is particularly helpful in terms of due diligence. However, while perhaps necessary, doing excellent due diligence may not be sufficient to fulfil PFA Pension's commitment to responsible investment. "Being a responsible investor really means being able to handle a lot of dilemmas," says Damgaard