---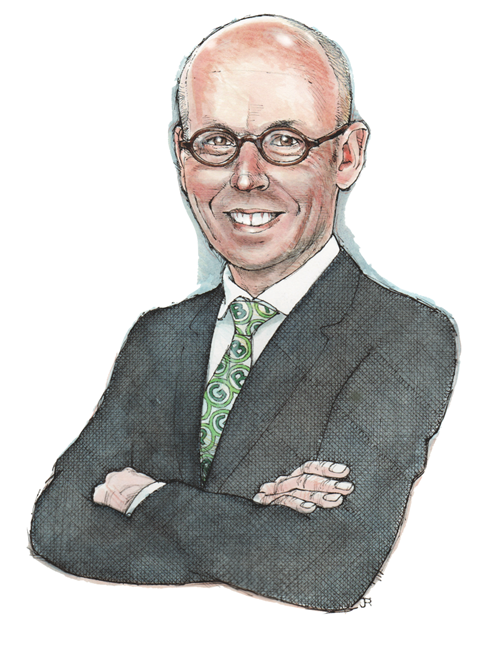 Harold Clijsen (pictured) CIO of Dutch multi-sector Pensioenfonds PGB, speaks to Carlo Svaluto Moreolo about asset allocation, sustainable investment and member communications
The number of pension schemes in the Netherlands fell to 208 at the end of last year, according to De Nederlandsche Bank, from over 1,000 at the end of the 1990s. Owing to strong regulatory pressure, the number has declined much faster compared with other countries with similarly high numbers of schemes, such as Ireland, Switzerland or the UK.
Pension fund closures or mergers matter a great deal to their participants and sponsors. But it is generally accepted that fewer, larger and better organised pension funds will result in better pensions in the long term. That is why pension fund boards often decide to join larger schemes or integrate smaller ones into theirs.
Pensioenfonds PGB, founded in 1953 as the industry-wide scheme for the graphic arts sector, is among those that decided to welcome other schemes to join. It did so to better weather the significant job losses that the industry was facing at the beginning of the decade. The initiative proved so successful that the pension fund has gone from about 145,000 members in 2011 to more than 330,000 at the end of June.
PGB has integrated schemes from several industries, including fishing and flowers and plants wholesalers. The number of employers affiliated with the scheme has surpassed 2,500. The scheme had around €14bn in assets in 2012 before the growth accelerated because of other schemes joining and today, with nearly €29bn in assets, it is in the top 10 of Dutch schemes. Half of that growth is attributable to performance and half is the result of the integration of other schemes.
With scheme consolidation still high on the agenda, the future looks bright for PGB. Harold Clijsen, CIO of PGB since 2014, says: "Our organisation can grow further. On average, every year around three to six company or industry schemes join PGB. Integrating other schemes is an important strategy for us, considering that consolidation is going to continue in the Netherlands. At the end of this consolidation process, there could be fewer than 60 pension funds, but they will be very well organised."
Nearly all of PGB's assets are run under a defined benefit arrangement. Clijsen explains that since he joined in 2014, the fund has adopted a risk-based approach to its strategic asset allocation design. In the design of the investment strategy, PGB has given much weight to member preferences in setting the risk budget.
Clijsen explains: "The main indicator is our coverage ratio. Our risk budget at a given moment in time is related to this number. According to a survey we ran, our participants are happy to accept that the pension fund has to take a certain level of risk in order to get the performance that will avoid benefit cuts and grant indexation. However, participants are happy to accept risk up to a point as they do not want large benefit cuts. That means that if we reach a high coverage ratio, we will lower the risk budget and focus on capital preservation. With a lower coverage ratio we will lower the risk budget to decrease the chance of large benefit cuts"
In the Netherlands, it has become commonplace to involve pension fund participants in discussions around technical issues such as determining the risk budget, according to Clijsen. Regulation requires pension funds to align risk budgets to participants' risk attitudes, even when participants show somewhat counterintuitive preferences. Clijsen says that one conclusion from PGB's surveys was that younger participants have less risk tolerance than older members. However, he says: "It is the board's responsibility to convert our participants' risk attitudes into a sensible investment strategy."
PGB's portfolio is split between a matching and a return-seeking portfolio. The matching portfolio invests primarily in government bonds, investment-grade credit and mortgages and is managed internally. "Our first focus is matching the liabilities, so we like to do it ourselves. Besides, in the Netherlands there is enough capacity to build and maintain an internal fixed-income team. It is a sensible way to make sure we understand the dynamics of the interest-rate markets and implement the investments in an efficient and cost-effective way," Clijsen says.
The return-seeking portfolio is run entirely by external managers for similar reasons. Clijsen explains: "We can't invest directly in certain asset classes, as it is to expensive to build a team. Moreover, we want to have assets in the portfolio that contribute to the performance. External companies have more capacity and expertise. This approach also gives us flexibility for future changes to our investment strategies."
Over the years, PGB has built a diversified portfolio of return-seeking assets following one core investment belief. "Approaching the market in a systematic way will deliver better, sustainable returns in the long run," says Clijsen.
The listed equity assets are split into a passive portfolio and a factor-investing portfolio. The pension fund has four managers investing in the value, momentum, low volatility and quality factors. Within the return-seeking portfolio, the pension fund also invests in alternative fixed income, including emerging market debt, bank loans and high-yield bonds. There are also allocations to less-liquid asset classes such as real estate, infrastructure and private equity.
The fund maintains a dynamic asset allocation approach, but Clijsen notes that this is distinct from tactical asset allocation. "We think it is very difficult to time macroeconomic dynamics. We don't really have an opinion about where markets will go. However, looking at the portfolio from a risk perspective means we assess whether we are being compensated for the risk we are taking in different asset classes. We then try to read the sentiment in the market, and allocate between asset classes using a dynamic approach", he says.
The CIO says that the investment committee has embraced a behavioural understanding of markets, partly derived from the writings Nobel laureate Daniel Kahneman. "As an institutional investor, it is important to have a consistent approach and to be able to explain what you do and why you do it," Clijsen says. "Our framework helps us decide when to raise risk and when to offload risk. We started using the framework to read interest rates markets and we then applied it to equity markets too. We have run the framework for two years and we are pleased with the results."
Clijsen oversees a large investment team, consisting of three smaller groups. The balance sheet management group, which is made up of six people, looks after asset allocation, asset-liability management, ESG issues and the dynamic allocation strategy. "This is really the think tank and the strategic heart of the wider investment team," says Clijsen.
There is an internal management team, also consisting of six people, that looks after the matching portfolio as well as treasury management. An eight-person team focuses on manager selection. "We select managers for liquid assets ourselves, whereas we partner with external advisers such as Stepstone or the Townsend Group to select illiquid investments," he says.
Together with legal staff, policy advisers, risk management and a middle-office function, PGB's investment team comprises 40 people.
In recent years, the pension fund has increased its efforts in sustainable investing. Clijsen recounts: "Before 2016 we had a limited ESG policy. During that year, we designed and implemented a multi-step programme. We began with becoming signatories of the UN Principle for Responsible Investment [PRI] programme. We then implemented an exclusion programme, including tobacco, weapons and thermal coal. We selected BMO Asset Management to do our engagement. Engagement and voting are part of all our mandates. We are now focusing on climate risk."
The CIO describes PGB's sustainability approach as consisting of three steps. The first aspect concerns climate risk and related themes. "We assess the climate exposure of our portfolio, and will partly or totally unload assets that we feel do not compensate for the risk we run. We also try to invest in initiatives that have a positive impact on climate or in companies that can leverage the climate transition. We engage with our investee companies to understand what climate change means for their business and to discuss how they can better manage climate risk. It is important that all our companies have initiatives that contribute to maintaining the Paris agreement," says Clijsen.
The second part of PGB's sustainability strategy concerns engagement and integration. The CIO explains: "Companies that have a better ESG approach deliver better risk-adjusted returns. So we are discussing how we can implement this belief in our portfolio."
Lastly, PGB has a home bias as an investor, according to Clijsen. Because of its many relationships with Dutch employers, the scheme aims to invest in initiatives that have a positive impact on the Dutch communities. "We also would like to support the energy transition in the Dutch community where possible."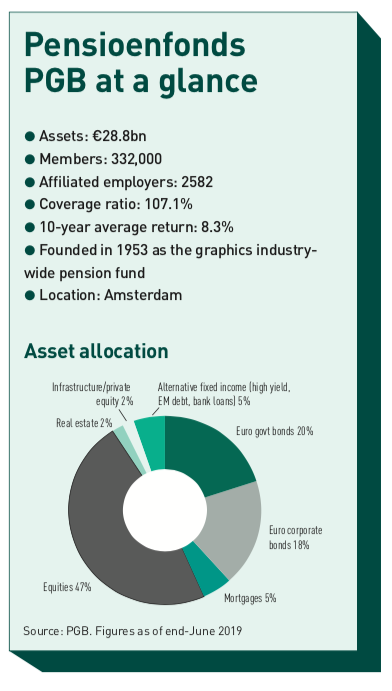 Although PGB seems late to join the ESG movement, the work is paying off. Clijsen says the scheme is one of the fastest-rising within the pension fund responsible investment index, a ranking of Dutch pension funds in terms of performance in ESG compiled by VBDO.
ESG may be a pervasive concern for pension funds, but Dutch pension funds are on the cusp of something much bigger. In recent months, policymakers have reached an agreement with stakeholders on the future of the Dutch pension system. The new rules regarding early retirement and benefit cuts have been set, but discussions on the new second-pillar pension contract are still underway. The different parties will have to agree on the balance between individual rights and risk-sharing among different generations.
As a whole, the system is clearly shifting towards individual pensions. That is why many pension schemes, including PGB, have started offering innovative defined contribution (DC) solutions. PGB's DC scheme was established in 2016 and already has several affiliated employers. "Members of the DC scheme have an individual pension pot and accrue capital over the years. In the last 10 years before retirement, their savings are gradually shifted on to the defined benefit [DB] scheme, which is a collective scheme. This is essentially what the new pension contract entails. Last year we were consulted about our approach as part of the preparation of the new contract, says Clijsen.
The DC scheme offers lifecycle solutions as well. The idea behind this DC/DB hybrid solution, says Clijsen, is that younger members benefit from a higher risk profile, while older members benefit from a more secure pension.
Communicating the benefits of this new solution could be the real challenge, according to the CIO. Any pension fund mentions low interest rates and returns and new regulation as the big challenges nowadays but, increasingly, communication is a key focus. The world, including pensions, is becoming more complex but the public understandably dislikes difficult explanations that leave more confusion than anything else.
"It is hard to explain to our participants in a simple way how complex, technical issues work and what we are doing to make sure they get the best possible deals. As investors, we are used to communicating with pension boards and regulators but we have to give more attention to effective communication with our participants," Clijsen says.
Part of the difficulty lies in the nature of pension funds. Clijsen explains: "They were born after the Second World War, when solidarity was a strong value. They need solidarity to survive. They are about doing things together and optimising the results according to the needs of everyone. They demand understanding and empathy. In recent years we've seen a polarisation among groups in society and more emphasis on the individual. But perhaps this was a temporary trend, and younger generations have recovered a sense of solidarity."