---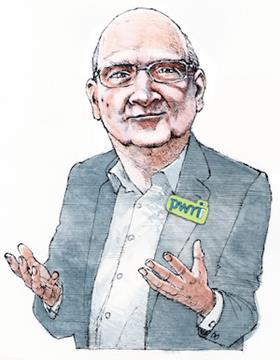 Xander den Uyl (pictured), chairman of PWRI, the Dutch fund for disabled workers, tells Carlo Svaluto Moreolo about its particular approach to ESG
The number of equity indices optimised to reflect environmental, social and governance (ESG) factors is booming. However, many pension funds prefer to build proprietary benchmarks instead of buying off-the-shelf products, to maximise their own ESG objectives.
Pensioenfonds Werk en (re)Integratie (PWRI), the €9bn Dutch pension fund for workers with disabilities, is one among many that has done so. But the fund adopted a unique approach in building its proprietary benchmarks, owing to its distinctive ESG agenda.
PWRI has been a responsible investor for many years. About five years ago, it sought to optimise its investment policy with respect to its objectives as a pension fund. Xander den Uyl, chairman of PWRI's board, explains: "We asked ourselves how we could use our power as investors to really help our beneficiaries. We realised that we needed our responsible investment policy to better reflect the fact that we are a pension fund for people with disabilities."
Assisted by its fiduciary manager, the then F&C, now part of BMO Global Asset Management , PWRI started to engage with investee companies on questions around work and disability. "We asked both Dutch and foreign investee companies whether they had policies and programmes to create work opportunities for disabled workers. At the time, we saw the engagements as broadly successful. One-third of the companies had real policies to that effect, one-third were at least aware of the issues and one-third were not interested," says den Uyl.
The results, albeit encouraging, highlighted that more engagement was needed. At the same time, the PWRI board decided to invest more in companies that create opportunities for the disabled. The decision came about following a 2013 agreement between the Dutch government, employers and trade unions to reduce the gap between the disabled and the labour market. The agreement was signed into a law, known as the Participation Act, a year later. In 2016 PWRI launched an 'inclusion' portfolio of about 50 listed stocks. The constituents are selected among companies that show a strong commitment to raise participation of disabled people in the labour market. To select the companies, PWRI uses data from PSO, a Dutch foundation that measures corporate performance.
However, the board wanted to go further. Den Uyl explains: "If you really want to have an impact, you cannot be content with building a small ESG portfolio. You have to look at the whole of your assets. At PWRI, we want full ESG integration."
The intense discussions within the board eventually led to a restructuring of PWRI's €3bn equity portfolio. Until recently, the fund had four equity portfolios overseen by BMO . There were two actively-managed European and emerging market portfolios, while North American and Asia-Pacific equities were passively managed.
The entire portfolio, which consists of both developed and emerging market equities, is now passively managed with a strong ESG tilt. DWS and UBS each manage half of the assets. PWRI has designed a benchmark, based on its particular ESG priorities, that both minimises carbon footprint and emphasises labour rights and health and safety within companies.
Den Uyl says: "We decided we should not track an index, because in that case we would be implementing the ESG policy of the index provider. Our goal was to implement our own ESG policy."
The chairman points out that implementing PWRI's environmental policy was much easier than implementing its 'social' policies. The fund aims to reduce its carbon footprint to a level 20% lower than the MSCI World. At the same time, the companies in its portfolio have to score 10% better than MSCI World constituents in labour rights and health and safety. Achieving the latter result was particularly challenging, explains den Uyl: "In the available datasets on social factors, there are many sub-dimensions that need to be considered. We focused on performance of human resources but also on health and safety. There was much more data on developed markets so we were able to run deeper analyses on those markets."
The two managers running the portfolios have been given a clear brief but some room for interpretation of the 'social' factors will be allowed. The uniqueness of this approach also means there is more uncertainty about the level of returns the portfolios will achieve. But den Uyl says the fund is satisfied with the results so far.
Meanwhile, PWRI's 'inclusion' portfolio still exists. This portfolio requires close attention, as the dialogue with the constituents is intense. PWRI encourages the constituents to certify their commitment and achievements in reducing the gap between disability and the labour market. However, engagement takes time and, as such, the portfolio is a low-turnover one. It could behave like the kind of high-conviction portfolios that are particularly popular with those who believe in the purest forms of active management.
PWRI seems serious about its full ESG integration objective, too. Den Uyl says work has started to study how to implement its ESG criteria in the other asset classes within the overall portfolio. He says: "We are very happy with what we have done with our equity portfolio. The next logical step is to look at our credit portfolio. But we really want to do it well, so we will take our time to do it."
PWRI also has exposure to the Dutch real estate market, through its investment in Syntrus Achmea Real Estate & Finance (SAREF). The fund has yet to adopt a specialist responsible-investing approach to its real estate investments. However, it employs the Global Real Estate Sustainability Benchmark (GRESB) to build a picture of the sustainability of its real estate investments, particularly from a social perspective. For a fund whose members are workers in sheltered employment it would perhaps make sense to invest in social housing. But den Uyl says the suitable opportunities in the Netherlands for a fund of PWRI's size are limited.
Nevertheless, this is an area where PWRI is likely to be active in the near future. "We are also discussing new developments, such as how our policies fit with the United Nations' Sustainable Development Goals (SDGs). We have also been looking at climate-change scenarios and the work of the Task Force on Climate-Related Financial Disclosures (TCFD). We are a relatively small fund in Dutch terms. But we work with our fiduciary manager in very positive and constructive ways to come up with solutions on how to integrate new developments in ESG," adds the chairman.
Den Uyl points out that the traditional focus of its fiduciary manager, BMO and its predecessor F&C, on responsible investment has facilitated PWRI's efforts in the area.
The relationship with F&C, now integrated into BMO, dates back many years, and PWRI was a fiduciary client long before F&C was acquired. Today, the fiduciary manager only runs PWRI's liability-matching portfolio. Over the years, the return-seeking portfolio has been shifted to third-party managers, selected by BMO based on PWRI's strategic asset allocation choices. The pension fund decides on its asset allocation autonomously, based on regular asset-liability management (ALM) studies.

A strong partnership with a fiduciary manager has certainly made PWRI's life easier, while other developments have tested the fund's strength as an organisation. The Participation Act effectively cut the influx of new participants into the fund. The law requires companies with more than 25 employees to hire a minimum number of disabled workers. At the same time, it means that the supply of new jobs in sheltered employment environments (sociale werkvoorziening in Dutch) will be gradually reduced and eventually cut. Since 2015, when the act came into effect, PWRI effectively was closed to new participants, without having planned to do so. The fund, however, retains 85,000 participants who accrue pension rights every year.
When the policy was announced, PWRI made it clear that the measure could cause real damage to the fund. Without new entrants, the pension fund would have to cover a shortfall in premiums, with implications for both costs and solvency. The good news was that PWRI's solvency levels and liability profile was such that the fund can continue without making significant adjustments in the medium term. However, changes will be required over the long term.
Den Uyl says: "We did a specific ALM study, which showed we don't need to change our risk appetite, for at least the next five years. However, we will have to make changes in around 10 years. There will come a moment in time when liquidity could become an issue.
"If you are diminishing in terms of capital and liabilities, then it's very difficult to come out of a shock. So our ability to withstand shocks diminishes. At present, it's not an acute situation but we know we have to make changes at some point," adds the chairman.
Having become closed to new entrants against its wishes, PWRI began searching for merger opportunities. At one point, the prospect of merging with healthcare giant PFZW came very close. The parties almost reached an agreement, until negotiations failed in February 2016.
Den Uyl recounts: "It didn't work out because of two issues that seemed unsolvable. We could not agree on the level of benefits our members would get after the merger with PFZW, given that its members are entitled to a disability pension, which comes at a cost. PWRI does not provide a disability pension, therefore our members could not be expected to contribute to one post-merger.
"The other issue was, we felt that the long-term perspective in terms of benefits was better for our members. It seemed they would get a worse deal from merging at that point," adds den Uyl.
However, the negotiations with PFZW ended amicably and PWRI has not abandoned the plan to find a merger partner. "We will look at it again, at the earliest in 2020," says Den Uyl.
That will be the year when PWRI celebrates its 30th birthday. Like any adult, the fund will face many challenges but it seems well-equipped to overcome them. It has a diversified portfolio, a powerful approach to responsible investment and a clear idea for its future. Not many 30-year-olds are in such a strong position.