Cliff Speed, CIO of TPT Retirement Solutions (pictured), tells Carlo Svaluto Moreolo how the fund is trying to develop a portfolio that can withstand market volatility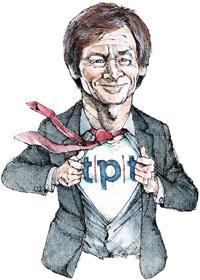 Having seen the number of pension funds shrink by 75% in the Netherlands over two decades, the UK has started to consolidate. The government has already backed the pooling of 89 local government pension schemes into eight entities. Now there are moves to promote consolidation of the 6,000 remaining private sector defined benefit (DB) schemes. While valid arguments against consolidation exist, it is hard to argue against the cost savings small schemes could achieve. Today, the UK pension industry has shifted strongly in favour of consolidation.
In this environment, TPT Retirement Solutions should thrive. It manages the assets and liabilities of 41 pension schemes, corresponding to 2,500 employers. Many of these are multi-employer schemes. That the wind is behind consolidation is good news for TPT, because there are not many schemes like it nationally, where most are single-employer, and industry schemes are not common. Furthermore, TPT has over 70 years of experience.
TPT was founded in 1946 as the Social Workers Pension Fund. It was created by the National Council for Voluntary Organisations, an umbrella body for third-sector organisations, to cater for social workers that were not eligible for public pensions. In 1987, it changed its name to The Pensions Trust and was known as such until October 2016. It is now one of the UK's largest consolidators.
The organisation aims to continue building its member base, according to Cliff Speed, its CIO. He says: "It's an excellent time for TPT. We're now in an environment where the government is putting out white papers supporting consolidation. We have been doing it for decades, and built the process to allow schemes of different sizes to benefit from investment strategies and synergies that they would just not have access to on their own."
Speed has an enthusiasm for consolidation. "To my mind, consolidation has taken a hugely long time coming to the UK. And the gains in terms of efficiency and what a pension fund can achieve are enormous. Our organisation is supremely well placed to benefit from this trend. Therefore, TPT aims to continue consolidating pension schemes, which will be beneficial not just for the schemes that join, but also for current members."
Speed was appointed in September 2016. An actuary by training, he joined from BlackRock, where he headed the firm's UK fiduciary business. He had previously been CIO for DB scheme buyout firm Paternoster as well as an investment consultant. He came with considerable industry experience, particularly dealing with multiple investment needs at the same time. At BlackRock, he acted as outsourced CIO for many UK pension schemes, choosing and implementing strategy.
TPT Retirement Solutions at a glance
• Assets: £10bn (€11.3bn)
• Members: 250,000
• Not-for-profit organisation
• Pension scheme aggregator
• Manages 41 schemes, including multi-employer ones, from different sectors
• Total assets include £9bn of DB assets and a £1bn DC master trust
• Founded: 1946 as the Social Workers Pension Fund
• Location: Leeds and London
Recently TPT overhauled its governance. A management board, consisting of professional non-executive directors with investment, funding and risk management skills, was added, reporting to the trustees. "This new governance structure is designed to improve and speed up decision making," TPT said at the time.
The change was the result of a review that had begun before Speed's appointment. TPT's current governance structure provides the basis upon which the organisation can further build its client base. Speed explains: "We have a trustee board that includes a funding committee and an investment committee, and we are assisted by external advisers. We take governance very seriously, given the large number of pension schemes we manage. Having a robust structure with clearly delineated responsibilities is key."
Within this revamp, Speed says, his goal is to maintain alignment between his team, the trustee board and the relevant sub-committees. "Since I joined, I have focused on making sure everyone understands our common purpose, which is necessary to allow people to contribute to their maximum potential. In order to do that, I have to make sure there is a good line of sight for the trustees and the sub-committees into my team's activity and there are good working relationships within the investment team."
Speed is reflecting on how to develop the portfolio so that it can withstand inevitable market difficulties. "The main questions when I joined were: what are we trying to achieve? Do we have well set-out investment beliefs that fit with our mission, which is to make sure we can pay all the benefits in the least troublesome way to sponsors?"
The first of TPT's investment beliefs, according to its website, is that "assets are held to pay benefits and should be invested taking account of the characteristics of these benefits". That is why, Speed suggests, the fund has a policy of hedging 100% of funded liabilities against interest rate and inflation risk. The fund is intent on keeping this in place. In the year to the end of March 2017, yields did not move significantly, and as of May they were below levels reached earlier in the year. On-going predictions of rising yields are no reason to cut the hedge ratio, says Speed.
"I'm conscious that LDI investors have been predicting what is going to happen to yields for many years, and often getting it wrong. The question is whether yields will rise faster than the markets are anticipating, and it's quite a hard call. Being wrong is extremely expensive and a risk you don't get rewarded for.
"Our schemes are not going to be disadvantaged by rising yields. Their sponsor contribution schedules stay the same. If yields rise, we might hit our funding targets earlier, which means there could be a potential for them to reduce contributions in the future," he adds.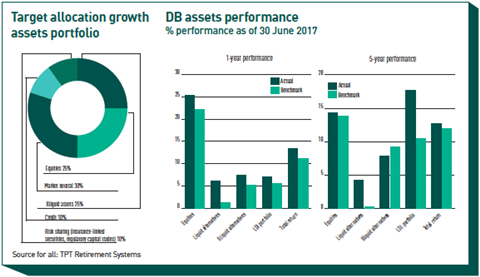 As the funding of the funds managed by TPT increases, the organisation may start behaving like an insurer. As a result, it would apply a strategy referred to as 'cashflow-driven investing'. This focuses on investments generating regular and predictable cashflows that match liabilities when they fall due. It is a novelty for pension funds, but Speed understands the approach, having run an annuity book for Paternoster.
There is, however, a more urgent question. Speed's view, broadly shared across the industry, is that market beta is currently expensive. "We are concerned that the returns from beta are going to be less attractive. Vanilla assets are probably fully priced, meaning they will provide relatively low returns going forward. We must, as investment professionals, expect that there will be periods of high volatility, and possibly some shocks, so I want to make sure the portfolio is as robust as possible during those times. Over the past five years, the portfolio has returned 8.4% per annum, which is excellent, but we have to ask ourselves where returns are going to come from in the future."
The strategy is to increase exposure to less liquid markets, thus reducing exposure to market beta. That is why the equity portfolio has been downsized, making room for illiquid and low-beta investments. The fixed-income portfolio includes corporates, emerging markets and direct lending. Speed signals that he is looking to diversify this, given the high cost of 'vanilla' fixed-income beta.
Over the past year the fund has grown its infrastructure exposure. It has held infrastructure assets for many years, as prices in this sector have faced upward pressure. But, Speed says: "We consider assets that are primarily illiquid in nature, and therefore we look to get sufficient recompense for illiquidity risk from holding them. We have increased our allocation to infrastructure because we think it still has the opportunity to provide attractive returns. We can easily afford the illiquidity risk given the maturity profile of the schemes we are looking after."
Not all illiquid assets are equal, however. TPT does not hold any private-equity investments. Speed argues: "We had already recognised that we had relatively high equity exposure, and buying private equity does not seem coherent with a strategy of diversifying away from equities. Secondly, we try to get value for money throughout all the portfolio, and the significant levels of fees found in the private equity market have not declined sufficiently."
TPT has instead found better value for money in alternative risk premia strategies. They are a sensible route to take when looking for strategies that will continue to deliver in volatile markets, according to the CIO.
It has also invested in bank regulatory capital. Investors in these strategies earn a premium for providing capital that allows banks to reduce capital requirements. It is an exotic investment for pension funds, but promises to deliver illiquidity and low correlation.
Some of the choices made by the investment team are governance-intensive. But Speed says TPT's in-house investment team of 10 has the capabilities to understand new asset classes, carry out due diligence and monitor managers effectively. The team is trained to deal with complexity, given the number of schemes that the organisation manages. "There are particular requirements we need to take into account to make sure our schemes' attitudes to risk and preferences are reflected in the investment portfolio," Speed explains.
The investment team focuses on asset-liability management, asset allocation and manager selection, portfolio management is delegated to 20 external managers. This number feels right for an asset owner of TPT's size. Speed says: "The chances are we will be appointing new managers in the coming 12 months, but I don't see our manager platform increasingly dramatically. I want to avoid over-diversification too, because that brings governance headaches, extra overheads, and the risk that the alpha from active managers is diluted."
Similarly, the investment team is about the right size, says Speed. "We have done very well at attracting talented people. With a small, focused group of people you can achieve a lot, and there's a real sense of fulfillment with that achievement. I think it is a very rewarding environment to work in."
Schemes considering joining TPT should note its ESG credentials. Speed says: "We have been putting ESG ratings on managers since 2014, and publishing our responsible investment policy for about five years. In 2016 we won an award for our climate disclosure reports. Responsible investment has been part of our investment beliefs for a long time, because we believe it helps identify and mitigate risks."