---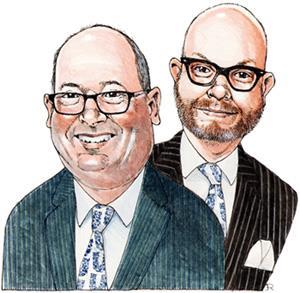 Rob Kragten (left), CEO, and Michael Kaal (right), director of finance and risk at the Unilever Dutch pension funds, tell Carlo Svaluto Moreolo about risk management and collective defined contribution
The Netherlands has spent years debating how to modernise its solidarity-based occupational pension system. When a nationwide debate closed earlier this year, the government began contemplating reform. The revised model is likely to contain defined benefit (DB) blended with defined contribution (DC).
Dutch pension funds, meanwhile, have not been waiting around. Some have restructured in anticipation of a world where collective defined contribution (CDC), will become the norm.
Unilever is among the companies that have started the transition. After a consultation between stakeholders and the approval of a collective labour agreement at the end of 2014, the company closed its Dutch DB scheme, Progress, to new entrants as of April 2015. At the same time, a new pension scheme for Dutch employees, Forward, was set up.
This is the beginning of an evolutionary period for the company's pension strategy. Rob Kragten, CEO of the organisation that manages both these funds, and Michael Kaal, director of finance and risk, explain that the next step is the creation of an APF (algemeen pensioenfonds, or general pension fund). This vehicle was introduced to allow multiple pension funds to be managed under a single, low-cost entity. Assets of individual pension funds are to be ring-fenced under the APF, thus allowing member pension funds to keep their identity.
Unilever Dutch pension funds at a glance (at end 2015)
Progress
• Type: DB, closed to new entrants in April 2015
• Assets: €5.02bn
• Liabilities: €3.74bn
• 2015 return: 0.2% (assets 5.9%, FX hedge -3.5%, interest rate hedge -1.0%, inflation hedge -0.9%)
Forward
• Type: collective defined contribution (CDC)
• Founded: April 2015
• Assets: €110m
• 2015 return: -20.5% (assets -3.3%, interest rate hedge -17.3%)
Any company setting up an APF could also bring external pension funds under its umbrella. Many insurers have been creating APFs to offer a DC solution for corporates. Kragten explains: "The objective for us is to achieve a streamlined governance structure. There is no intention to start working for other pension funds or companies. The APF allows us to work with one board that is responsible for both schemes." The CEO says that work is under way to start operating as an APF on 1 January 2017. This requires the authorisation of the regulator.
Kragten adds: "There will likely be cost advantages due to scale effects, because there is a possibility to pool assets and liabilities while still keeping the financial responsibility separated. But the main objective is simpler governance."
Regarding the decision to close Progress to all new accrual, Kragten recounts: "There was a wish to stay in a collective scheme, but also a wish to achieve more sustainable costs for the future."
The decision has had an impact on the pension fund organisation. The Progress scheme, which has over €5bn in assets, continues to exist but has entered a run-off phase. Kragten says that the closure led to a review of strategy that resulted in the risk being removed. "We used to have a strategy by which we would add risk when the coverage ratio went down and remove risk when it went up. We have kept the de-risking strategy and sought more diversification, particularly in the fixed-income portfolio."
The low-interest-rate environment has added to the challenge. Kaal explains that as Progress was closed, the fund concluded that the risk of further downside movement of interest rates was lower than rates rising. He says: "That is why we lowered our interest rate hedge last year. We also lowered the risk in the return-seeking part of the portfolio." A 50% hedge against inflation risk remains.
Contrary to expectations, interest rates did fall further. However, the fund had built a high coverage ratio that made it less vulnerable to swings in discount rates. Kaal says that the fund will stick by its decision to keep the hedge lower in anticipation of higher interest rates, at least for the time being.
Specifically, risk levels in Progress were reduced by selling 10% of equities, bringing the asset class to 32.2% of the portfolio at the end of 2015. Almost 50% of the portfolio was invested in fixed income, with the rest allocated to real estate (9%), private equity (2.8%) and commodities (4.4%), with the remainder in environmental, social and governance (ESG) investments (0.5%) and cash (0.4%).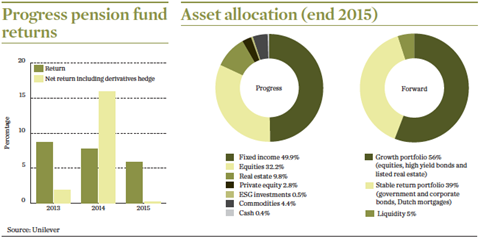 Within the fixed-income portfolio, the fund is searching for diversification and alternative sources of interest rate risk. This has meant moving away from core government bonds and towards a more global approach. Similarly, the fund is increasing its allocation to senior loans. Dutch mortgages are also part of the alternative fixed-income portfolio.
As Kaal recalls: "We were among the first adopters of domestic mortgages as part of a pension fund portfolio. But we went about it in a different way from others, because we only bought new mortgages. We did not want to bet on the housing market, so we favoured new issues rather than existing ones, differently to what many of our peers did."
The fund, Kaal says, is capable of picking up investment trends early, which is why it has been invested in loans. This is facilitated by its relationship with Univest, the asset management company created by Unilever in 2011. Univest advises and invests assets on behalf of the pension funds sponsored by Unilever worldwide. Its support as a fiduciary manager takes operational risk away from the pension funds.
Kaal says: "The idea was that being part of Progress would not guarantee a robust organisation over time. Teaming up with the other pension funds sponsored by Unilever outside of the Netherlands provides the solution. We maintain a normal outsourcing relationship with Univest." Kragten clarifies that the strategic responsibility, which includes deciding the technical bandwidths for asset allocation, rests fully with Progress.
The fiduciary relationship with Univest means no investments are made in-house. Yet, there is a team of three people within the organisation that oversees the strategy executed by Univest. Additionally, an investment committee meets quarterly to monitor the strategy. The board also supervises and looks at developments within the portfolio on a monthly basis. Overall, the pension fund organisation has 21 internal staff.
"In Forward, downside protection is particularly important, because participants bear the risk and there is no employer protection"
The fund has developed a focus on ESG criteria that has become a key component of investment strategy. "It is one of the pillars of our investment policy. Everything we have in the portfolio is screened for ESG criteria. Some of the ESG criteria were adopted from Unilever, which is a very sustainable company," says Kaal.
It employs an external consultant to carry out screening and recalculate benchmarks according to criteria and scores. "This is based on a conviction that ESG-compliant companies will perform better than non-ESG ones in the long term from a risk-return perspective."
Kragten adds: "The potential for a better risk-return profile is an important part of why we do it, but there is also an element of social responsibility, we being a large investor. Unilever has helped us develop this policy." The pension fund also runs an impact investing strategy, which consists of investments with a good risk-return profile, but more direct results in terms of ESG objectives.
At the moment, says Kragten, the portfolio is invested in green bonds and carbon-optimised investments. "It's an experimental portfolio at the moment. We are looking at further opportunities, but they are hard to come by, and we are working with other Unilever pension funds worldwide as well as other Dutch pension funds to develop such opportunities."
The duo have focused on constructing Forward, the CDC scheme for employees that have joined Unilever since April 2015. The scheme had assets of about €110m at the beginning of October. Creating a pension fund of this kind meant understanding the needs of the members and deciding how to structure a strategic asset allocation. The key challenge was getting the collective risk-sharing right. Hundreds of pension funds worldwide are grappling with this, and the pair believes it has found a solution.
Kragten says: "The CDC scheme tries to provide the best of both the DB and DC worlds. For the employer, it works as a DC scheme, because there are no liabilities on the books. For the employees, we try to make it work as a DB scheme. Obviously they carry all the risk, but we try and mitigate this through good funding and investment policies."
The pension fund has designed a process to improve outcomes for members. There is an agreement with the employer to annually recalculate the employer contribution levels, based on interest rates. By adjusting contribution levels, the fund can achieve a smoother investment performance.
Kaal explains: "Dutch regulation allows pension funds to renegotiate agreements covering a five-year period, but we were able to agree to recalculate contributions every year. This helps us achieve our goals over the period." However, Kaal adds, the fund will need to make use of all its experience in order to mitigate the risk while maintaining the return potential. "We can leverage our thorough understanding of asset-liability management gained via our experience with Progress."
Forward and Progress share the same investment philosophy, but owing to the smaller size of Forward, as well as its members' objectives, the asset allocation is different. Kaal notes that Forward's portfolio has a higher potential on the risk-return side. On the one hand, its smaller size means it cannot take advantage of all the asset classes available to larger investors, such as Progress. "But, the required return is slightly higher because of the different member population," he says.
Kragten adds: "In Forward, downside protection is particularly important, because participants bear the risk and there is no employer protection in place."
The future may hold more surprises for the Unilever Dutch pension funds. The current focus for Kragten and Kaal is consolidating Forward while managing the de-risking of Progress. This will be done through a more efficient governance structure when the APF starts operating.
However, the Dutch pension system is changing, and there is a possibility that future collective labour agreements will reshape these pension funds.
Meanwhile, says Kragten, the current reform process is heading in the right direction. He concludes: "It is still early days to tell whether the outcome will be positive. We are trying to give separate ownership rights to individual pension fund participants while keeping the collectivity and risk sharing that maximises the results. There are limits to it because risk sharing over generations is becoming increasingly difficult, but we are looking for the optimal blend of DB and DC, because we still believe in collective solutions. There are some promising ideas being studied at the moment."