---
Reima Rytsölä (pictured), CIO of Finnish pension fund Varma , tells Carlo Svaluto Moreolo why it makes sense to keep an allocation to hedge funds
Many pension funds large and small, in Europe and beyond, have distanced themselves from the hedge fund sector in recent years. This has created a perception that the hedge fund industry is in the doldrums. Actually, despite some outflows, the impact on the industry has been limited. This must mean that there is a core of pension funds that still believe in hedge funds.
Varma, the largest private pension insurance company in Finland, is one of those funds. CIO Reima Rytsölä says the company's allocation to hedge funds and alternatives is what differentiates Varma from its Finnish peers.
"We have a long history in alternatives. We started at the beginning of this century and we can say that, even though the industry has been under pressure, our hedge fund portfolio has been able to produce decent returns," says Rytsölä.
At 17%, the allocation to hedge funds is high by any standard. In 2016, hedge fund investments produced a 5.6% return. The company's 2016 annual report said: "The return on Varma's hedge fund investments has been very good over a long period, and volatility has been relatively low."
Rytsölä adds: "Of course, the return could be better, but that is one of our tools to fight against the zero-rate environment. Having said that, fixed income returns have been surprisingly good last year. But we still think that in the long run the capability of the rate market to provide returns is limited."
There is some truth in the criticism towards the hedge fund industry over its currently lacklustre returns and high fees. Rytsölä says the problem is crowding. Huge inflows since the financial crisis have clustered funds around certain opportunities. "That is one of the explaining factors behind compressed returns," says the CIO.
"Looking ahead, the interest-rate environment is strongly supporting the appeal of the hedge fund industry. We think what's threatening the industry more is the emergence of systematic risk premia strategies that are becoming more popular among investors. Some hedge funds have tried to replicate the simple risk premia strategies, which are accessible for a much lower fee than what traditional hedge funds are charging," Rytsölä adds. That has, to an extent, compressed fee levels in the hedge fund industry.
For Varma, the journey in the hedge fund world began as a search for portfolio diversification. Over the years, the team responsible for investment in the sector has been strengthened. Three people are now fully dedicated to the task. "You really must have a strategy on how to invest and diversify your hedge fund portfolio," says Rytsölä.
The company's strategy for investing in hedge funds is to blend a core portfolio and an opportunistic one. The two portfolios are roughly of equal size. The core portfolio targets low volatility with a market neutral approach. The opportunistic portfolio accepts more volatility in exchange for higher returns, by targeting strategies such as illiquid credit.
The CIO suggests that the hype about outflows from hedge funds may be overblown. In terms of fees, he agrees that it is an expensive asset class. "But to be frank, it's not as expensive of private equity. That is the most expensive asset class we own." Varma invests 7% in private equity funds and 2% in unlisted equities through co-investments.
As well as alternative investments, Varma manages fixed income and equity in-house. Most of the fixed-income portfolio, excluding emerging market debt, is managed internally. An internal team also manages roughly half of the equity portfolio, particularly Finnish equities.
The large allocation to hedge funds suggests Varma believes in active management. However, Rytsölä says that the pension fund is leaning towards the idea that active management should be confined to the less efficient markets. "The US equity market is a really good example of that. The vast majority of managers weren't able to beat the benchmark indices last year. Passive management in liquid markets is often the right option."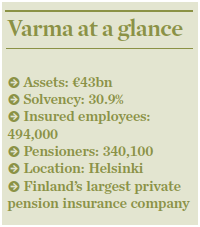 The fund has recently increased the share of passive management in that area. "We still see some opportunities for active management in liquid markets, when it comes to particular industries. There is a role for active managers that have specific competencies. Taking active management in-house may be a cost-effective way of doing it as well," says Rytsölä.
Despite significant experience in alternatives, Varma has not been active in the infrastructure sector of late, says Rytsölä, although it was an early investor in the asset class. "We have some aged infrastructure investments already. It's been a really popular investment but we consider it fairly expensive at the moment, particularly relative to liquidity and tenure. That is why have not been very active compared to our peers recently."
Two areas of more intense activity have been risk premia and emerging markets. Rytsölä says the company has recently increased the allocation to risk premia strategies, using them as overlay to traditional strategies. The emerging market allocation has also been increased.
The construction of the portfolio is influenced by the regulatory framework, which encourages Finnish pension funds to focus on traditional assets classes. It differs quite markedly from frameworks such as Solvency II, in that the emphasis is less on asset-liability matching. That leads Varma to invest with an "asset-based mindset", says the CIO. This is despite Varma offering defined-benefit pensions.
The company has no formal target return, according to Rytsölä, but there is an expected return, which the CIO defines as "the cornerstone of our pension system's funding calculations". This was originally set at 3.5% but has been lowered to 3% for the next 10 years. Rytsölä says: "It is challenging, especially because of the current interest-rate environment, but I think it is achievable in the long term."
The company uses a top-down macro approach to build the strategic asset allocation "We reflect on our capability for risk-taking versus our solvency targets in the current market situation. We establish the strategic asset allocation every year, and review it halfway through the year. We may also review it more frequently if market conditions are really severe or there are extraordinary events," says Rytsölä.
Varma is also relatively active in tactical asset allocation, but Rytsölä says: "Tactical asset allocation is a tough sport. You have to be patient and wait for the opportunity. With a portfolio of our size, it does not make sense to trade too actively."
Despite hitting a few speed bumps, Varma's approach is generally paying off. As reported by IPE earlier this year, in 2016 the company reached a record high in terms of assets under management. It reported an investment return of 4.7%, which would have been higher had it not been for a loss on part of its property portfolio.
The company had to write down some of the value of its property assets, which wiped out part of its investment profit for the year. The loss on the overall property portfolio was 0.9%, but this was concentrated on direct property assets. The indirect real estate portfolio actually made a 6.8% return. To address this, the company has started to diversify away from domestic, directly-owned real estate.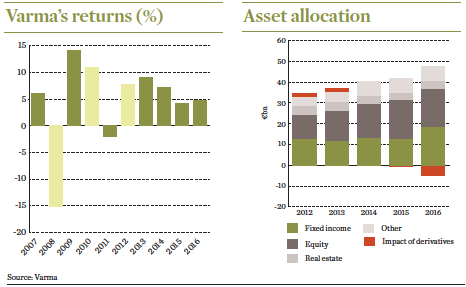 Varma finished the year strongly in terms of solvency. Solvency capital was €10.2bn, in line with the previous two years. Equities generated good returns for 2016, with the highest return recorded by unlisted equities (23.7%), followed by private equities (11.2%) and listed equities (4.5%).
Fixed income generated a 4.2%, "thanks to falling interest rates and tightening of the credit spreads", said the company's annual report. The loan portfolio returned 4.2%, public-sector bonds 1.8%, corporate bonds 7.8% and money-market instruments -0.4%.
In a long-term context, return figures are also encouraging. The average five-year and 10-year real returns were 5.4% and 2.6% respectively.
At the end of the year, the overall portfolio was split between fixed income investments (30%), equity investments (44%), real estate investments (9%), and other investments (17%). A significant position in derivatives affects the portfolio, cutting 11% from the actual value of the balance sheet.
Rytsölä is confident that the overall strategy will see the pension fund through the next few years, which promise to be difficult owing to heightened political risk.
In that sense, Varma occupies an interesting position in the institutional investment landscape. As a Nordic investor, it shares many characteristics with its Swedish and Danish peers. But as a euro investor it suffers from similar problems to Dutch, German and other euro-zone investors.
On the question of how European politics may affect institutional investment, Rytsölä is cautiously optimistic.
"We definitely take political risk into account. We haven't taken a dramatic stance by preparing our portfolio for a collapse of the European Union, at least yet. Last year, with Brexit and the Trump election, was a really good example of how political risk and markets can decouple. But you have to be on your toes. We really need to be alert to how the political climate is developing", says the CIO.
"I don't think the probability of Marine Le Pen being elected is high. But we know that anything could happen. I think that after the Brexit referendum Europe is more vulnerable than it was before. The cohesion is not as strong. There's not that much in terms of a common European agenda. I worry about what would happen if we had a crisis, say if the Italian banking sector were to fail. The whole system is a bit more fragile than it used to be, and that is something you have to bear in mind. On the other hand, you shouldn't put too much weight on that from an investment point of view."
In general, there is a question about whether the current optimism is justified, argues Rytsölä. "Growth and economic fundamentals are looking better than six months ago, so that optimism has created the expectation that risky assets like equities will perform better in the next year or two, differently from what was anticipated until some time ago", he says. That is why the attention seems to have shifted away from the issues embedded in the fixed income markets.
"Of course we know that the equity markets and other risky asset classes are not totally in clear waters. We still need to see the earnings growth that supports the higher multiples that we are seeing now. It remains to be seen whether this optimism has grounds in reality," adds the CIO.