A year of change is ahead to prepare for implementation of the revised IORP II Directive and reform of the DC system
Key points
Pensions policy proposals have not been forthcoming
DC pensions continue to grow
Legislation to implement IORP II is expected this year
As so often seems to be the case in Ireland, we ended the year on the cusp, rather than in the middle of pensions reform. Several announcements were made during the year suggesting that a comprehensive consultation process would be launched by the end of 2017. This would look at significant reform to the pensions system and the introduction of auto-enrolment. However, the end of the year passed without any announcements.
It does seem that there will be much change in 2018, however. At a minimum, the revision of the EU's Institutions for Occupational Retirement Provision (IORP II) Directive needs to be implemented by January 2019, so the legislation required to do that will need to be in place in 2018. The regulator, the Pensions Authority, also wants reform of the defined contribution (DC) system, in particular focusing on reducing the number of schemes. This will most likely involve a greater focus on master trusts and some prohibitions on the establishment of smaller schemes.
The size of the sector continued to increase with €125.5bn in assets under management at the end of 2016, according to the Irish Association of Pension Funds (IAPF) Annual Investment Survey. That is the highest level recorded and a significant increase from €63.5bn at the end of 2008.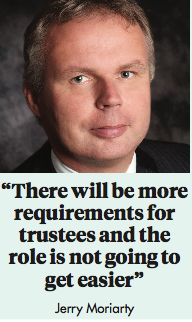 Of the total pension assets, €78bn were in defined benefit (DB) schemes with the remaining €47.5bn in DC schemes. DB asset allocation was largely unchanged with 40.6% of assets in equities and 36.9% in bonds. Alternatives increased to 13.7%, a significant rise from 5.1% in 2012, indicative of the increased level of diversification and search for yield.
DC assets were invested 53.9% in equities, with 22.8% in bonds. Allocation to cash, which had been as high as 17.3% in 2013, is now 11.5%.
With the vast majority of DB schemes closed to new entrants and many closed to future accrual, they are in a run-off phase, albeit one that will take many decades. Ireland does not have a Pension Protection Fund or debt on employer legislation. During 2017 the government introduced legislation that would allow the Pensions Authority to impose a schedule of contributions on an employer that planned to cease contributions to a DB scheme that did not meet the statutory minimum funding standard. This followed the passing of first-stage legislation from one of the opposition parties that sought to do something similar. However, the legislation was subsequently withdrawn and we await its reintroduction.
The greater security offered to members of DB schemes is welcome and it should also allow for a change in regulatory focus to a more long-term view of funding requirements. There has been a real improvement in the number of schemes that meet the minimum funding standard, as a result of restructuring and higher contributions.
The DC sector continues to grow in size and evolve. One issue that is exercising trustees more and more is how to deal with members approaching retirement. To date, there have been few DC retirements, or those that have retired also have legacy DB benefits that make up the bulk of their retirement savings. However, schemes are starting to see members approaching retirement who have been in DC schemes for the bulk of their careers and have significant savings. Trustees are often concerned that it can be difficult for members to choose between taking tax-free cash, choosing an annuity or transferring to a drawdown product.
Trustees are not authorised to give financial advice and members often are not prepared to pay for independent advice. Some trustees and employers work together to make advice available to members, usually paid for by the employer. This often starts long in advance of retirement. Some trustees are looking at negotiating terms on drawdown products that are then made available to members among the choices they have. We expect a lot of focus to be on this area over the coming years.
The IORP Directive and the proposed reforms are going to put a lot more emphasis on scheme governance. There will be more requirements for trustees and the role is not going to get easier. That is likely to result in a bigger role for independent, professional trustees. It is important that the benefits brought by lay, member-nominated trustees can be maintained so that the interests of the members always come first.
It is crucial that, as a country, we move forward with reform in 2018. The system has been analysed to death with multiple reports largely making the same recommendations. The state pension is the bedrock of the system and is due to increase in March 2018 to €243.30 per week for those with a full contribution history. However, this operates on an unfunded basis and is paid from current social insurance contributions. An actuarial review of the notional funding, published in 2017, estimated the net present value of future payments as €335bn. In addition, public sector pensions are also unfunded and an actuarial review, also in 2017, estimated current liabilities at €114.5bn. These figures dwarf Ireland's national debt.
Furthermore, over 50% of the workforce do not have any pension savings and, currently, will only rely on the state pension. The retirement age for that is now 66 and will rise to 67 in 2021 and 68 in 2028, and the contributions required to receive the full pension have also been increased. We need a long-term strategy to address these issues. As Ireland moves back out of recession this is the time to take the action required.
Jerry Moriarty is CEO of the Irish Association of Pension Funds
Ireland: Drive is on for auto-enrolment
1

2

3

4

5

Currently reading

IAPF viewpoint: 'We must push on with reform'