Icelandic pension funds are returning to the world stage
KEY POINTS
Just over 20% of Icelandic pension fund assets are invested abroad.
The strong Icelandic krona gives funds more spending power abroad.
Some warn against opportunistic foreign managers offering sub-standard products.
Managers offering solutions and fresh thinking should be at an advantage.
Draconian foreign capital controls imposed on pension funds after the banking crisis in 2008 have gradually been relaxed.
Successive tranches of permitted foreign investment culminated in a lifting of all restrictions last March. There is no doubt that pension funds will take advantage of this new freedom.
Foreign exposure is currently at around 22% of portfolios – low compared with other Nordic countries. In Finland, pension fund exposure to foreign assets is now as high as 75% of portfolios.
And with total pension fund assets amounting to around 145% of Iceland's GDP at the end of 2016, and forecast to continue growing faster than the economy due to strong pension inflows, the spending power is there.
"We expect the increase in foreign exposure will happen gradually and depend partly on economic conditions," says Marteinn Breki Helgason, account manager, institutional asset management sales, at Arion Bank.
Arion Bank manages discretionary mandates from pension funds as well as distributing UCITS funds both from Stefnir, its wholly-owned fund management company, and foreign partners.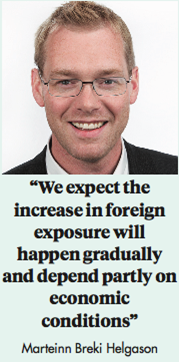 Helgason continues: "For example, in the last couple of years conditions have been favourable for pension funds to exit the Icelandic krona because of strong flows coming the other way from tourism and other export industries. However, during this period, the funds used exemptions from the currency restrictions only partially, which may indicate they are unlikely to rush into anything now that the restrictions have been lifted altogether."
But he adds: "That said, it can be expected that over time they will aim to take advantage of the relative strength in the krona, as their obligations are also in the home currency."
In 2016, the krona appreciated by 16% against the euro, and by May 2017 had risen another 3%, giving Icelandic pension funds increased spending power abroad.
However, the strength of the krona is a double-edged sword. "Diversification is of the utmost importance, given the size of the local market," says Pia Michelsson, managing director, business development, Alda Asset Management.
"But, just as the Icelandic market is highly volatile due to its small size, the currency is too, making it a detrimental driver for investment decisions on foreign allocations. The krona has been strengthening, strongly supported by the ever-growing tourism industry, hence making it difficult to call the ideal entrance point for foreign currency investing."
But she continues: "At the same time, pension fund investment results are followed by the local media who are quick to criticise, and any diversification effort is compared with local market returns, and can be negative, because of the strengthening of the local currency."
Otto Schauman, Aberdeen Asset Management's head of business development, Finland and Sweden, agrees Icelandic pension funds need the diversification benefits of increased foreign investing "as their portfolios are currently very geographically concentrated". Aberdeen has promoted its funds in Iceland for many years in co-operation with a local distribution partner.
Schauman says much of the funds' foreign equity exposure is through global – sometimes also broad emerging markets – funds.
"I think they need to continue increasing this portion at the expense of domestic equities," he says. "Within emerging markets, it could also be beneficial for them to invest more regionally by going directly into, say, emerging Asia or Latam funds."
Michelsson says: "Global equity has traditionally been the main foreign asset class included in the portfolios, but regional allocation, which is gaining popularity, gives better diversification. This is especially so when US large caps are considered expensive at the moment, so passive global funds are risky allocations if global markets fall. Active management fees have gone down globally, and defensive active strategies make portfolios less vulnerable to global shocks."
Bond diversification in focus
As for fixed income, high domestic interest rates are an issue. Schauman says: "Although domestic interest rates have been very high in Iceland, pension funds should explore how to diversify their heavily domestically-biased bond portfolios internationally. High real interest rates can also be found in the emerging markets debt space."
Michelsson agrees: "The local fixed income market offers a yield of around 5%, so the current global government bond market is not looking too attractive for Icelandic pension funds. However, there are opportunities currently in some higher-yielding fixed income spaces such as emerging market debt and high yield, which would offer not only diversification but also protect against domestic currency risk."
She adds that multi-strategy funds would also offer a less risky and more diversified solution, while offering the benefits of totally outsourced investment in foreign allocations, relieving clients from decisionmaking on over or underweighting between asset classes.
Meanwhile, Helgason says: "It is likely that pension funds will continue to add to their holdings in UCITS funds and segregated accounts, while also keeping their eyes open for private equity and opportunities in the alternatives space. They might also venture into foreign fixed income at some point, which they have not done so far, as their holdings in local inflation-linked bonds have historically ticked that asset class box."
Turning to real estate, Schauman observes: "As allocations to property are generally quite low in Icelandic pension fund portfolios, I think this would be the natural space in which to increase allocations. Property funds offer bond-like stable income and it would make sense for pension funds to follow their Nordic peers by diversifying property investments further across the Nordics and into the rest of Europe."
Keeping it local
None of this potential for reaching new horizons in investing has been neglected by local investment managers. Arion Bank aims to work with institutional clients to help them build sustainable portfolios and add to them step by step. And in that capacity it aims to understand clients and offer long-term solutions.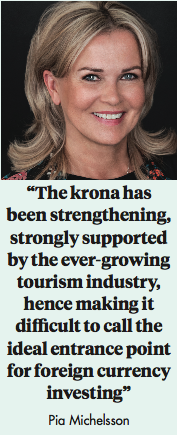 "Recently, we have made efforts to look at ESG investing for our discretionary clients in the light of new local legislation in that field," says Helgason. This new legislation comes into force on 1 July, when pension funds will have to set themselves specific guidelines for socially responsible investing. Previously, they were only legally required to look at returns and risk." Helgason adds: "We have also been examining appropriate levels of active management in portfolios and helping some of our clients add diversity in such fields as small cap and emerging markets."
Alda Asset Management meets pension fund clients regularly to understand current allocations and possible portfolio diversification. It assists in manager selection and advises pension funds on institutional solutions and new strategies, for better diversification or replacing a non-efficient manager.
"We don't have a 'quick fix' or 'one size fits all' solution, as each client has individual needs, and the lead time from client needs to getting the best suitable product from the huge manager universe, and approval from the local regulator, is lengthy," says Michelsson.
Foreign managers have long had a presence in Iceland. Alda, by contrast, is presenting itself as a reliable domestic partner. Michelsson says: "There is currently a wave of opportunistic fund management companies travelling to Iceland offering mediocre products with high fees. In general, what local institutions need are trusted counterparties who offer them help, and tools and building blocks to provide them with well-diversified and institutional portfolios, and who are there for the long term. It is all about building long-term relationships rather than maximising revenues."
Alda sees itself as an adviser and solution provider, rather than a product sales hub. "We bring our clients the latest ideas from global markets, in order to help them catch up the ground lost during the capital control period," says Michelsson. "We have brought in new strategies in institutional equity, fixed income and private equity, and are currently looking to add on even more diversified solutions to our clients' toolbox, such as multi-asset."
And recognising that responsible investing and ESG are important – although lagging behind other Nordic countries – Alda has been organising seminars to promote the topic in Iceland.
Sweden: AP funds power on
1

2

3

4

5

6

7

Currently reading

Iceland: Back in the game

8