---
A new report has recommended measures to address concentrated ownership of Icelandic companies
Three-quarters of pension fund assets are invested domestically
Capital controls restricting foreign investments by pension funds were lifted last year
Like any major earthquake, Iceland's financial collapse in 2008 has had its aftershocks.
One such effect is that the country's pension funds – whose assets make up around 150% of GDP – now own too much domestic equity.
The funds performed a vital rescue function in the early days of the crisis, buying up assets that banks and other owners were forced to sell.
They did not have much choice in the matter, however. Capital controls – only fully lifted last year – prevented pension funds making new foreign investments, even though their asset bases continued to fatten through regular inflows of pension contributions.
Worries have surfaced about whether competition between businesses is being compromised by, for example, leading companies in the same sector sharing an owner.
"Many people agree that the domestic stock market is too dominated by pension funds, but that's the consequence of the capital controls," says Arne Vagn Olsen, CIO of the ISK186.7bn (€1.5bn) Stapi.
A report, published this year, examines the role of pension funds in the structure of the Icelandic economy. It contains recommendations to address the economic and competitive risks resulting from pension funds' now broad ownership of domestic companies.
The team responsible for the study was appointed in June 2017 by Bjarni Benediktsson, then-prime minister of Iceland, in consultation with the Council of Ministers for Economic Affairs. The chairman of that working group, Gunnar Baldvinsson, chief executive of the ISK184.9bn (€1.5bn) Almenni Pension Fund, says the group did not consider it necessary to propose any changes to Iceland's Companies Act.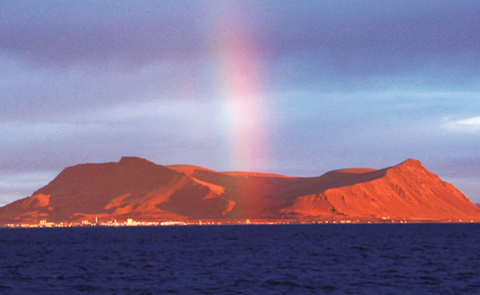 Instead, according to the report, rules should be drawn up requiring pension funds to establish formal strategies about their corporate ownership policies.
Policies should contain guidelines about corporate governance for pension funds as shareholders including details of what pension funds intend to do in order to ensure sectors remain competitive.
They should also include articles on communication with companies and pension funds' participation in decisions at shareholders' meetings.
Pension funds should also step up their targets for allocating to foreign assets in their long-term investment policies, in order to reduce concentration risks, the report recommends.
It is also important, the group says, to promote appropriate competition between pension funds.
From his perspective as a pension fund CIO, Stapi's Vagn Olsen says the need to diversify pension fund asset bases away from the domestic market is one of the main challenges facing the sector.
He says: "Given the size of the economy, we need to diversify – there are too many sources of systematic risk as it is. But you have to put in into the context of the capital controls that have been in place from 2008 to 2017."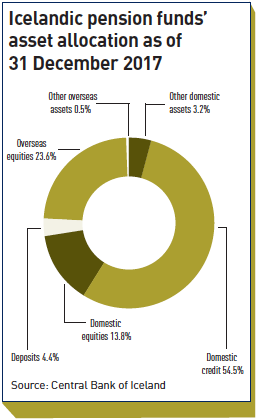 Before the financial crisis, overseas assets made up roughly 30% of pension fund portfolios, as the funds had already started the process of international diversification. Now, however, the limitations have led to the funds having roughly 75% of assets invested domestically.
That is too much to be prudent, Vagn Olsen says. All pension funds are changing their investment guidelines, but he says the main question is how quickly they are doing so.
Stapi, for one, only intends to shift between 2% and 3% of its assets abroad every year, as it moves towards a target of about 40% foreign holdings. Vagn Olsen says this pace could accelerate or slow down.
While the focus of the Baldvinsson report is on pension funds' equity ownership in Iceland, Vagn Olsen points out that a large chunk of Icelandic pension fund assets are in fact in government bonds rather than voting capital.
With a current yield of more than 5%, counterparts on both sides of the Atlantic eye Icelandic pension funds' allocations to these fixed-income instruments with envy, he says.
Public debate in Iceland on the pension system is very active, but one industry insider claims this conversation is coloured by the short-term interests of certain groups.
Between 2009 and 2013, for example, a view prevailed that the funds should sell all foreign assets to curb the depreciation of the Icelandic krona.
In the past two years, on the other hand, the discussion has turned the other way and favours funds investing as much as possible abroad in order to halt the krona's rise.
In addition, there has been recent pressure to make pension funds use their assets to solve the problem of an expensive housing market for first-time buyers.
Baldvinsson's group called on Iceland's government to look at how the law could be changed – in consultation with stakeholders – to give individuals more say on allocating supplementary pension savings towards saving for housing.
"Very seldom the debate is on [the pension funds'] terms," says one commentator.
Baldvinsson's report, as part of a professional and unbiased dialogue around the system, has come at the right time.