Swiss pension funds are struggling to find value in infrastructure investments, says Barbara Ottawa
Swiss pension funds are looking to real assets as they struggle to find new sources of income in a low return, low inflation environment. Since opportunities in domestic real estate are scarce, pension funds are shifting their focus overseas.
At a glance
• Swiss funds are looking for suitable overseas infrastructure investments.
• There are doubts about proposals to create a distinct infrastructure investment category for asset allocation.
• The Swiss pension funds association would prefer the adoption of a prudent-person principle.
"Finding the right assets is the biggest challenge," says Rolf Ehrensberger, CIO at the CHF9bn (€8.3bn) PKE Pensionskasse for the energy sector.
Eight pension funds, including Migros, Roche, Manor, PKE, GastroSocial and the pension fund of the city of Lucerne, joined forces in 2013 to set up a so-called Anlagestiftung. This is a foundation-based pooling vehicle frequently used in Switzerland for real estate investments.
"At the moment the infrastructure vehicle, the IST3 Anlagestiftung, is fully committed, but not everything is invested yet," says Christoph Ryter, managing director at the CHF20bn Pensionskasse of the large Swiss retailer Migros (MPK).
The fund is looking to make investments across the developed world. "But the focus remains on Europe including Switzerland," says Ryter.
The first closing took place in June 2014 at CHF300m, and a year later there was a second close at CHF145m. "Both the due diligence and asset management for direct investments turned out to need much more effort and time than expected," says Martin Roth, managing director at the CHF1.72bn Manor Pensionskasse.
Ryter adds: "At the moment, not everything is invested yet and the fund is not taking on any new commitments." Instead it is concentrating on finding suitable investments.
This is one of the main hurdles. "In the low interest rate we are not the only ones with the idea to seek infrastructure investments", says Ryter. This makes the investment environment very competitive and investors have to decide where their pain threshold is.
For IST3, the Pensionskassen are mainly looking into regulated power grid providers, water and gas suppliers, as well as public private partnership (PPP) projects with a good credit rating, including onshore wind parks, photovoltaic projects or hydropower. The investors are open to various forms of financing depending on the risk/return characteristics. Overall, however, Ehrensberger says the fund is "running well".
Individual choices
Ryter says that as infrastructure is a new type of investment for Pensionskassen, investors are still trying to find out which risks can be taken, where they might need to have a say in decisions made in a PPP project or where guarantees from public authorities are necessary.
In 2014, the IST3 was presented with a golden opportunity when the grid operator Alpiq sold just under half of its shares in the national power grid Swissgrid, which IST3 acquired. Other than that, PPP projects and privatisation of infrastructure have no real tradition. However, analysts agree that with increasing financing pressure this might change. IST3 also hopes to become a financing partner Swiss authorities turn to for PPP projects in future.
For the individual members of the IST3 platform, the "evergreen structure" is a big advantage, says Ehrensberger. If one member wants to sell its stake in a project, another member should be interested in taking it on because the due diligence is already done.
The MPK has set its target infrastructure allocation to 2%, or CHF400m, over the medium term. Ryter confirmed that the Pensionskasse may also invest in infrastructure outside the IST3 platform if diversification is guaranteed. "On an international level, this is mainly a question of size, and the chances to get the contract are higher with the platform," he adds.
At PKE, infrastructure investments – within and outside of IST3 – comprise 2% and 4% of the portfolio. The return expectation (in CHF) is set at 5% for this asset class.
Manor Pensionskasse has a share of alternative assets in the portfolio of about 15%, consisting of 10% hedge funds, 3% private equity and 2% infrastructure, which is CHF hedged. "We started slow at the beginning so as not to run out of ammunition too soon, but eventually we are aiming for 4-5% infrastructure exposure," says Roth.
Infrastructure goes solo
In September 2015, the Green MP Thomas Weibel put forward a motion to "remove the stigma" from infrastructure investments by introducing them as a separate asset class with a 10% investment cap.
According to Weibel, infrastructure investments are stigmatised by a lack of transparency and high costs. But according to Ehrensberger, the more infrastructure investments are made, the easier it becomes to get the necessary information for the mandatory disclosure on total expense ratios (TERs). "Providers are increasingly used to calculating TER, according to the guidelines set by the supervisor OAK," he confirms.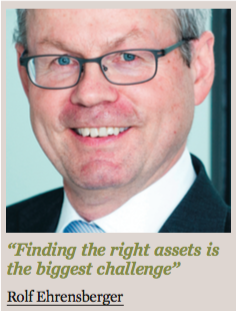 Nevertheless, Ehrensberger says PKE is keeping an open mind on the motion to introduce infrastructure as a distinct asset class. However, PKE's management is strongly opposed to the Zukunftsfonds proposal made by some MPs, which would make it mandatory for Swiss Pensionskassen to invest a certain proportion of assets in Swiss venture capital.
The Swiss pension fund association Asip welcomed Weibel's proposal in principle. In its view, the latest amendment to the BVV2 investment regulations has put considerable pressure on the alternatives allocation in portfolios. All non-traditional fixed-income investments, such as loans to non-public bodies, contingent convertibles and certain structured products, now have to be added to the alternatives category.
For MPK, Ryter points out that this meant an increase of the share of alternatives from 3% to 11% – still under the 15% cap for alternatives, but leaving less room for manoeuvre.
So the new proposal to create a separate category for infrastructure investments would help unburden the alternatives category. But Asip points out that another investment category would complicate regulations further. Instead, the association has long demanded removing the investment limits and replacing them with the prudent-person principle.
At present, funds have to convince the authorities of the need to increase certain investment allocations above the regulatory limit. And the association also points out that it might be just as useful to take other asset classes, such as private equity or commodities, out of the alternatives category and create a separate one.
While Asip welcomes Weibel's motion in principle, it doubts whether it can achieve its goal of creating more domestic sustainable investment opportunities.
In his motion, Weibel mentioned that a separate investment category for infrastructure investments would "allow Pensionskassen to invest more in sustainable domestic projects" and thus provide the government with a private financing partner.
The MP emphasised the low correlation of infrastructure investments with other asset classes, which would help Pensionskassen achieve necessary returns. However, Roth at Manor pension fund cautions that the "low correlation of infrastructure with other asset classes is mostly theoretical, as the financial crisis proved that infrastructure too is linked to credit and interest rate risk".
Pensions in Switzerland: Retirement reform revisited
1

2

3

4

Currently reading

Infrastructure: Investing in real assets

5

6