Insolvency insurance stands behind German and Swedish book-reserve pensions, but the concept has not really caught on elsewhere. Brendan Maton explores the world of unfunded and partially funded pension schemes with an external underpinning
At a glance
• Germany's direct promise pension system, traditionally financed by book reserves, now covers more than 8m workers.
• Sweden's PRI Pensionsgaranti covers 700 employers.
• There has been limited take-up for indemnity insurance in the UK.
• German listed corporates started to finance their book reserve pensions in the early 2000s.
Throughout IPE's 20-year existence, capital funding has been championed as the way forward for pension provision. The European Commission devised the IORP Directive as a means of promoting funded pension schemes. The World Bank went one stage further and encouraged central and eastern European countries to establish individual pension savings systems to draw them further away from Communism.
The attractions of backing liabilities with assets are obvious: the Netherlands, Europe's best-funded retirement system, has seen occupational pension assets appreciate from less than €350bn to over €1.2trn in the last twenty years.
In contrast, few policymakers or commentators have praised the German model of pension provision, Direktzusage (which translates as a 'direct promise') traditionally financed through book reserves. This model was born after World War II when credit available for business was scarce. During the war the Nazi regime had forced businesses to finance military campaigns by buying government bonds with employee savings. Two powerful reasons to keep capital within the firm.
So German enterprises promised to pay workers a pension, accounted for the relevant costs, but used this source of finance instead of raising debt or equity capital from elsewhere.
The economic miracle of the post-war German economy is well-documented. But few commentators support the use of book-reserves in Europe's future, even though the number of workers covered by the system in Germany continues to rise. Today, many Direktzusagen are backed by assets held in co-called contractual trust arrangements (CTAs), particularly in the case of listed corporates. But the number of workers with a Direktzusage is still large: in 2005 the figure was 6.9m, rising to to 8.1m by 2015. These statistics come from Germany's employer insolvency indemnity scheme, PSV. Businesses cannot run a book reserving arrangement for their workers' pension without participating in this scheme.
The durability of book reserving can be explained. Alfred Gohdes, recently retired chief actuary at Willis Towers Watson in Frankfurt, points out that book reserving is unregulated, which gives chief financial officers (CFOs) freedom to manage their business as they see fit. This may present a moral hazard, but there is no evidence of more pension failures or fraud in Germany than elsewhere.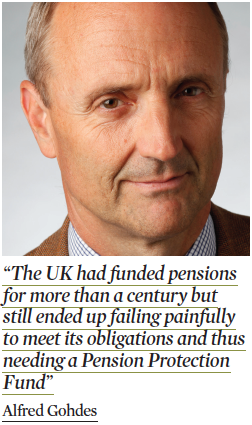 Indeed, Gohdes suggests that it is the nature of regulation that matters as much as the system on which it is imposed. "The UK had funded pensions for more than a century but still ended up failing painfully to meet its obligations and thus needing a Pension Protection Fund (PPF) too," he points out.
Germany's compensation system has been working as part of the book reserve system for thirty years longer than the PPF and there was even a premium holiday in 2016.
Gohdes adds that not only do German CFOs understand the value of book reserving, but analysts also understand them better too: "In the early 2000s, there was an oversimplification that pension liabilities were debt but companies are financed by various means, including equity." He says you have to take into account each company's specific capital structure when assessing the pension risk.
A similar employer insolvency insurance arrangement – PRI Pensionsgaranti – exists in Sweden. Covering almost 700 business groups, this national mutual has a bias towards larger companies, such as ABB, Volvo and AstraZeneca, with more than 90% of contributions coming from the biggest 5% of employers. Unlike its German equivalent, however, PRI Pensionsgaranti covers only the private industrial sector covered by Sweden's national collective pension agreement for white-collar pension workers, and can select its members.
"Our clients love the system because it is an economically efficient method to produce pension benefits," says Lars Andersson, client executive, credit insurance, at PRI Pensionsgaranti. "Clients need to be solid and have a strong performance or potential: the default rate is very low. Unlike the German system, we can work proactively with clients and reduce pension risk if needed."
Although PRI Pensionsgaranti's liabilities will grow until the 2030s at least, there is a new limit because the pension plan for private-sector white-collar workers under the age of 38 in the collective agreement is now defined contribution.
Indemnity insurance needs a push
The DB arrangement in Sweden, and a perceived lack of efficient funding solutions in the UK, provided the inspiration to sell indemnity insurance in the UK.
Con Keating the head of research at Brighton Rock, an insurer offering the service in the UK, and author of several papers1 on the topic. In his latest piece, he says that viewing a DB pension scheme as a standalone or self-sufficient entity is a major mistake. "It amounts to creating a stand-alone insurance company and requires capitalisation at those levels raising the cost of provision of pensions. This is to the detriment of employees, whose earnings are depressed, and the detriment of other creditors in insolvency. Moreover, for the majority of schemes, it will create a problem of orphan assets after all pensions have been discharged. If this absolute and continuous security of the final benefits is desired, the correct form is not funding but pension indemnity insurance."
Some of Keating's arguments have been echoed by the former UK Pensions Regulator, Michael O'Higgins in a Financial Times interview in December 2016. O'Higgins said it was "economically nonsensical" for pension schemes to link their liabilities to bonds if a scheme itself had little or no investments in conventional fixed-income assets. He continued: "We need to find a better way of examining pension fund liabilities.… It is probably causing significant misallocation of resources – for example, from company profits to pension schemes rather than to investment or increased dividends. It is also inhibiting M&A activity, either through concerns about the size of liabilities or fear of regulatory action."
So far, however, there has been little British take-up of insolvency indemnity insurance per se (there is more discussion about changing the reference liability benchmark). Keating puts the total figure for deals he's been involved in below £2bn (€2.35bn) and notes that the offering has always had to be sold to clients. The total market sum is higher as PRI Pensionsgaranti has a dozen clients in the UK, as well as in the Nordic region outside Sweden, mostly subsidiaries of Swedish clients.
Why the low take-up? First, the UK has the Pension Protection Fund, which, although it is not an insurance scheme against pension fund sponsors' insolvency, exacts a risk-based levy from all sponsors in return for this potential compensation. Any prospective buyers of indemnity insurance would need to be clear with The Pensions Regulator how such a scheme would accord with the PPF levy and other regulatory obligations.
Keating argues that the PPF should be privatised and sponsors consequently allowed to buy indemnity insurance on the open market. Others, however, see no present cause for concern. "The vast majority of FTSE 350 companies don't have a pension problem," says Clive Fortes, a partner at investment and actuarial adviser, Hymans Robertson. Among these larger quoted companies, Fortes reckons the stronger ones don't need insolvency insurance and the weaker ones can't afford it.
He points out that companies like BHS have had their credit insurance withdrawn. Meanwhile, Hymans Robertson's latest annual survey of the FTSE350 shows that the greatest pensions deficit, using 2016 data, is BAE at 35%. Fortes notes that eight years ago, when the survey was started, several funds had IAS19 deficits in excess of 100% of the sponsor's market capitalisation.
Where Fortes does see difficult times ahead and a need for the 'pain' to be shared are those sectors in terminal decline with outstanding legacy pensions.
Rife with conflicts
David McCarthy, assistant professor at the Terry School of Business in Georgia, USA and a former regulator, agrees. "Most firms with DB pension liabilities are in legacy industries, where returns have arguably been lower than they have in newer industries without these plans. So it's not obvious to me at all that there are so many hugely profitable projects going unfunded because of legacy pension liabilities. In any case, funds contributed to DB pension schemes do not disappear: they enter the financial system and are then channelled into productive investments."
PRI Pensionsgaranti's Andersson describes capital markets as being unreliable in comparison to its clients' capacity to generate good yields at low volatility in their operations. But McCarthy says the best protection to members is provided by fully funded plans invested in a diversified portfolio of assets, rather than in diversifying unfunded liabilities across small pools of similar employers. So if there is a role for insolvency insurance, it can only be at the margin. "The diversification from a liability insurance pool comprising 'Swedish manufacturers' is pretty thin gruel as far as I'm concerned," he said.
McCarthy adds that DB pensions are rife with conflicts: "Corporate management would far rather use cash to pay dividends to shareholders than to fund pension liabilities, because the first raises the share price more than the second (because the market seems to ignore pension liabilities but likes dividends). And when thinking about new projects, most managers would rather owe money to employees, over whom they have leverage, than capital markets, over which they have none. Creditors force companies into insolvency every day, but I can't think of a single company that was made insolvent by its own employees."
This brings us back to the moral hazard of pension promises on the accounting ledger. German companies have around €333bn in on-balance-sheet CTAs to date. Funding ratios for multinationals such as Commerzbank, Deutsche Bank and SAP are over 90%. Gohdes reckons that the DAX30 funding average is not far below a basket of international peers. But, he is still unaware of any German company that wants to do away with the Direktzusage.
Over the last two decades, European pension fund thinking has shifted from asset growth to liability management to sustainability. Book reserving and employer insolvency insurance are reminders that there has to be a payer behind every occupational pension promise: the economy has to be sustainable for the pension system to work.
The German and Swedish systems are not made strong by book reserving and sponsor insurance alone but by the diversity they contribute to the whole spectrum of occupational pension provision.
Footnote
1 The first was Don't Stop Believing: The State and Future of UK Occupational Pensions, Long Finance, 2011