The International Platform on Sustainable Finance (IPSF) has initiated work to compare detailed approaches to sustainable finance, in particular to classifying economic activities, among its members.
A working group co-led by the EU and China will work toward a "common ground taxonomy" to highlight commonalities between existing taxonomies of economic activities' compatibility with environmental goals.
"This Common Ground Taxonomy will enhance transparency about what is commonly green in member jurisdictions and contribute to scale up cross-border green investments significantly," said the IPSF in its first annual report.
The IPSF was founded in October 2019 by the EU and public authorities from Argentina, Canada, Chile, China, India, Kenya and Morocco, and has since gained Indonesia, New Zealand, Norway, Singapore, Switzerland and Senegal as further members.
The launch of a taxonomy-focussed working group was disclosed in connection with a one-year anniversary event held last week on the sidelines of the International Monetary Fund's annual meetings.
The IPSF also said working groups on environmental disclosures and green product standards were foreseen.
The event was also used to announce the IMF's joining the platform as an observer – "not just as a host, but to link to you durably", said IMF managing director Kristalina Georgieva.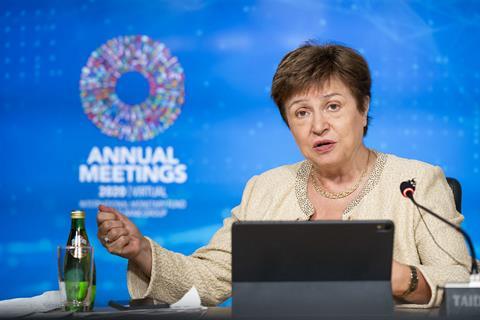 "What we offer is our knowledge of the global economy, and the work we do in support of green and sustainable growth," she added.
She highlighted standardisation and transparency on sustainable investment, and stronger disclosure standards a two actions regulators worldwide could take.
On the former she said the EU's taxonomy was an important step forward, "and now the Platform is poised to move it even further, working with China".
Disclosure requirements, meanwhile, "go hand-in-hand with taxonomies to provide the reliable, comparable, consistent information investors need and investors love," added Georgieva.
Other IPSF observers include the European Investment Bank, IOSCO, the Network for Greening the Financial System, and the OECD.
To read the digital edition of IPE's latest magazine click here.