On the brink of his retirement, Haukur Hafsteinsson can look back with a unique perspective on how Iceland's biggest pension fund built up an asset base that now amounts to about $7.5bn (€6.7bn)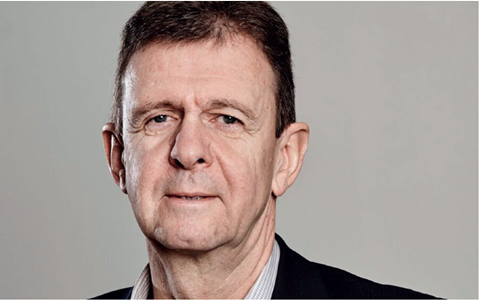 This month, the government pensions veteran bids farewell to colleagues at LSR, the Reykjavik-based pension fund for government employees, after 34 years as its chief executive.
In an interview with IPE, he casts his mind back to 1982 when he came to work at the pension fund, having just graduated in law from the University of Iceland. Hafsteinsson took his first job at the States Social Insurance Administration, which at that time handled several pension funds, including LSR.
"For the first three years, I worked as a lawyer, and then moved into the role of chief executive," he says. "The fund was much smaller then, and at that time it was mainly pay-as-you-go, although partly funded."
The biggest change that Hafsteinsson has dealt with in his career came in 1997, when the scheme closed to new members, opening a new scheme backed by the new fully-funded division that was being established. At that point, existing members were given the choice of staying in the old scheme or moving to the new one, and today, 90% of active members are in the new fully-funded system.
Staff members at LSR have more than doubled in the past 22 years, to 50 people from about 20 employees in 1997.
"When I started working at LSR, the total assets were quite small, but now they are $7.5bn. We are the biggest pension fund in Iceland and amount to 20% of the whole pension fund sector," he says.
Haukur Hafsteinsson
● Retires in June, after 37 years at Iceland's LSR, including 34 as CEO
● Biggest change in his LSR career was the 1997 introduction of a new fully-funded scheme
● He recalls the opportunities as well as challenges for funds following the 2007-08 crisis
● Pension funds adept at avoiding conflicts of interest in broad corporate ownership
Relative to the economy, the pension system is almost as large as the Netherlands' funded system, at about 160% of GDP, according to Hafsteinsson. The range of asset types LSR manages has also broadened significantly during Hafsteinsson's leadership.
"Until 1997, we only had permission to invest in Icelandic government bonds, municipal bonds and loans to members. Then, at that point, we got permission to invest in other asset classes, and to invest abroad. The biggest change for LSR was to be allowed to start investing in equities, domestic and foreign," he recalls, adding that most of the other pension funds had received the go-ahead for foreign investments in 1994.
With new asset classes came the need for new skills, and LSR resolved this partly by training those already working at the pension fund, but mainly by hiring new, experienced staff.
Putting the right new technology to work at LSR has been another type of substantial change Hafsteinsson has overseen in his years at the fund.
Then, towards the end of 2007, came the financial crisis which hit Iceland much harder than it did most other economies, and LSR and other Icelandic pension funds found themselves in its midst.
"The pension funds here in Iceland were hurt by the collapse, as were those in other countries, but it is also very much true that the funds saved parts of the Icelandic economy," he says.
"The pension funds were practically the only financial institutions in Iceland that were in a reasonable condition after the crisis, although they were badly damaged. They lost part of their assets, mainly domestic equities and corporate bonds, but they didn't lose anything on the government bond or the municipal bond side.
"Since those days, the pension funds have recovered pretty well. After the crisis there was a need for new equity in Icelandic companies that were essential to the economy, so the pension funds came in."
It was a good opportunity, he says. "You could buy equities at a cheap price, so the funds have achieved good performance since 2008. But the problem has been that after 2008 and until about two years ago, we had capital controls and in that period – a 10-year period – we didn't have permission to make new investments abroad; we couldn't buy foreign currency and only thing we could do abroad was to reallocate the foreign assets we already had."
Such has been the growth of its domestic investments, that LSR currently owns almost 10%, on average, of every listed company on the island.
"As a whole, the pension fund industry has 45% of all shares issued in listed companies. After the crisis, there were limited choices but we could invest in Icelandic assets, and at the same time, there was a need for equity. Who else could have come in with new equity?"
Now, however, this state of affairs will slowly change, with the task at hand being gradually to move more assets abroad and increase foreign allocations.
"We like to do it slowly from a risk management point of view, and we don't want to rush into the markets at current price levels – everything seems to be pretty expensive," he says. The nature of the Icelandic currency is also a factor, he says:
"The krona is a fairly small currency, so it's better to make a regular series of changes rather than moving assets in big steps," says Hafsteinsson.
The long-time LSR chief is leaving his role at the top at a time of more change for Iceland's pension funds, with work having just begun on revising the 1997 Pension Fund Act.
Hafsteinsson sees one of the main challenges facing pension funds – in Iceland as well as globally – as the decline in interest rates. "So it is harder to get returns," he says.
While concern has been voiced in Iceland that heavy pension fund ownership of businesses could threaten competition within sectors, Hafsteinsson is not worried.
"Of course we are very well aware of the potential difficulty, and you have to take care with this, but I don't really see it as a problem that we are shareholders in companies in the same market."
Iceland may be a unique country in many ways, but Hafsteinsson says that as a pension fund leader, there is still plenty of valuable insight to be gained by learning from peers overseas.
"As pension funds, we must look to see how pension funds in other countries do things and always try to learn from the be