---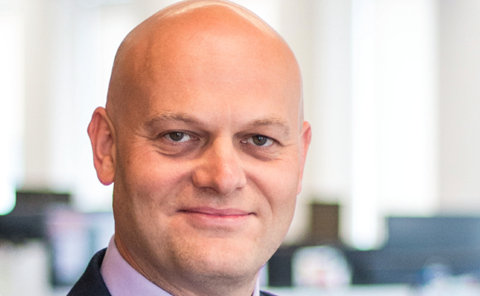 Is Julian Mund trying to please too many people as CEO of the UK's Pension & Lifetime Savings Association (PLSA)? Take the organisation's mission statement: "to help everyone achieve better income in retirement". The sentiment is fine, but the PLSA isn't a consumer organisation, so its focus has traditionally been on those who do the helping – pension trustees, sponsors and service providers – not those retiring.
And the PLSA is a service provider itself with a decent conference business, given that half of 2016's £8.2m (€9.4m) income was from event revenue. It also has a solid financial base. In 2016, its activities generated an operating surplus of £208,000, not including a top up of £154,000 to a development fund – intended to be invested in "activities outside the normal day to day work to deliver a new, broader outlook" and endowed with £1.5m in 2014.
The following year saw a £5m outlay to secure a buyout for the organisation's closed defined benefit (DB) pension scheme, but a further £5m was still held as a reserve, according to the 2016 accounts.
"Do I think while I'm chief executive of this organisation that I'm ever going to walk out of here and say, 'fantastic, job done'?" says Mund. "Absolutely not." Referring to the mission statement he adds: "It's something we aspire to do. It's something that constantly runs."
The stakes are high given that UK occupational pension assets are the largest pool of household savings (ex housing) at £1.6trn – mutual funds account for £1.2trn; cash and deposits £1.3trn. At around £1trn, PLSA member assets represent over 60% of total UK pension assets.
"We think, what are the important things for us to concentrate on over the next one, two, three, five years that are going to go towards delivering success against that as an ambition," the CEO continues.
Engaging with members will take up an increasing amount of his time, Mund says. "We have a diverse membership, and they have different wants and needs," Mund says. "They want to get different things from us as their membership body. I want to give them everything that we possibly can.
"Can we do that through providing conferences, for example? Well that does a great job and our members tell us that it does a great job. But it's not enough."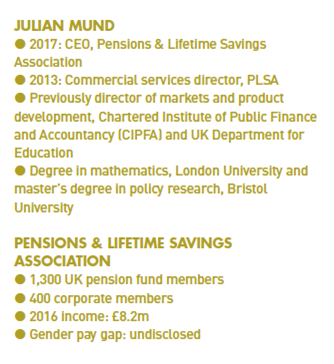 Mund, appointed in 2017 following the departure of the long-serving CEO Joanne Segars in 2016, points to the PLSA's own 'Hitting the Target' project to boost retirement income. The central tenet of a consultation, launched last October, is that the UK should adopt a series of retirement income targets. Final recommendations will be published this June.
A common perception used to be that the PLSA – the National Association of Pension Funds until a 2015 rebranding – existed to serve the needs of the UK's largest company pension schemes. Mund says: "We'd already begun trying to transform from an organisation which was viewed as being there for the big DB schemes and moving into one which was embracing DC and automatic enrolment. And we've started making that journey well.
"If you look at the outputs from the organisation, the policy areas that we work on, it's quite loaded towards the world of DC actually. If you look at the content of those programmes and who it appeals to, it's quite heavily loaded towards DC as much as DB. And how could we afford not to? Ten million people are coming in through automatic enrolment and master trusts are providing pensions for millions of savers."
Behind the scenes, the PLSA has been modernising and is changing its board structure in a process that started at last year's annual conference, when changes were made to the articles of association and memorandum of understanding. These had not been changed for many years, Mund explains: "We updated them so that they were more relevant for a modern organisation. We're continuing that process of change now."
In early January, a member consultation process finished for a further round of changes that will see a new boardroom composition of five members, instead of the current nine.
"We have to make sure we get a good spread of diverse skills and experience sitting around that table," as Mund puts it. "We took a look at best practice for organisations of this size and this scope, and this arrangement, and what would we need to be able to run effectively. Five was seen as a number that's very much in the right space." The changes will come into effect at the PLSA's annual conference this October.
Brexit is perhaps the biggest policy unknowable for the PLSA, with far reaching ramifications that could mean material changes to the quality of sponsor covenants for underfunded DB schemes, not to mention potential disruption if the asset management sector is excluded from the passporting rules of the single market, or asset market disruption if there is a disorderly break with the EU.
Outside the UK, the PLSA's fellow members of PensionsEurope – the Brussels based umbrella organisation for occupational pensions – could be forgiven for feeling nervous about the PLSA's future commitment to the European body.
Mund, as a PensionsEurope board member, is happy to set the record straight: "We're a member of PensionsEurope, we remain committed to Pensions Europe." The European body itself is in the midst of a review of its own activities, he points out, to which the PLSA is actively participating. "We have an ongoing series of discussions about how best to position PensionsEurope for the future. What should it be looking to do as an organisation? What should it focus and prioritise on? When I look at the policy issues that they're dealing with, it's vast."
One practicality is that PensionsEurope may have to change its constitution to accommodate the PLSA, a founding member, as the current one limits membership to organisations in the EU, EFTA and the EEA.
For PensionsEurope and its other members, a key question may be whether the PLSA will continue to underwrite its current annual financial commitment of around €100,000. For the PLSA board and Mund as chief executive, the wider challenge of staying relevant and effective as a policy-focused member organisation with an effective service delivery arm will be enough of a challenge.