The new Swiss actuarial consultancy Prevanto is upfront about its origins. One of its managing directors, Stephan Wyss, talks to Barbara Ottawa
At a glance
• The minimum interest rate was recently cut to an all-time low in nominal terms but it remains high in real terms.
• Stephan Wyss, managing director, Prevanto, says this new rate should not pose a problem.
• Prevanto was created in a friendly management buyout from Swisscanto.
In October the Swiss government, the Bundesrat, made news when it accepted a key recommendation made by the commission for changes to the second pillar. The 'BVG-Kommission' recommended the Bundesrat cut the minimum interest rate that has to be granted in the mandatory system to an all-time low of 1.25% from 2016.
But Stephan Wyss, managing director at the newly formed Swiss consultancy Prevanto, says this "historically low rate" – as the newspapers branded it – should not pose a problem.
"It is actually still very high in real terms given the negative inflation rate," he says. For 2015, the Swiss statistics authority forecasts an inflation rate below -1%, with a slight increase to +0.1% next year.
Wyss points out that it was "difficult to make people see the real rate instead of the nominal one". In the 1990s, when the minimum rate in the second pillar was still 4%, the inflation rate was above 6% – "and everybody seemed to be happy with a negative real rate". Therefore, he argues, "the current rate is not as low as it seems at first glance".
This skewed perception is not only a problem when dealing with the public and with pension fund members, but also when trying to convince them of necessary adjustments to the technical parameters.
And he warns Pensionskassen "will struggle even with the reduced rate", which according to the consultant is "not sustainable over the long run – being over 2% in real terms". Many of his competitors agree (see panel).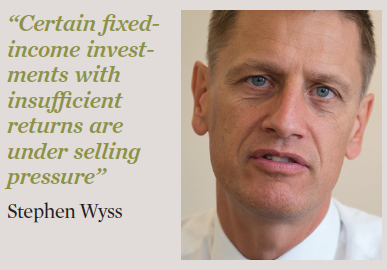 "Half of the investments in the portfolios are in fixed income and they return 0%. The rest has to come from other asset classes," says Wyss. But he is not a fan of an overhaul of the investment strategy in times when "a parallel shift of returns has taken place over all types of investments.
"Of course, individual opportunities have to be looked at and certain fixed-income investments with insufficient returns are under selling pressure," says Wyss. He confirms that foreign real estate and infrastructure are investments that are "increasingly being looked at".
But he says the alarming number of investment foundations for these themes "which are almost created on a monthly basis" is a "sure sign of overheating".
Wyss says: "Simply increasing the volatility by replacing bonds is not the best thing to do as the danger of underfunding might become real when volatility shows its ugly face." He also says that although Swiss government bonds "have been declared dead several times now", they have performed well this year. This can mostly be attributed to the removal of the Swiss franc's peg to the euro.
Swisscanto restructured
Wyss is one of three managing directors at Prevanto: Michèle Mottu Stella runs the business in Lausanne and Patrick Spuhler the business in Basel. Wyss remains in Zurich in the same office building as the pension administration business of Swisscanto. This helps the two groups maintain a relationship. For example, Prevanto will support Swisscanto in its annual pension fund study. They also continue to consult existing clients of both firms "but as legally separate entities".
The independent consultancy was created in a management buyout from Swisscanto, with the consultancy team creating a separate entity. Little more than 30 people are now working across the three Prevanto offices. But, Wyss emphasises, "we do not want to cover up our origins" – hence the identical last part of the names Swisscanto and Prevanto. 'Prev' was derived from the French word for retirement provision "prevoyance".
When the Zurich Kantonalbank (ZKB) finalised its purchase of Swisscanto in March, it immediately started the process of creating an independent consultancy business to separate it from the asset management focus at the ZKB.
Wyss says that an MBO was the preferred option for ZKB but if no deal had been agreed, they would have put it up for sale.
Swiss Pensionskassen can now choose from a wider range of consultancies, and Wyss admits that Prevanto will have to start making its name better known. He explains what differentiates the new player on the market from its competitors. "We are a completely independent actuarial consultant, purely Swiss, a big player, with extremely long experience of actuaries in a strong team."
Having previously been Swisscanto, the new consultancy has a great deal of experience with public pension funds and it can offer a full range of consulting services, including funding, accounting, asset-liability management and manager search.
Further cuts necessary
As for the bigger pensions picture, Wyss is realistic about the political limits for certain changes. "A later retirement age is still taboo, and so is a further cut in the legal minimum conversion rate, although even the authorities agree that lowering it to 6% is not enough."
So it is up to the Swiss Pensionskassen to further amend their technical parameters. The pension fund for the canton of Zurich has been the first to go below the 5% threshold with its conversion rate to 4.87%.
Wyss confirms from today's perspective this cut put the technical parameters "to the correct level" but it was also putting an extreme strain on BVK's funding level – now below 90%.
And according to the consultant, the perception of the funding level is just as skewed among trustees and members as that of the interest rate. "People do not understand why pension funds with a funding level of over 100% should not increase pension payouts right away but instead increase their buffers."
Wyss says pension funds have amended their technical parameters cautiously over the last few years as they were hoping for an increase in interest rates. Now that the opposite has happened, they are forced to make further cuts. But the problem is that "Pensionskassen are like sailors looking back at the nice weather while in front of them a storm is brewing," Wyss says.
Swiss consultants on higher returns
The questions most often put to consultants by Swiss Pensionskassen today are how to set technical specifications correctly and how to generate higher returns. This was confirmed in a quick survey of five Swiss consultancies.
Heinz Rothacher, managing director at State Street's Complementa, says the solution involves looking at the asset as well as the liability side.
Peter Zanella, managing director at the Swiss branch of Towers Watson, agrees that sustainable long-term financing can only be achieved by checking for necessary adjustments to the investment strategy. In addition, technical factors should be examined including the possible increase in contributions from employees and employers.
Mercer Switzerland, which will get an addition to its team from next year when André Tapernoux, currently head of risk management at the OAK supervisor, joins, mentions two particular questions from clients: de-risking and the introduction of so-called 1e-plans. The latter are named after paragraph 1e of the BVV2 pension fund investment regulations. It allows pension funds to offer individual risk choices to members and with it introduces a real defined contribution element to the Swiss second pillar.
Ueli Mettler, partner at c-alm, points out the "war for the basis point" has to be addressed on all levels. One approach is "index-tailoring in the traditional classes" to enhance returns as "the application of broad market-based asset class benchmark may not return sufficient yields anymore".
He emphasises new or alternative asset classes "may provide additional sources of return" and adds "illiquidity is not a major issue for a pension fund" given the long duration of its liabilities.
The real problem is a lack of transparency. Finally, Mettler points out the importance of cost and tax-efficient solutions to maximise returns.
Pensions in Switzerland: Retirement reform revisited
1

2

3

4

5

Currently reading

Interview: Stephen Wyss - Prevanto

6