Ten Weeks into COVID-19: Psyche, Money and Narratives: An interpretation of the crisis, Pascal Blanqué, Economica, 2021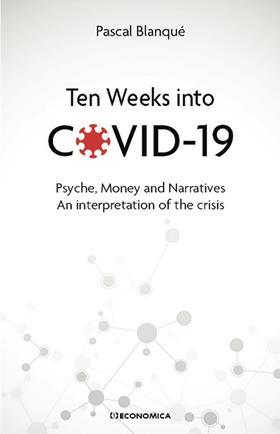 Amin Rajan: Your latest book records the way in which your thinking evolved during the first 10 weeks of the pandemic. What inspired you to write about this specific limited time window?
Pascal Blanqué: For me, COVID-19 offered a unique opportunity to observe the simultaneous evolution of three intertwined events that no market practitioner had ever experienced: the virus cycle; the financial market cycle; and the economic cycle. They reinforced my long-held belief in the key role played by investor psychology and memory in the formation of market expectations that ultimately drive price action.
The history of markets shows that crises are moments of brutal memory eruption; COVID-19 was no exception. They are followed by conflicting narratives that go viral. At some point, a new equilibrium, or consensus, emerges. Risk premia are part of this dynamic as markets react to the newly emerging – and mostly competitive – perceptions of the world.
AR: What lessons are learned about crisis management when a fat-tailed event like COVID-19 occurs?
PB: The crisis underscored the importance of three key elements of investment wisdom: the agility that helps to remodulate risk exposure as reality unfolds; hedging strategies that help to 'cut the tail' to protect portfolios in extreme circumstances; and liquidity management that helps you profit from new opportunities during the darkest days of the crisis.
AR: So take us through the sequence you observed after the crisis erupted.
PB: When COVID-19 first broke out in China, it evoked memories of the SARS epidemic of 2002. Markets remained unconcerned in early 2020, but all hell let loose when the coronavirus went global. For the first time in modern history, western democracies had to apply extreme and previously unthinkable restrictive measures. France entered lockdown on 13 March 2020 when I began my 10-week observation period.
AR: How did you view the market reaction at the time?
PB: The shock to markets was just as palpable: liquidity dried up and caused the fastest ever sell-off of risky assets in history. It evoked images of a wartime economy with huge disruptions to productive capacity, a slump in earnings, defaults and the collapse of the job market.
Unsurprisingly, central banks restarted massive easing policies through balance-sheet expansion, pushing the purchase of securities well beyond traditional limits. This was most evident when the US Federal Reserve started purchasing high-yield bonds and ETFs as a last-ditch attempt to prevent the liquidity crisis morphing into a global solvency crisis.
This 'whatever-it-takes' approach soon caused a tipping point for financial markets, and the new 'day after' narratives – positive and negative – began to replace the war imagery.
AR: What were these narratives and which one matters most?
PB: Today, most economies are still in the recovery phase, with significantly higher unemployment. A high proportion of zombie companies are only surviving thanks to fiscal and monetary support. Global debt is now 360% of GDP, 40% higher than at the end of 2019.
Meanwhile, risky assets are at historical highs, with most areas of exuberance fuelled by an excess of liquidity in the system. Hence, today's key issues for pension funds are whether these levels are justified and how they can adapt their portfolio to the post-COVID-19 world.
Unfortunately, there are no easy answers. I can only offer four competing narratives to guide decisions. The monetary narrative anticipates that central bank mandates will evolve from keeping inflation under control to ensuring that ultra-low rates become the new normal until unemployment comes down to acceptable levels.
The secular stagnation narrative anticipates that, after the sugar-rush from policy stimulus, the global economy will revert to its low-inflation/low-growth funk, as has been the case since the GFC.
The stagflation narrative anticipates a return of the stagnant growth and high inflation last seen in the 1970s. This worst-of-both-worlds scenario could well be the main consequence of a number of current forces such as over-expansionary policy measures, deglobalisation, supply chain disruption, commodity cycles, and a rebalancing between labour and capital that will involve higher wages and taxes.
The 'Roaring 20s' narrative anticipates a technological revolution that will re-shape existing business models and financial markets.
So if we look at current asset prices, the secular stagnation narrative is the only one that can justify stretched bond valuations, otherwise we should assume that yields will rise further. In contrast, the 'roaring 20s' narrative is the only one that can justify the current overstretched equity valuations boosted by rising corporate earnings and productivity – as experienced at the beginning of the last century. If this is not the case, a pause in equity growth should be expected at some point. Both bonds and equities are very expensive relative to their real fundamentals like inflation and earnings.
AR: What macro regime is most likely to emerge in your view?
PB: The most likely scenario is that a new mandate will be given to central banks, as happened in the late 1970s. Fiscal and monetary policies might be pushed to extremes, as implied by Modern Monetary Theory. Central banks sharing the same goals, central banks could well lose their independence. That means inflation will no longer be their top concern: rising inflation will become necessary to deal with skyrocketing debt. For the first time in decades, there is a desire for inflation in policy circles, even though central banks will downplay it.
If my analysis is correct, we will be moving away from the era of 'Great Moderation', driven by rules-based monetary and fiscal regimes. Some may believe they will wake up in the 1930s, but I think it's more likely to be in the 1970s. The de-anchoring of the system will come at some point and this will rattle financial markets.
AR: Going forward, what should pension investors consider doing?
PB: They should rethink their traditional 60/40 portfolio for two reasons.
The performance contribution from fixed income is likely to be much lower; we cannot expect stellar performances from equity either – unless we buy into the 'Roaring 20s' narrative, which I don't. Another reason is that we may also see the bond/equity correlation turning positive amid rising inflation and volatility in contrast to pre-pandemic levels.
Investors should increase equity exposure and build more diversified portfolios beyond traditional benchmark allocation; including real, alternative and higher-yielding assets like EM bonds. However, on the dark side, portfolio construction will become more complex and investors have to consider three dimensions – risk, return and liquidity. In this situation, bonds are no longer the best diversifiers of a global portfolio, as most commonly used benchmarks have duration problems. A small yield increase can translate into big capital losses.
Investors should also move away from static/benchmark-constrained strategies and look for value in unconstrained strategies via opportunities across the board. In this new world, core bonds will be relevant only for liquidity purposes.
In equities, the current rotation from growth to value is a multi-year trend. We are at an early stage of it: higher inflation, the commodity cycle and higher rates all bode well for the 'value revenge'.
AR: What are the overriding messages from your reflections?
PB: The global economy will not snap back into its old form: this is nothing like a normal business cycle.
We have no idea about the scale of scarring on the productive capacity of the global economy. Nor can we rely on a formulaic approach to diversification and mean reversion. Narratives, more than fundamentals, will drive price action in the financial markets.
Pascal Blanqué is group CIO at Amundi Asset Management and Amin Rajan is CEO of CREATE-Research. Both are members of The 300 Club