Christian Boehm, who stepped down as CEO of the Austrian Pensionskasse APK at the end of June, wasn't expecting to retire in a year of seismic changes. He has spent his final months as CEO not only witnessing at first hand how the investment approaches of pension funds are rapidly changing, but also observing the wider effects of the war in Ukraine.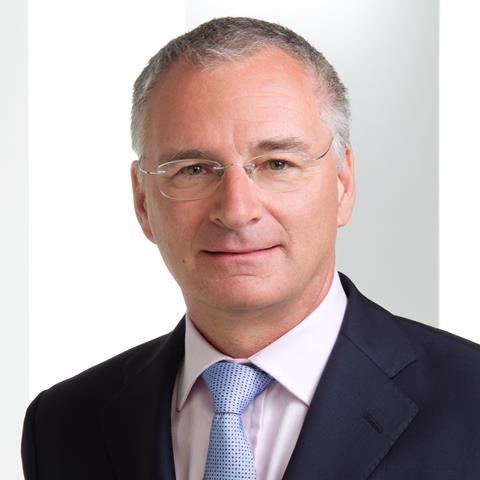 "It has been a difficult year," Boehm tells IPE, with understatement.
"We think that diversification still works but not as much as in the past. Recent developments in the market show something that is completely different from what I have seen in my career."
Normally, if equities go through a correction there is a positive impact on the bond portfolio and vice versa, which is not the case now. The urgent need is to find asset classes uncorrelated to the current environment.
When it started at the end of 1989, APK invested heavily in bonds – Austrian government debt with high nominal interest and real rates. It shifted gradually to equities and by the end of the last century, equity exposure was quite high.
"Due to extremely high equity prices, we took gains out of the portfolio as some equities were overvalued," Boehm recalls. "Now our portfolio is no longer invested primarily in government bonds; most of the bond portfolio is invested in the corporate space from investment grade up to high yield."
Christian Boehm
2002-22: CEO, APK Pensionskasse
2003-22: Board member, PensionsEurope;
2002-22: Vice-chair, Austrian Association of Occupational Pension Funds
1989-22: Executive board member, APK Pensionskasse
That was completely out of scope when Boehm started his career, as it was unnecessary to take such risk.
Boehm's lessons: valuations and don't diversify
APK also now also has a higher share of assets invested in private markets, from private equity to private debt – a necessary step as growth on the public equity markets has slowed. Moreover, public markets tend to overreact to negative and positive situations, while private equity is less volatile.
"So the two rules that I have learned from the past and that are still important now are: look at valuations and try to diversify the portfolio properly but do not over-diversify. Otherwise you are investing in companies or countries where you would not normally put your money."
The years 2000-02 and 2008-09 were periods of extended crisis. Boehm underlines two main differences between the current situation and the crises he has experienced in the past.
"The starting point recently has been an extremely low interest rate environment and therefore the sensitivity of rising interest rates in the bond portfolios is higher than we had in the past.
"In the past we initially had higher protection from existing yields; now the starting point is zero and therefore the sensitivity is extremely high."
The second point that makes the current period a break from the past is that inflation has been rising surprisingly quickly.
Russia's invasion of Ukraine has inflicted huge destruction on the infrastructure of the country. "Unfortunately, it does not look like there is much chance of the war ending soon, so there is a lot of uncertainty as to how the conflict will continue," Boehm comments.
But investors must hope and prepare for the fact that Ukraine one day will be rebuilt. "The damage that has already been done in Ukraine, with a huge loss of infrastructure, buildings and human lives is difficult to recall in the recent past.
"Financial crises can be toxic, but without material destruction, buildings being destroyed or human beings being killed. This is really a completely different situation and I hope it will end," Boehm says.
In other conflicts – for example in Syria or in Iraq, damage was also inflicted. Similarities emerge between Syrian cities and Mariupol for the destruction caused but the conflict in Ukraine is changing the attitude of countries and their policies in Europe. "It is, for example, a new situation in the energy sectors. It is a complete game changer."
Away from globalisation
Then there is the trend towards de-globalisation. "We need a global set-up where we have a good division of labour across countries. The conflict has also damaged the creed of growth and peace that is linked to globalisation."
Europe is cutting off ties with Russia that, among other things, has not progressed human rights and democracy. In Austria, for example, the dialogue with Russia was considered a path for peace, but this policy has not worked as expected, and it won't change in the future, Boehm says.
Europe is also taking steps to become independent from Russia's energy industry. For Boehm, the argument that independence from Russian energy sources will inevitably lead to renewables is valid, but the transition will take time.
"Europe will have to gain its independence from Russian oil and gas, but we have to acknowledge that Europe will still have to import energy. It is impossible that Europe will be independent in a short period of time."
Asset managers and investors know that the reality is complicated. Hydrogen is an option but needs infrastructure and a lot of research. "This will take quite some time and the transition will be expensive."
Pensionskassen are contributing as long-term investors with sustainable investments. But, on the other hand, it is not the right of politicians to force investors to finance the transition, according to Boehm.
"We have to look primarily at the interests of our members and to see if investments have yields or returns in the end and to look at the best risk-return ratio."
The costs of the transition cannot be offloaded to pension institutions, but countries that have funded occupational pension systems are better prepared to finance the transition to renewables, while those countries that do not have enough money for investments will struggle.
"The transition, therefore, may have different speeds in different countries, with countries with a bigger occupational pension system having an advantage over others," he says.
For the past 19 years, Boehm has served as a board member of PensionsEurope and since 2002 has been a board member and vice-chair of the Austrian Association of Occupational Pension Funds.
As he passes the baton to a new generation, APK will not appoint a new CEO. Instead, it decided to share responsibilities among different members of the board.
New board members include Manfred Brenner, who is taking over the role of CIO, and Beate Wolf, who becomes chief risk officer. They face significant challenges this year and beyond.

Luigi is IPE's Berlin-based DACH correspondent. His coverage includes regulation and the latest pensions and investments trends, and, being a native Italian, he also covers Italy's pensions market. He has reported from Italy and Germany on international politics and business for European and US publications including USA Today, Bloomberg BNA and for the investigative magazine L'Espresso. He was previously Germany correspondent for Mergermarket covering M&A.
View full Profile