Ivonne Forno, former CEO of Laborfonds, reflects on her experience of building one of Italy's most successful pension institutions
In the northern Italian region of Trentino-South Tyrol, 54.9% of the labour force is covered by a second-pillar pension fund. The region has the highest level of participation in Italy's second-pillar pension system and compares with a national average of 33%. As things stand, on average, workers in Trentino-South Tyrol are likely to experience a significantly more comfortable retirement than their counterparts in other regions. This has important positive ramifications for the regional economy.
The region achieved this record partly thanks to the forward-looking and far-reaching project known as PensPlan. It was launched in 1997 by the regional government as an institution whose sole mission is promoting second-pillar pensions. In Italy's constitution, the region enjoys a special status that grants it greater autonomy from the central government, and PensPlan is a result of that.
PensPlan led to the establishment of Laborfonds, the multi-sector defined contribution (DC) regional pension fund, back in the year 2000. Two decades later, Laborfonds has more than 128,000 members and over €3.4bn of assets. It is one of the country's most internationally-recognised pension institutions, and is among the first pension funds in Italy to venture into alternative assets, including private equity and private debt. It supports the domestic economy through significant investment in real assets.
Ivonne Forno, who served as CEO of Laborfonds from 2015 until May, was instrumental in shaping Laborfonds into a modern institutional investor. After training in law and finance and starting her career in the asset management industry, Forno joined the fund in 2009 as a legal adviser and became deputy director in and CIO in 2011. She has now taken a break from work for health reasons but has left Laborfunds in excellent shape.
The institution's first investments in private markets, particularly those into domestic real assets, are perhaps seen as Forno's biggest achievements. But she says that some of her proudest and most rewarding work, both from a professional and personal perspective, was expanding the reach of the pension fund throughout the region's labour force, and increasing membership as a result.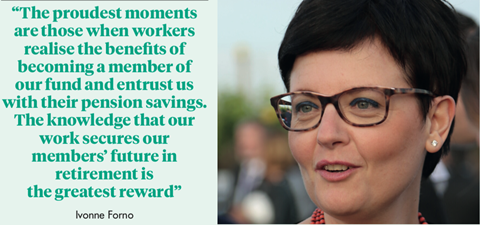 This work involved countless face-to-face presentations with workers from all kinds of companies based in the region.
"Especially during the first years of my leadership, I had the chance to meet workers in a variety of contexts, given the multi-sector nature of the fund. From nurses to agricultural workers, I gained a view of the cross-section of the region's economy. In every context, my colleagues and I were able to perceive the usefulness of our work," says Forno.
"The proudest moments are those when workers realise the benefits of becoming a member of our fund and entrust us with their pension savings. The knowledge that our work secures our members' future in retirement is the greatest reward."
Under Forno's leadership, Laborfonds has paid particular attention to under-represented categories in second-pillar pension funds – women and the young cohorts of workers. Both categories are at high risk of hardship in retirement if the level of public pension benefits continues on its downward path.
As a result of Forno's efforts, in 2017 women overtook men among Laborfonds's membership. That is a unique case within the landscape of Italian DC pension funds.
"Thanks to our communication strategy, not only we have increased membership, but we have also created a more loyal community of members who are keen to show the benefits of membership to workers who are yet to join the fund," says Forno.
The significance of these efforts is perhaps greater than the fund's growing investment capabilities. But building a robust and diversified investment strategy that delivers tangible results was always a key component of Laborfonds's mission. Being able to report good returns, after all, helps build members' loyalty.
In the liquid space, Laborfonds has been performing well. Its 'Dynamic' sub-fund, which invests primarily in equities, registered a net return of 9.93% during 2020.
However, Forno emphasises the fund's achievements in the alternatives sector. "We were among the first, within second-pillar DC funds, to invest in alternative assets. We managed to create a diversified portfolio of real assets and built synergies with local authorities, so that part of the investments would be directed towards the local economy", says Forno.
As part of its direct allocation to alternative investment funds, Laborfonds has invested into private equity, private debt, infrastructure and social housing. More recently, the fund has joined the initiative launched by Assofondipensione, Italy's industry-wide pension fund association, and Cassa Depositi e Prestiti (CDP), the state-owned investment bank. The two players set up a series of fund-of-funds vehicles aimed at industry-wide funds that invest in private equity, private debt and infrastructure.
To kick start its alternatives allocation, Laborfonds had to build sufficient internal due diligence and risk management capacity. Partly thanks to Forno's legal expertise, the fund was able to structure robust contractual agreements with its fund managers that foresaw strong reporting, above what is required by law. From a governance perspective, the challenge was agreeing on Laborfonds's participation within the funds' investment and advisory committees.
No doubt, this experience paved the way for other Italian industry-wide pension funds to build their own alternative portfolios.
"We have come a long way, but there is plenty more to do. There is an urgency to develop the competencies and clearly define the responsibilities of pension funds' boards of directors. That is required if pension funds are to continue to invest directly into alternative funds," says Forno.
The process is being aided in no small part by the recent regulatory developments, particularly IORP II. But, as Forno says, every pension fund's journey will be different.
The industry as a whole needs a "cultural upgrade", according to Forno. She refers to the tendency of Italian pension funds to prefer low-cost investment management solutions. "If we want to provide our members with a quality service, we need to buy it.
She suggests that some funds may want to decide to heed the call of COVIP, the country's pension industry regulator, and merge to achieve greater scale.
That could also be achieved by increasing the coverage of the second-pillar system. "Further educational initiatives would help achieve that objective, but perhaps policymakers should think about automatic enrolment initiatives, even temporary ones," Forno says.
Forno's experience suggests that individual responsibility and leadership should be combined with a willingness to form strong partnerships with other actors.
She says: "What has made a difference in Laborfonds's experience was the ability to find synergies with all the stakeholders involved, from the regional government to the local business community. A collaborative spirit is necessary if we want to develop the second-pillar pension system further."
Country Report: Pensions in Italy
1

2

3

Currently reading

Exit interview: Ivonne Forno

4

5