Polder in the Netherlands is the low-lying land reclaimed from the sea. By extension, it also refers to the highly developed social contract system between politics, business and labour.
Typically, the protagonists settle their differences through sometimes protracted negotiations within the numerous institutions set up to manage the compromise that such consensus-seeking requires. Indeed, that whole process has given rise to a verb – polderen – 'to polder'.
So when Peter Borgdorff, who has just retired as director of the PFZW social care sector pension fund, tells IPE he sought a job "in the polder" at the beginning of the 2000s, he means he was looking to work at the heart of the Dutch society.
That he eventually landed a job in pensions, heading the VB – the then representative body for industry-wide pension funds – came as a surprise to him and his family.
But if he was looking for a quiet life in pensions policy he didn't find it: a regulatory intervention on pension reserves just six weeks after he started meant Borgdorff was required to appear on Dutch TV, which he did in a typically direct style – "perhaps too blunt", he recalls.
The collapse of the internet bubble in the early 2000s and its effect on the coverage ratios of pension funds saw that pensions remained in the public spotlight. This was no dull policy backwater in The Hague.
Peter Borgdorff
Peter Borgdorff was director and head of the Dutch PFZW pension fund from 2008-2020 and previously head of the VB, the representative body for Dutch sector pension funds, which has since merged to form Pensioenfederatie. The recipient of IPE's Pension Personality of the Year Award in 2013 and of the Lifetime Achievement Award in 2020, Borgdorff retired at the end of 2020.
As a non-specialist in pensions, Borgdorff has felt the need to both understand and communicate. "It was so interesting for me to understand what was happening and perhaps more interesting was to explain it to the people working and living in the Netherlands: what it meant for them, and what it means for them," Borgdorff told IPE.
At the VB, Borgdorff cemented his reputation for plain talking. But that role, which he described once in an IPE interview as a "lifeguard without a swimming pool" was by definition one step removed from the day-to-day running of a pension fund.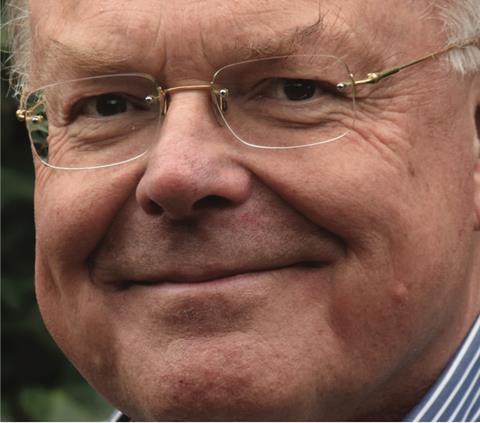 So when an internal restructuring of the ABP and PGGM pension funds took place in the late 2000s, separating the pension fund entities from the investment and administration, Borgdorff got the chance to head a renamed PFZW, running a slimmed down executive office from 2008 until his retirement. In late 2020 PFZW had assets of €240bn and a membership of about 3 million.
Over the past 10 years, Borgdorff has written over 500 editions of his 'Borgblog', which regularly appeared on the PFZW website. It frequently covered personal issues, like his orthopaedic surgery, and the arrival of grandchildren, as well as explaining pension reform.
"Because I wasn't the specialist, all the specialists had to explain to me how it works," He recalls. "And I think that was my advantage, because they had to explain it to me as a non expert. And when I explained it to the rest of our population, it wasn't an expert speaking, it was just somebody who was interested in the common interest of our participants."
Like many Dutch pension funds, PFZW's coverage ratio has hovered around 90% in recent years, and for regulatory reasons it has been unable to pay indexation on pensions for around a decade. So communication has inevitably involved explaining the slow erosion of the purchasing power of pensions.
"You can't be proud of such an achievement, of course. And it's really my biggest worry," says Borgdorff, "because I believe people should be able to keep their living standard after retirement, compared with periods when they work. And if you can't keep indexation, you are not able to keep the same living standard." In retrospect, 2008's collective decision not to increase hedging, when the coverage ratio was 148%, seems like a missed opportunity.
As director of PFZW, Borgdorff ran an efficient executive office; he was neither chair of the scheme nor CEO of the in-house PGGM asset management and administration entity. He was the public face of the scheme, but also played a role in shaping PFZW's investment strategy, particularly in responsible and sustainable investment, and to align it with the values and long-term interests of the members.
What advice does he have for his successor, John Landman? "Start to have contact with a lot of people," Borgdorff says. "I advised him, don't participate in all the commissions and the working groups. Don't do this!
"Start with the people in the office, the board of the pension fund, the people working at PGGM. And then go into the world and meet people you work for and who you work with. Then you have a good relationship with these people. They know what you are doing, you know what they are doing. And then you can start other activities."
As he hands over to Landman, Borgdorff can take comfort that he will not have to handle the transition to the planned collective defined contribution system. He now looks forward to concentrating on his passions – including gardening, cooking, drumming and, latterly, piano lessons. He will continue as non-executive chair of Kas Bank and as a lecturer at Nyenrode Business School.
Borgdorff will also join the supervisory boards of ANBO, an organisation representing elderly people, and of Bartiméus, a charity for blind people.
In typically direct style, and referring to the care workers who make up most of PFZW's membership, Borgdorff wrote in IPE in 2008: "When I think of the destination of this money, I think of the woman who cycles from house to house and cleans someone's bottom."
That clarity and focus on the mission and purpose of PFZW as a not-for-profit pension fund seems as relevant now as it has ever been.