Lars Lindblom (pictured), global fixed-income manager at the second Swedish buffer fund, talks to Carlo Svaluto Moreolo about the fund's evolving green bond investment strategy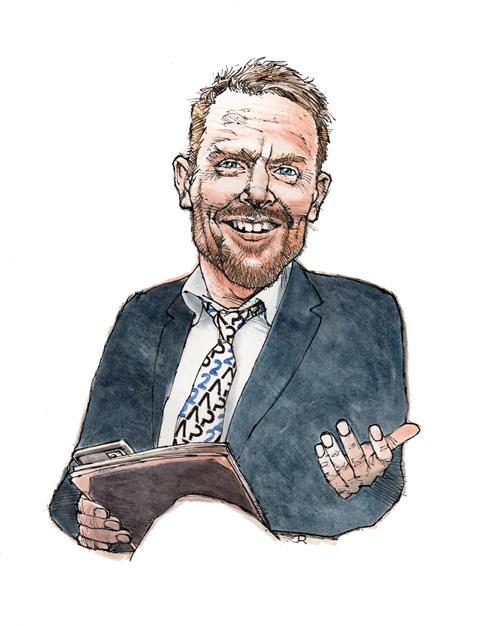 The green bond market set another record in 2019, as issuance rose 51% to $257.7bn (€230bn) from the previous year, according to the Climate Bonds Initiative. The organisation forecasts issuance of between $350bn and $400bn for this year. The figure could turn out significantly lower owing to the uncertainty caused by the coronavirus pandemic. But the general trend is one of long-term growth, as green bonds become a mainstream instrument for pursuing responsible investing objectives.
Issuance exploded in 2016, thanks to strong demand from investors, as well as favourable conditions for borrowers. But the market has existed since 2008, when the World Bank issued the first green bond. Among the first investors in this market was Andra AP-fonden (AP2), Sweden's second buffer fund. Over the years, the fund has become one of the most active investors in the green bond market.
The fund's commitment to this asset class has to be viewed in the context of its investment beliefs. AP2 says that "sustainability pays off" and that "climate change is a systemic risk". The fund's 2019 annual report states: "An important element of the fund's mission is to promote sustainable development, but without compromising the overall goal. The strategic portfolio comprises investments that contribute directly to sustainable development."
That is why AP2 has gradually established a dedicated green bond portfolio. Today, the portfolio is managed by Lars Lindblom, who has been with AP2 since the beginning of his career in 2001, when the fund was established. He has managed AP2's fixed income assets since 2011, but his focus is now solely on green bonds and ESG issues. Lindblom has worked with the Swedish government to promote green bonds and serves on the advisory board of the Yale Initiative on Sustainable Finance.
Lindblom recounts: "In the beginning, green bonds were part of our active fixed-income mandate. In the early stages, we saw that SSAs [sovereign, supranationals and agencies] were becoming quite active in this market. These organisations had the resources to identify and execute projects aimed at climate mitigation and other environmental objectives."
"It soon became clear to us that by investing in green bonds issued by these entities we could bring transparency to our portfolio in terms of its environmental aspects and also source capital for climate-mitigation projects," says Lindblom.
As the market matured, AP2 raised the stakes. Lindblom says: "The portfolio has been growing gradually. We had a few names prior to 2014, but then issuance increased, and in 2016 green bonds were identified as a strategic asset class for AP2, which means that we set a target allocation."
The target allocation was subsequently raised from 1% in 2016 to 3% in 2019. This equated to exposure worth SEK11bn (€1bn) at the end of last year, according to AP2's 2019 annual report.
The portfolio is managed against a customised version of the Bloomberg Barclays MSCI Global Green Bond index. The actual exposure at the end of last year was 2.8% of assets, or SEK10.7bn. The portfolio returned 11.1% in 2019 on an absolute level, compared with a return of 4.7% in 2018, and was slightly below the benchmark's return.
"An important element of the fund's mission is to promote sustainable development, but without compromising the overall goal. The strategic portfolio comprises investments that contribute directly to sustainable development"
The mandate, says Lindblom, is actively managed. This means that AP2 is active both in the primary and secondary market and takes into account the fundamentals of each issue. But AP2 is a long-term investor and the portfolio is managed on that basis.
Investors no longer enjoy the premium that was once attached to green bonds before the market became larger. However, the market has not disappointed in terms of growth, according to Lindblom.
But for green bond investors, it is key to see issuance grow further. Lindblom says: "So far it has grown in a way that we would have forecast. There is enough paper for us to build a diversified portfolio, both in terms of types of issuers and from a geographical perspective. But we also forecast further growth of issuance by corporates and from outside of Europe."
"It is important for us to see continued issuance by SSAs and development banks, which have been the backbone of the market. But obviously, for the market to keep on growing we need to see more sovereign names and corporate issuers."
As the market grows, so does its potential to drive the greening of the economy. However, Lindblom notes that there is still much work to do to improve how issuers and bondholders report on the use of proceeds from green bond issues.
Linblom says: "Green bonds are an example for the entire fixed-income market. It prompts issuers to become more transparent, which allows bondholders to have deeper, more thorough discussions on sustainability issues.
"It also places a lot of responsibility on us as investors in terms of how we use the reports that issuers provide."
AP2 has been directly engaged in improving reporting standards. Between 2017 and 2018, Lindblom took part in an inquiry led by the Swedish government on how to promote the green bond market. The inquiry led to the government's decision to issue a green bond this year.
"With the growth of our portfolio, we have collected a lot of reports by issuers. For the past two years we have made an effort to aggregate the reports, in order to present our stakeholders with a clear picture of what our portfolio actually achieves."
A global climate mitigation effort
AP2's green bond portfolio has financed a variety of projects focused on climate mitigation around the globe, including:
• Jaipur Metro Rail Line, India:
A 2.3km extension the underground railway from Chandpole to Badi Chopar, to expand public transport capacity
•Coral ecosystem protection, Indonesia: Creation of a protected area of 1.4m hectares, reduction of harmful fishing and support to surrounding fishing communities.
•Efficient water consumption, Morocco. National programme involving the expansion of irrigation systems, across an area of 26,000 hectares and 10,250 farms divided between the Oum Rbia and Loukko water basins.
• Electricity efficiency programme, Mexico: Reduction of energy consumption for household appliances and lighting through increased use of efficient technology. Reduces emissions by 3.3m tonnes of CO₂ equivalents and cuts energy consumption by 50-60%.
• Mocuba Solar, Mozambique:
Solar power plant producing 77 GWh of electricity per year and supplying 65,000 customers while cutting CO2 emissions by 14,800 tonnes.
•Högåsskolan school, Sweden:
Located in Knivsta, it is the first school in Sweden in a 'passive' building, with heating provided by the energy produced in the building. Accommodates 540 students.
The problem is not that the industry lacks reporting capacity. Large issuers, like sovereigns and SSAs have the resources to produce good reporting, and the quality is already high. The problem, of course, is standardisation, argues Lindblom.
"Aggregating reports is hard work. As soon as you start doing it, you realise that the reports are very different in standards. We need a more efficient way to bring more transparency to the portfolio, so that we can discuss with issuers how they intend to invest the proceeds," Lindblom says.
"Thankfully, we see a lot of development in this area. We have seen initiatives both from issuers and bondholders. The 2017 Position Paper on Green Bond Impact Reporting by a group of Nordic issuers was a particularly welcome development. We think it is very positive when groups of issuers come together and agree on a standard.
"With investor-led initiatives, there is a risk that every investor adds their flavour to the reporting framework, which can be troublesome for issuers – for instance, if they are asked to report on a large range of different key performance indicators [KPIs]."
From this perspective, the European Union's taxonomy for sustainable activities can be viewed as a positive development, according to Lindblom.
"We expect that it will help the market become more mature. It should raise interest in sustainability as a whole. It could drive the development of a framework around the UN's Sustainable Development Goals [SDGs] and foster collaboration among industry actors aimed at improving reporting," he says.
The ultimate result would be more issuance of green bonds and green fixed-income, especially since the demand from investors is increasing, as is interest by the general public. "There are many different forces at play, and the perception of what is green is evolving and becoming more nuanced," Lindblom says.
The quality of reporting is key, not just because it provides an ex-post picture of how issuers have used the proceeds. It is also the starting point of a discussion with issuers. Lindblom says: "The efforts we made to aggregate and analyse the reports gave us valuable information. We have limited resources to engage with issuers, but we try to do it on the basis of the information and reporting connected to the green bond proceeds disclosure we receive from them."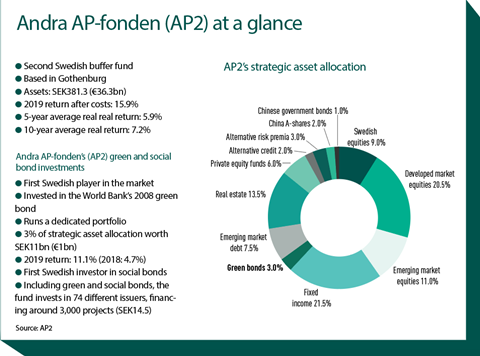 The fixed-income market today offers a variety of investment opportunities linked to sustainability. AP2's green bond portfolio is fully dedicated to the asset class, but the fund is building its ESG-related fixed-income portfolio nonetheless. "When we say green bonds, we are quite strict in terms of the label. However, in our broader fixed-income mandates, we try to integrate and broaden the ESG aspects into the investment process," explains Lindblom.
The fund is the first Swedish institution to invest in social bonds, according to its 2019 annual report. In 2017, it invested in a bond issued by NWB Bank in the Netherlands to finance affordable housing in the country. In 2018, it invested in a bond issued by the World Bank to raise awareness about gender equality.
The mapping of AP2's entire green and social bond portfolio, worth SEK14.5bn at the end of last year, also provided an insight on how it contributes to the UN's SDGs. Increasingly, issuers are linking their activities to the SDGs.
As a general aim, AP2 intends to increase the sustainability focus of its strategic portfolios. For Lindblom, the overarching goal is transparency. He says: "Sustainability is an important aspect of our long-term investment strategy, both from a performance and risk perspective. There is a lot more investment to be made to reach the sustainability goals the industry is aiming for.
"But this is a good way to encourage organisations, including corporations, to be transparent about how they invest and transform their business models to be more sustainable. Demand from investors will increase, and the green bond market has shown how better transparency can be achieved in the fixed-income sector as a whole.
"We have come a long way since we started investing in green bonds, when the concept was barely understood."
To read the latest IPE Digital Edition click here